UltaHost vs. A2Hosting
Looking for the best cheap web hosting money can buy? Just want more reasons to know why we do it better than anyone else? Read on!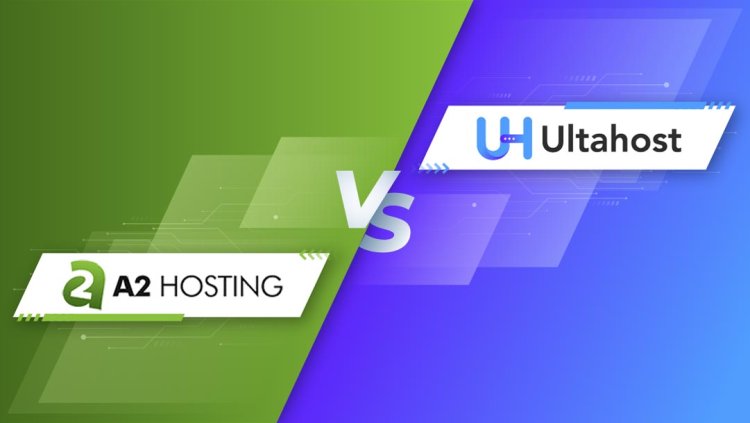 Are you searching for cheap and high-performance hosting services?
Are you looking for a reliable alternative to A2Hosting?
You have come to the right place! We offer the best services in the market with unique and economic plans. Be a part of the UltaHost family and enjoy the best web hosting at affordable rates.

Below is a quick graphical overview of all the services compared between UltaHost and A2Hosting:
| | | |
| --- | --- | --- |
| | UltaHost | A2Hosting |
| Entry Plan | $ 3.29 | $ 10.99 |
| Free Daily Backups | Yes | No |
| Instant Chat Response | Yes | Yes |
| Real Support Consultant | Yes | Yes |
| Free Encryption | Yes | No |
| Free Mailing Server Encryption | Yes | No |
| Money Back Guarantee | Yes | Yes |
| Free Domain Transfer | Yes | Yes |
| Interactive HCI | Yes | No |
| Technical Assistance other than support | Yes | No |
| Online Business Support | Yes | No |
| SSD Disk Drives | Yes | Yes |
| Dedicated Resources | Yes | No |
| Web Application Firewall | Yes | Yes |
| ISP Manager | Yes | No |
| Customizable cPanel license for VPS | Yes | Yes |
| Knowledge Base | Yes | No |
| Malware Scan & Reports | Yes | No |
| Multiple Languages | Yes | Yes |
| Multiple Server Locations | Yes | Yes, but only 4 |
Before you look at an in-depth comparison of us with other service providers, we are interested in mentioning our few exceptional services which makes us a better deal than others:
- Free Migration, no hidden costs.
- Pre-installed Solid-State Drive (SSD's) Installation, which is 200% faster than HDD's.
- Extra Secure, Continuously Server Monitoring and Audit by some routine.
- Money-Back Guarantee
- Dedicated Server Resources
- Perfect Uptime.
Shared Hosting Plans Comparison:
In shared hosting, we are effective and economical. As over plan/rates are less than all top-notch International Shared Hosting Service Providers. Not only that we offered a wide range of upgraded hardware's which is much faster than competitor's plans.
We are providing:
Unlimited Bandwidth, 15 Gb Diskspace, One Domain, Free SSL Security, Highly Customizable cPanels, Shared Server with 99.9% Uptime, Free daily Backup, 1 Gbps Connectivity, BulletProof Security. With 24/7 Support and free migration services.Free Trial.
In just $3.29 per month.
Whereas A2Hosting is providing:
Single Domain, cPanel, Free Domain Migration, 100GB SSD Storage, Free SSL Certificates, Standard Performance.
For $10.99 a month.
VPS (Virtual Private Server) Plan:
In VPS, we have a competitive edge because of our comprehensive and highly effective VPS Hosting plans. In it, we have four hosting plans, which include:
Our offerings are highly economical and more effective than other Service Providers.
In our basic plan we provide:
1 CPU core - 1 Gb Ram - 30 Gb SSD disk space - Unlimited Data Transfer.
Features include:- VPS Full Root Access, SSD Disk Drives, VPS 99.9% Uptime, Cheap VPS Hosting, Scalable RAM, Unlimited Bandwidth, 24/7 Support with free migration services. Free Trial.
In just $5.50 per month.
Whereas in a basic plan, A2Hosting is providing:
1 CPU Core - 1 Gb Ram - 150 GB Disk Space - 2 TB Transfer.
Features include:- VPS Full Root Access, Optional cPanel, Multilayer Security, Webuzo Installer, Boot Control.
For $9.00 per month.
VDS:
VDS is a service that differs UltaHost from most of the other Web Hosting platforms. In our VDS plans, we offer highly customizable, powerful and significant specifications virtual servers to businesses for large-scale computing.
With this, the extra features we provide you are: Unlimited Bandwidth, Managed Server, 99.9% Server uptime, Lighting Fast Storage, Intel Xeon Processor, Pro-active 24/7 monitoring. Free Trial.
Dedicated Server Plans:
In dedicated server's we provide an extensive range of dedicated server's with different specifications in the price range starting from $89.90 to $993.90 per month. With the features of Extreme Performance, Complete Root Access, 99.9% Service uptime, Advanced Security, Multiple OS options, SSD or NVMe Storage (Our servers have the latest and greatest SSD technology as standard. With 24/7 support and free migration services).
Whereas A2Hosting offers dedicated servers with a price range starting from $149.99 per month.
Server Support Service:
Server support is a unique service provided by UltaHost. In this service, we provide complete support to our user in setting up and maintaining their software. We also check and fix the errors that occur at your server end. We will also install software(s), monitor, audit the system and provide consultations and recommendations to you. So that you don't need to outsource or hire some specific server specialist to maintain your servers. You will save thousands of Dollars which is usually paid to server specialists if you buy a hosting plan from somewhere else.
If you enjoyed this article, then you'll love our hosting platform. You get 24/7 support from our support team and our powered infrastructure focuses on auto-scaling, performance, and security. Check out our plans here!