Do you want to sell your products or services online? All you need is an e-commerce website builder that provides a place for displaying your merchandise, managing online transactions, and tracking your financial development most conveniently.
An online business is a lot more than just creating a website. From setting up the product pages and selling your products to online customers, there are many more that comprise an online business.
Even if you are just a beginner and you can't afford professional web designers, you can use e-commerce website builders that come with simple drag-and-drop editors. These tools help in creating a functional site with ease.
With so many options available, you may get confused while choosing the right one for your business. To help you out, we have compiled a list of the 10 best e-commerce website builders.
---
Wix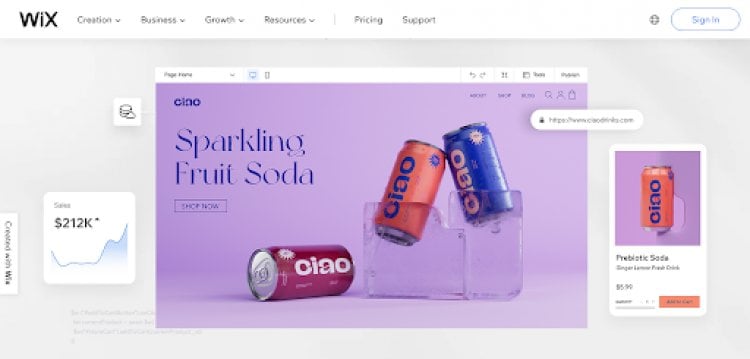 Wix is undoubtedly one of the best website builders. You don't need to be a website designing pro to use this versatile platform.
Wix has everything you need to build and launch your e-commerce website and offers a free domain name. There are at least 1000 templates available to fit any online store.
The thing that has impressed us is that Wix doesn't deduct any hidden transaction fees, and you only need to pay the standard payment processing fees.
The best thing about Wix is that it is effortless to learn and use. It lets business owners add new products, update the website, and manage the customers without hassle.
Pros
Image and video display
More than 500 professional store templates
Customizable store cart
Upgraded design templates
User-friendly interface, readily usable by non-technical users
Backup for website available
CONS
Limited template customizations
It loads a bit slower on mobile devices
---
BigCommerce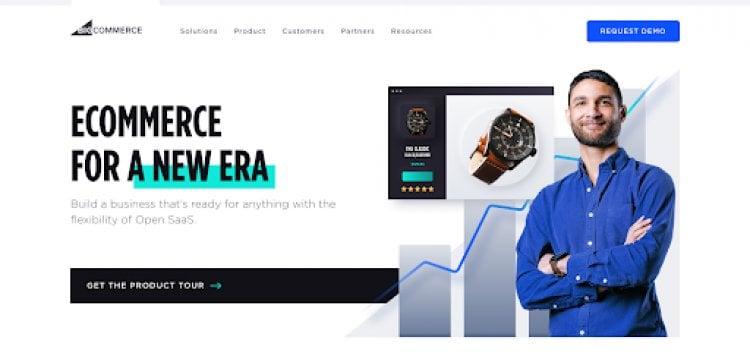 BigCommerce is an ideal site builder tool to grow your online business as fast as possible. It is more expensive than Wix, but its outstanding features support rapid growth.
The features that will let you grow quickly include personalized consumer experience, customer attracting strategies, and automation.
BigCommerce also allows you to use multiple social platforms for online selling, including Facebook, Instagram, and Pinterest.
Pros
More than 40 integrated payment gateways
Free trial available
Versatile product management options
Robust and versatile
Easy customer database management
CONS
Advanced features need technical knowledge
It loads a bit slower on mobile devices
---
WooCommerce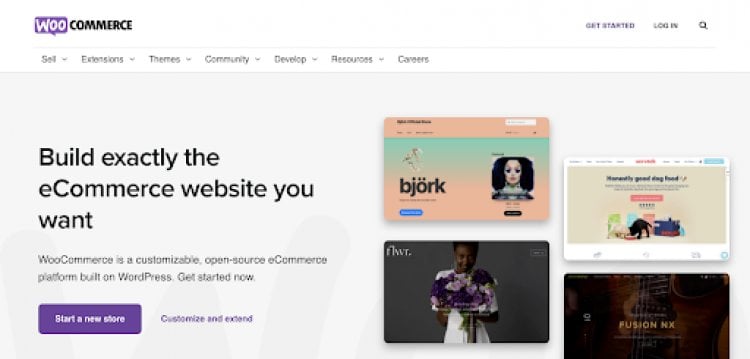 WooCommerce is an open-source program that is very popular among e-commerce website developers. It is advised to use a hosting platform compatible with WooCommerce for a flawless user experience.
WooCommerce allows you to create a very distinctive online store that suits your business nature. You can also optimize the admin panel to receive reports the way you want. WooCommerce is compatible with mobile devices also so that you can operate your store anywhere, anytime.
Pros
Flawless integration with WordPress.
No transaction charges are deducted.
Easy to set up and use.
CONS
The website builder requires technical skills.
The speed of the website will depend on the hosting provider.
---
Shopify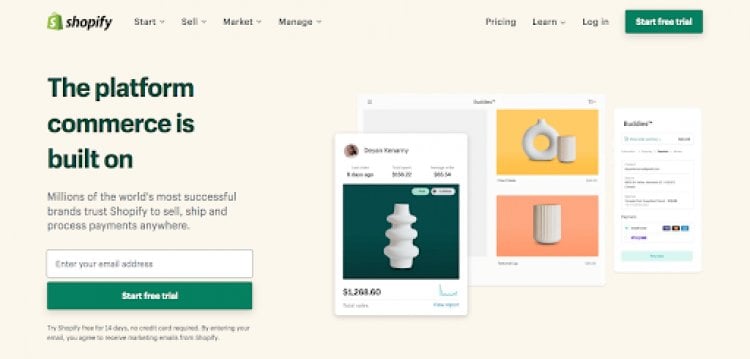 Shopify is another straightforward e-commerce website builder that allows creating a website with drag and drop options. Shopify's simple interface is the reason most site designers will prefer it to make a good-looking site. It also allows you to access customer sales data without any hassle.
Pros
14 days free trial.
Designs are easily modifiable.
Comes with SSL Certificate.
Simple and intuitive platform.
Inbuilt SEO
Self-hosted
In-house app store
CONS
Customization options are limited.
No free version of this site builder is available.
---
Weebly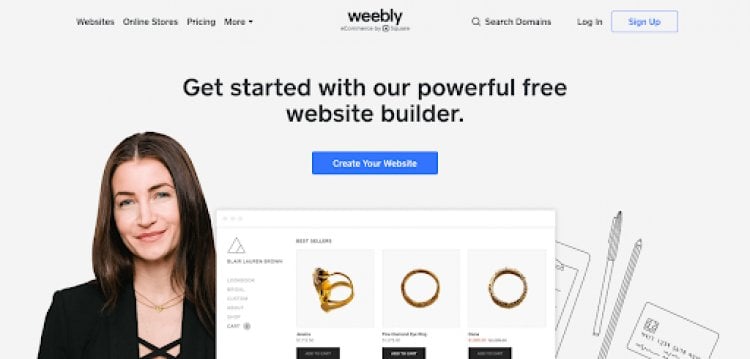 Weebly offers a few customization options but is rather suitable for beginner designers. It requires hosting, which further limits its application as an effective shopping platform. Due to these limitations, we can say that Weebly is only suitable for small businesses.
Pros
Offers greater design flexibility.
The editor is simple to use.
It is optimized to provide high-speed websites.
App-centered design tool.
CONS
Limited blogging tools.
To avail of technical support, you need to pay extra fees.
Limited multi-language support available
---
Squarespace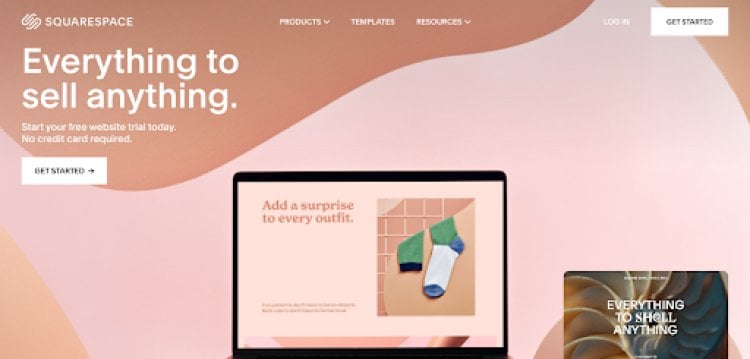 The Squarespace website builder does not fail to impress us and comes with a universal style editor for hassle-free e-commerce store creation. This versatile website builder also includes unique templates, add-ons, and tools, and can even be used to host a podcast if you have one to market your brand.
Squarespace offers more than 200 templates to choose from. The website builder is compatible with mobile devices.
Pros
Templates are easily customizable.
You can embed maps conveniently.
Flexible payment options are available.
Simple and easy dashboard.
Fast and responsive customer support
CONS
Insufficient marketing tools.
Expensive pricing plans.
No third-party add-ons are available.
Not suitable for blogging.
---
Zyro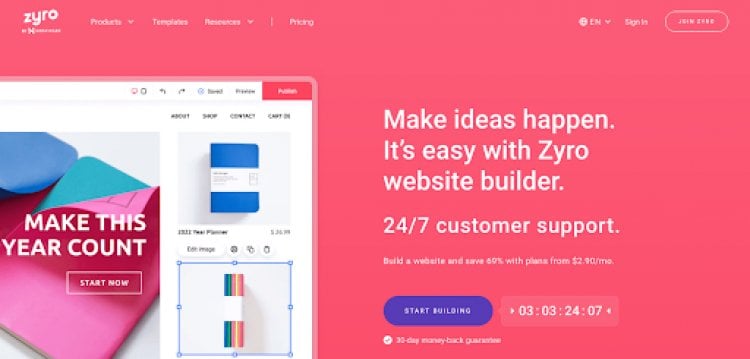 Zyro is another attractive eCommerce website builder that offers impressive features. Some of these features include full order tracking, email notifications, shipping and tax management, discount coupons, and much more.
Zyro comes with two plans for online businesses – E-Commerce and Ecommerce Plus
Pros
Allows selling up to 2500 products.
The commission is not deducted from your sales.
Offers SSL certificate.
Uses Cloudflare for website speed optimization.
Simple and clean interface.
Responsive design.
CONS
Customization options are limited.
Technical support response time needs improvement.
Not suitable for blogging.
---
3D Cart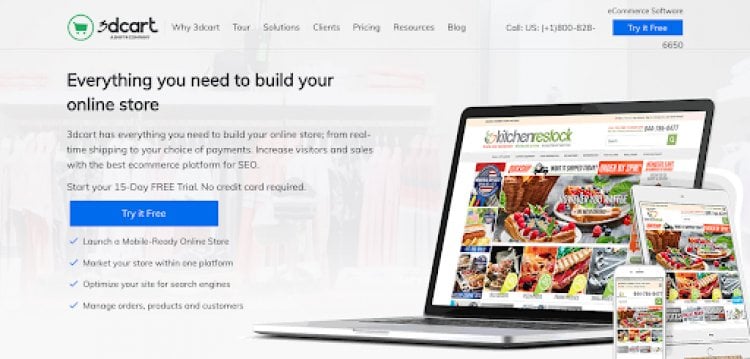 Another amazing eCommerce website builder on our list is 3DCart. It comes with a host of SEO tools to make your business multiply. It also allows easy interaction with potential customers via follow-up emails.
Pros
Robust SEO optimization.
Easy to set up and start an eCommerce store.
Shopping cart advanced features.
Blog set-up is also available.
CONS
Limited design flexibility.
Not suitable for team collaboration.
Only trained developers can handle advanced functionalities.
---
Big Cartel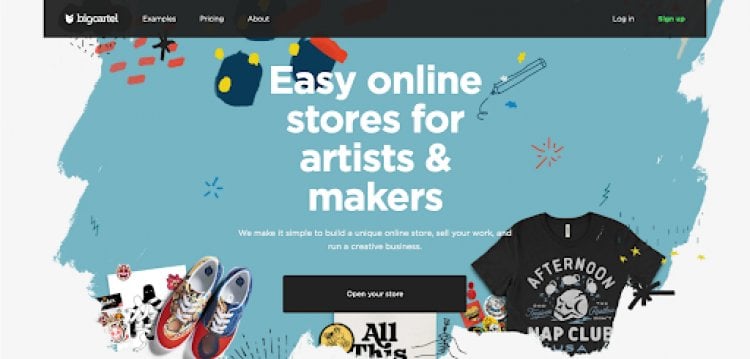 Big Cartel comes with everything that business store owners require. The eCommerce store builder offers four different packages to cover the needs of all types of businesses. The basic 'Gold Package' is free, and you can upgrade it up to the 'Titanium Package' which allows 300 products for only $29.99.
Big Cartel allows hassle-free image uploading, pricing, product descriptions, and a lot more.
Pros
Reasonable pricing plans.
A great variety of website templates are available.
Easy and user-friendly dashboard.
You can tweak the site's code whenever required.
CONS
Only skilled developers can use the platform.
Offers limited payment options.
Lacks search functionality.
---
Volusion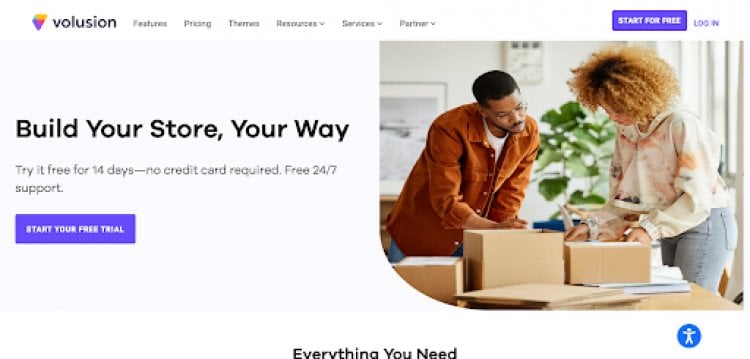 If you are a small business owner, you will not regret using volusion to build your e-commerce store. The one-click checkout feature makes conversations quicker and more effective. It comes with a metered bandwidth that you can increase as your business will grow by paying more.
Pros
User-friendly interface.
Effective for small e-commerce stores.
Great for generating reports.
CONS
Limited customization options.
Require professional site development skills.
Lack of integrations.
The Final Verdict:
In this article, we have compared the 10 most popular e-commerce website development software. Now you can choose the best one that suits your business needs. Whether you are starting a small-scale business or aim to launch a big enterprise, we have got you covered.
Most of these e-commerce website builders are simple to use. Even if you can't afford the services of a professional website designer, you can set up and run your own eCommerce store.
As most customers are searching the online stores from their mobile devices, it is essential to develop a mobile-friendly website.
If you enjoyed this article, then you'll love UltaHost hosting platform. Get 24/7 support from our support team. Our powered infrastructure focuses on auto-scaling, performance, and security. Let us show you the difference! Check out our plans!