Without a doubt, vector illustrations are a popular design trend. They are simple, less apparent than photos, and at the same unique and memorable. If you're a regular reader of our blog, you know our original graphic style that relies on many vector illustrations.
Our designs are original. We are very proud of our visual identity, but we must admit that this is an expensive solution, and not everyone wants or can afford to collaborate or hire a graphic designer. So what are the options for people who don't want to spend hundreds of dollars on custom graphics?
One solution is to purchase an iPad, a stylus, and spend several or dozens of hours watching tutorials for beginner artists. Creating graphics on your own can bring you a lot of joy, but at the same time, it will take up a lot of your time. After all, achieving an acceptable level in business requires a lot of practice.
Luckily, there is another solution. In this case, you can search for cheap or free vector illustrations on the internet and easily modify and customize them to suit your needs. Finding such websites can take plenty of time, so the UltaHost team is here to help you.
We want to help grow your business not only by providing super-efficient hosting solutions like VPS Hosting with Instant Setup but also by saving your time and preparing a compilation of practical tools. In this post, we will show you 12 sources with free vector illustrations that you can use on your website, in presentations, or on social media.
Just remember to use them wisely and respect copyright laws. Before choosing a specific illustration resource, it's worth checking the licensing terms.
---
Vectorove.com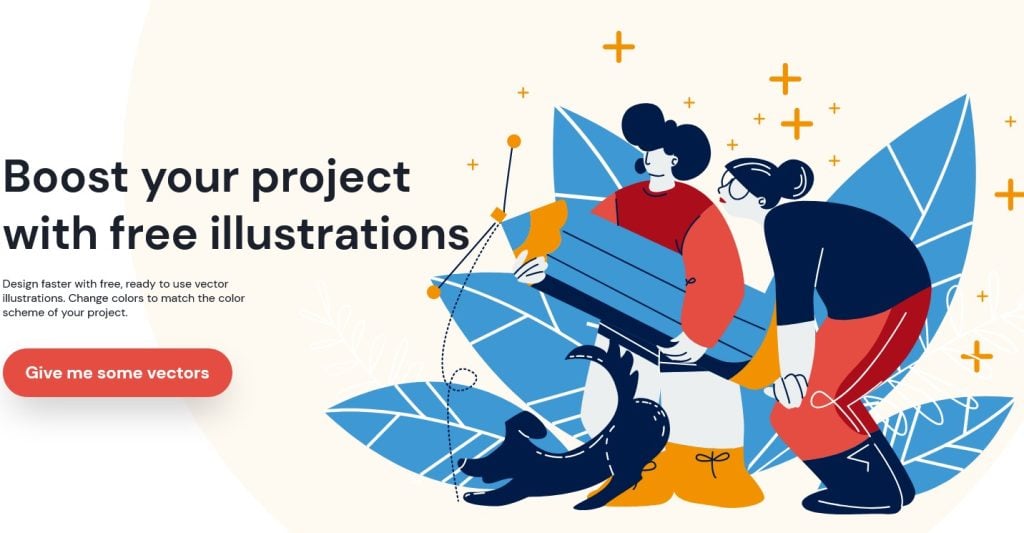 Vectorove.com is the result of a collaboration between the talented illustrator Monika Suchodolska and Ola and Hubert from Oh!Studio. You have a choice of 70 universal and completely free illustrations. You can change their colors directly on the website.
Vectorove's advantages:
The illustrations are thematically versatile and have a wide range of applications.
You can customize the colors from the search page.
You can download the SVG file and modify any color and element.
The illustrations are completely free (including downloading the SVG).
Vectorove's disadvantages:
There are only 70 illustrations, although the database is constantly growing.
---
Undraw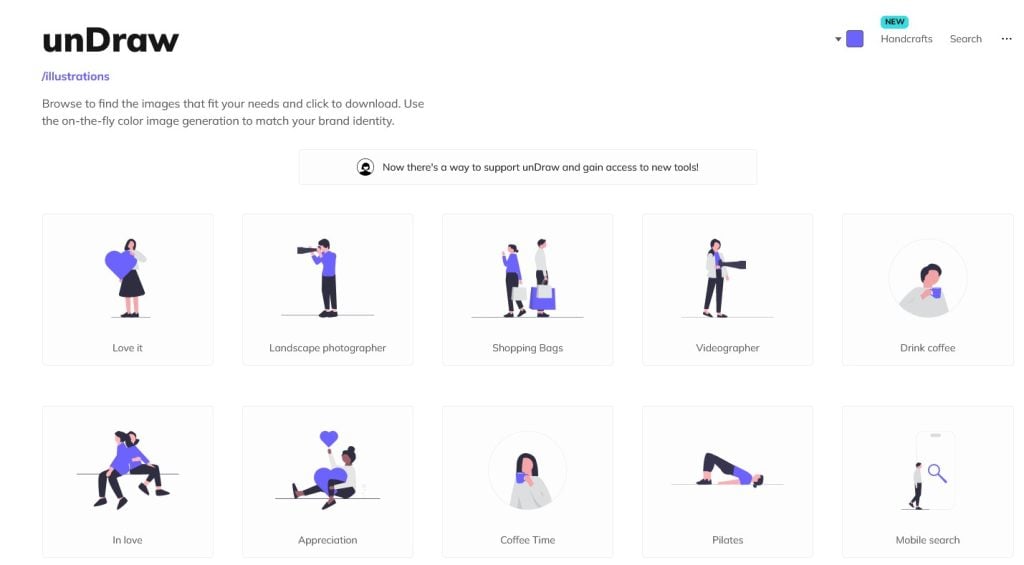 Undraw.co is one of the most popular and largest repositories of open-source vector illustrations. You can easily customize the color scheme of the vectors. There is a color palette from which you can choose your desired color or enter a specific HEX code, and all the vectors will change color in real-time according to your selection.
Undraw's advantages:
There are plenty of illustrations available, and they are highly versatile.
It is easy to find something specific using the search function.
You can modify the colors directly from the website.
You can download the SVG file and modify any color and element.
The illustrations are free (including downloading the SVG).
Undraw's disadvantages:
It is such a popular resource that illustrations are becoming increasingly common, and you can find them on other websites.
While there are many drawings, they are simple and generic.
---
Open Doodles (Pablo Stanley)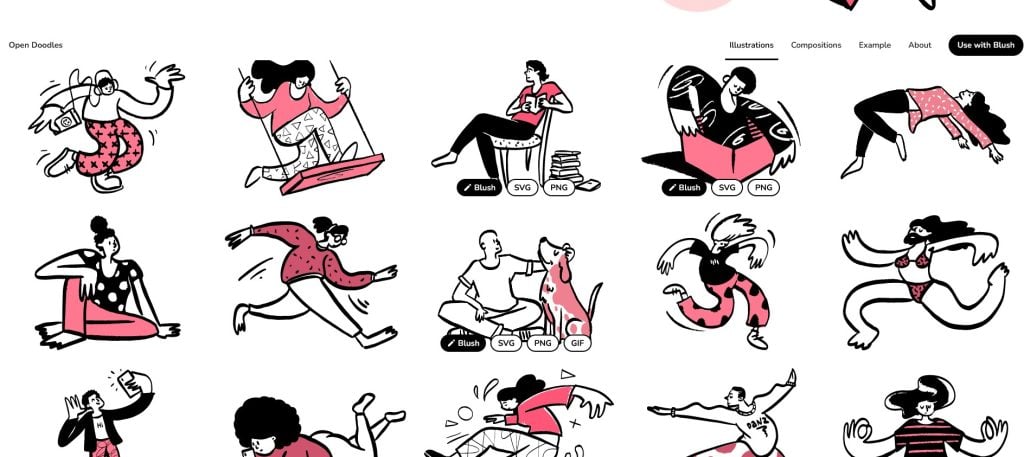 Pablo Stanley does a great job providing free illustrations in a good style. On opendoodles.com, you will find ready-made compositions and usage examples. It's open design at its finest.
And that's not all. Pablo also provides a color-changing tool (you can choose from his palette or enter your color code). With a few clicks, you can colorize all the images and download the ready-made package to your disk.
Open Doodles' advantages:
Free and in a good style.
With two clicks, you can download PNG and SVG files.
Great color generator.
You can download the SVG and modify it as you wish.
Open Doodles' disadvantages:
There are only a few illustrations, and for some uses (such as more business-related ones), it may be too limited as a universal source.
---
Lukaszadam.com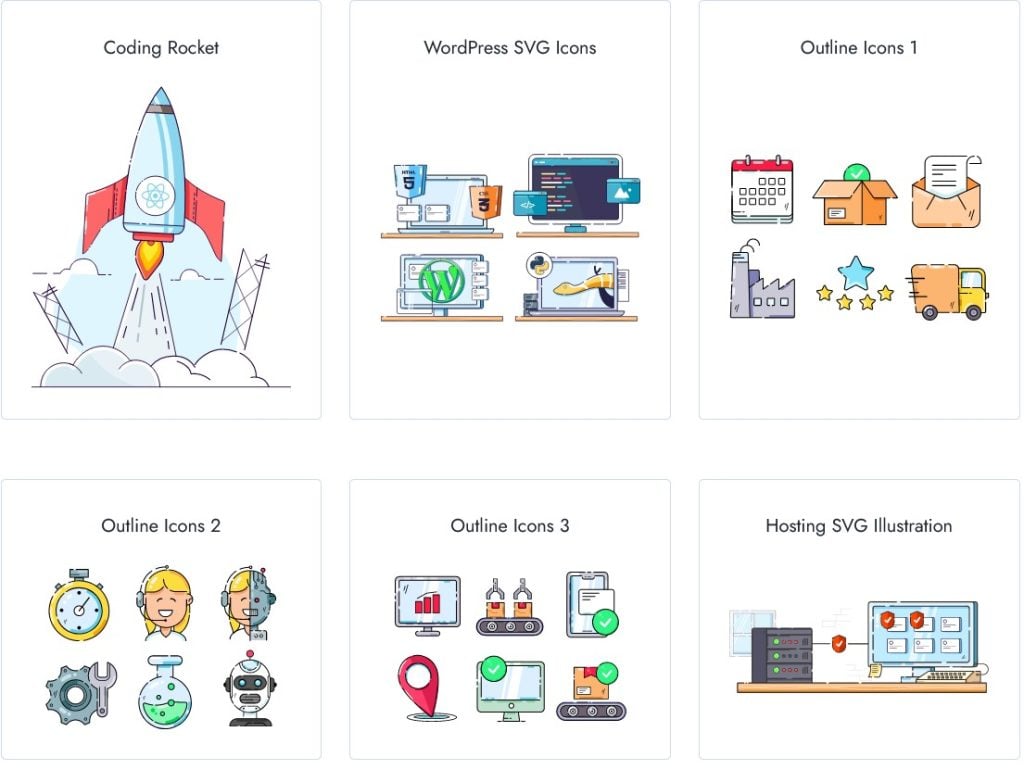 Łukasz Adam is a graphic designer who creates high-quality icons and illustrations in a very light and gentle style. You can download them for free without any additional hooks. There aren't too many of them, but you can, for example, download entire sets of versatile icons. You can find icons related to SEO, business, lifestyle, and people.
Łukasz Adam's illustration advantages:
Free.
You can download SVG and PNG files right away.
Several universal sets of icons.
Łukasz Adam's illustration disadvantages:
Limited selection.
You need to modify the illustrations in an additional program.
---
Fresh Folk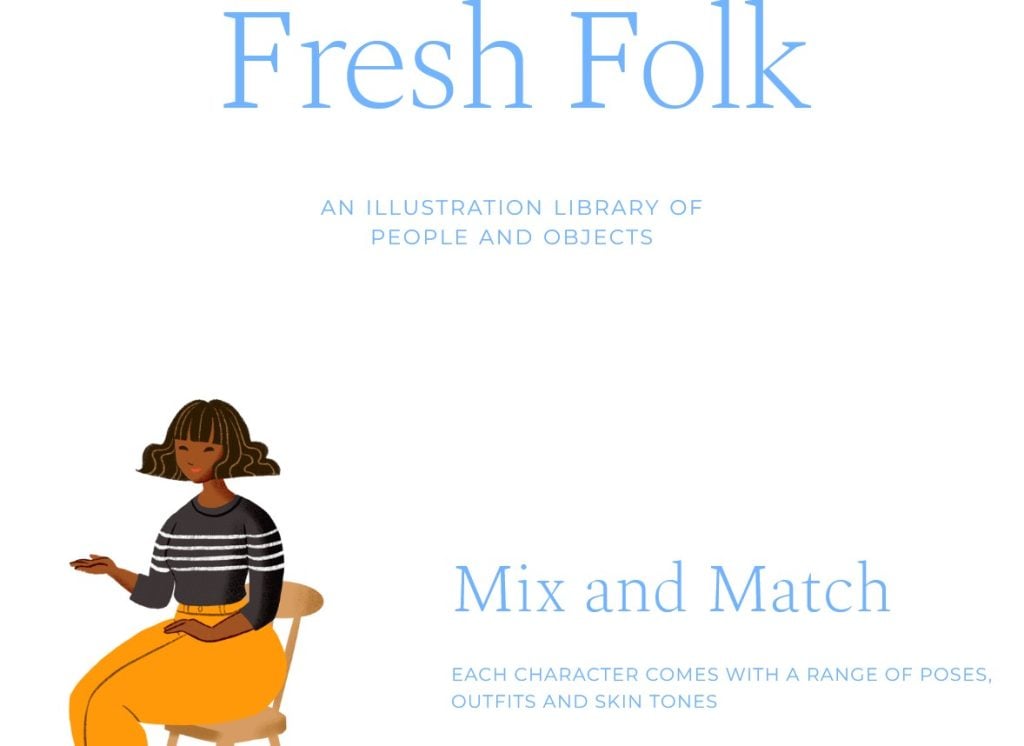 From freshfolk.com, after providing your email, you can download 40 illustrations to your disk. There aren't too many of them, and the author has chosen one of the more restrictive licenses, Common Creative (BY-NC-ND), but the drawings are in a good style—especially if you're looking for characters and plants.
Fresh Folk's advantages:
Illustrations depicting people and plants offer a lot of possibilities.
It's free, just provide your email.
Fresh Folk's disadvantages:
CC BY-NC-ND license. If you use it, you need to attribute the author, you can't use it for commercial purposes, and you can't modify the downloaded elements.
Limited selection: basic characters and a few plants.
---
Humaaans (Pablo Stanley)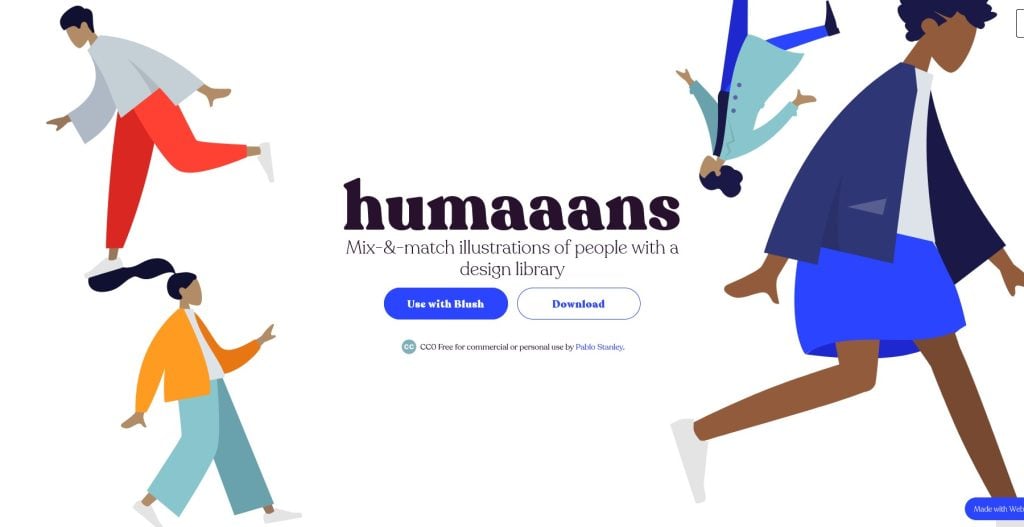 Another example of Pablo Stanley's great work. This time he focused on humans and provided free illustrations of human figures. Interestingly, with knowledge of a simple vector file editing program, you can compose any human, as Pablo provided body parts and objects. You can use the illustrations under the CC0 license.
Humaaans' advantages:
Versatile illustrations of people and objects from their surroundings.
It's easy to download the file in PNG and SVG formats.
CC0 license—free for personal and commercial use.
Humaaans' disadvantages:
There are quite a few illustrations, and they are usually casually dressed.
---
If you are interested in vector graphics, you surely want to create an aesthetic and well-functioning website. To unleash its full potential, you need the right hosting. Choose WordPress VPS Hosting, which will help you create beautiful WordPress websites while also taking advantage of VPS server benefits.
---
Illustrations.co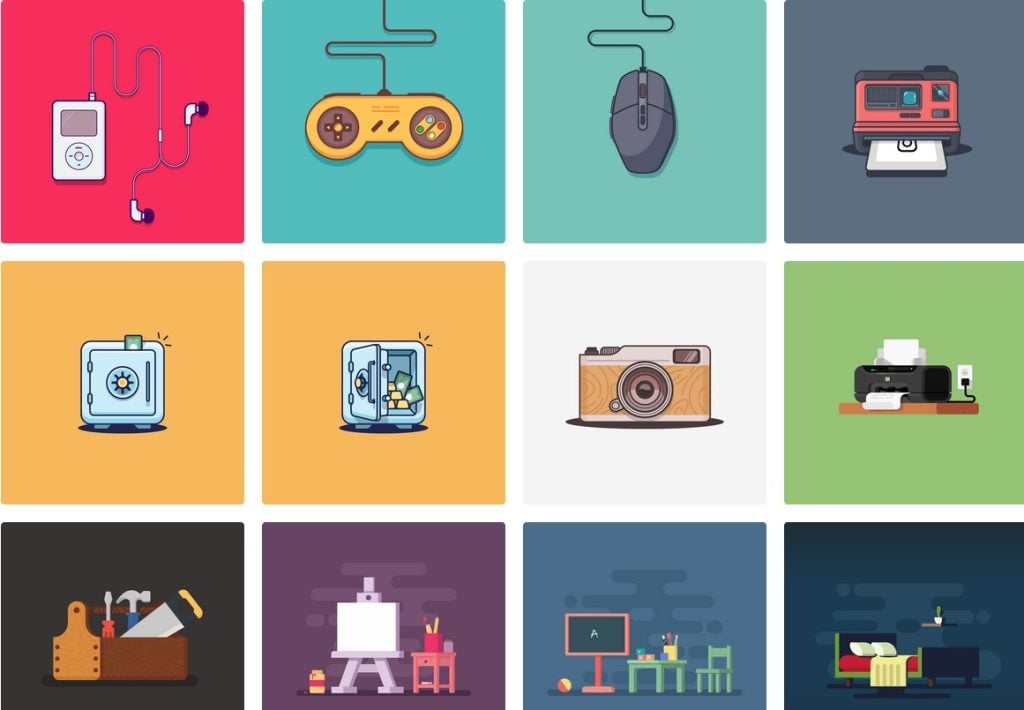 Vijay Verma decided to enhance his illustration skills by drawing one illustration daily for a hundred days. And then he made them all available for free. The illustrations mainly focus on holidays, objects, and animals. They have a simple form but can be used, for example, to add variety to presentations.
Advantages of Illustrations.co:
Universal themes – objects and occasions from everyday life.
With just two clicks, you can download the entire pack.
AI, SVG, PNG, and EPS formats are completely free.
Disadvantages of Illustrations.co:
Limited selection, a closed list of topics.
If you want to customize the illustrations to your needs (e.g., change colors), you have to do it in an external program.
---
OUCH! (icons8)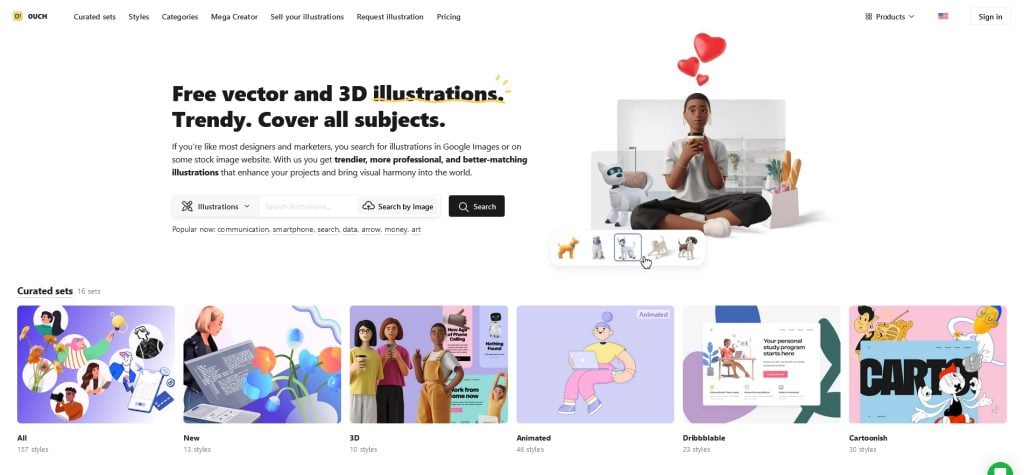 The OUCH service is my favorite. It's the second-largest library of vector graphics. You can download high-quality illustrations, and there are plenty of them.
If you use it for free, you must attribute the source, and you can only download PNG files. To use the graphics without attribution and download SVG files, you need to opt for the pro version.
Advantages of OUCH:
Enormous database of excellent artists.
You can download all illustrations to your disk.
The drawings are well-organized and easy to search.
Disadvantages of OUCH:
In the free version, you have to attribute the author.
You can only download PNG files for free.
---
Absurd Design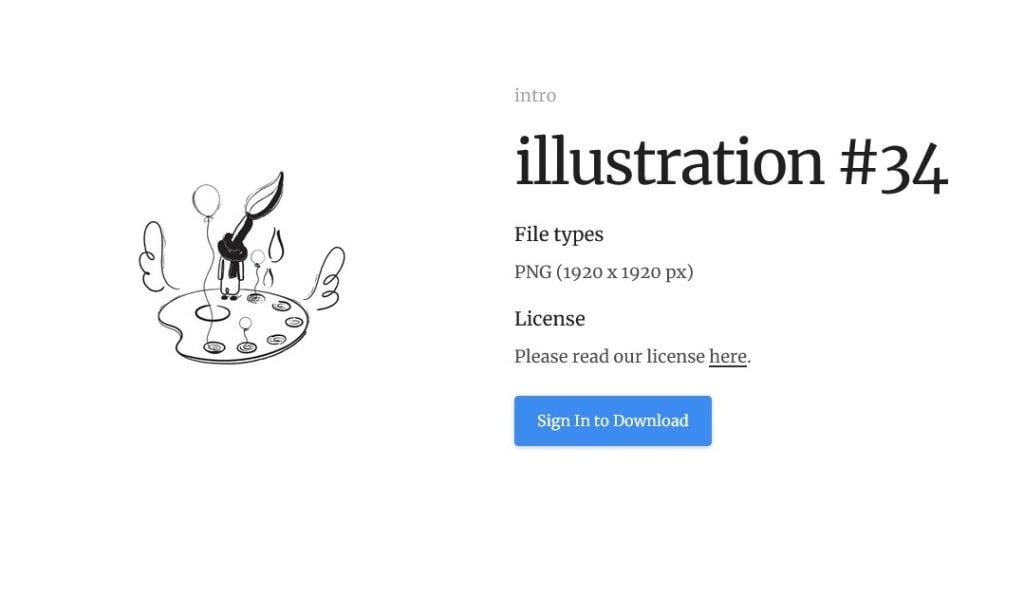 Absurd Design offers 15 unconventional, artistic illustrations you can download in a single pack. They are not very versatile, but they are attractive. If you want to use them for free, you must credit the author.
Advantages of Absurd Design:
Unconventional illustrations.
If you credit the source, you don't have to pay for them.
Disadvantages of Absurd Design:
For free, you only get 15 illustrations in PNG format. For more options, you have to pay.
Not very versatile.
---
Many Pixels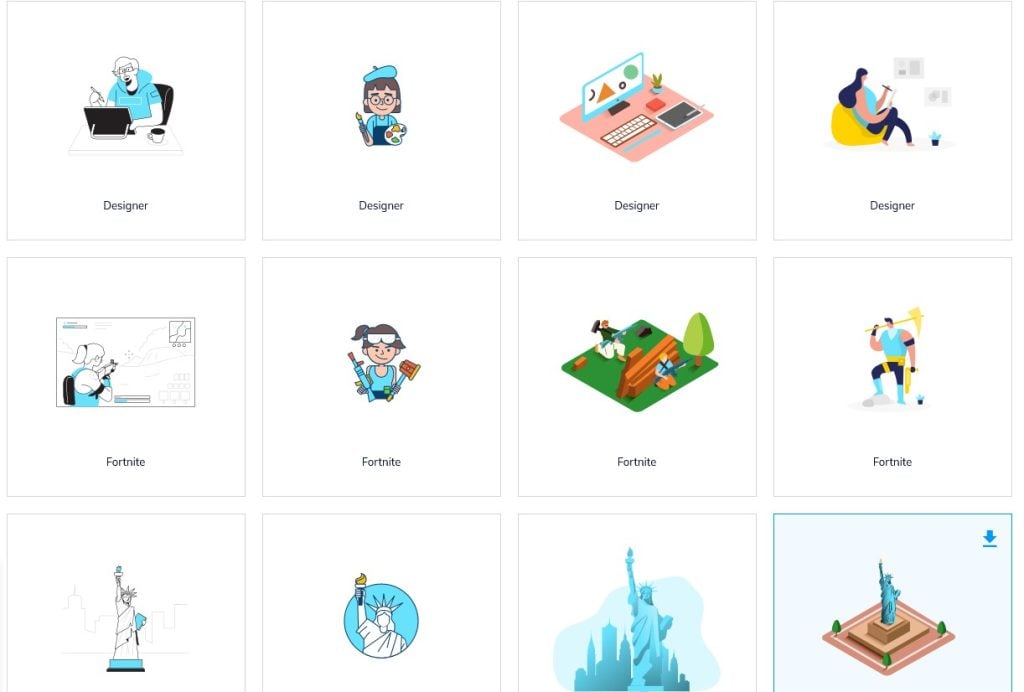 It is a great example of how to build a business by sharing something with others. Many Pixels is an agency that creates graphics as part of a monthly subscription, but to better promote their services, they provide hundreds of free illustrations. They have a stylistic resemblance to Undraw. You can change their colors using the search engine.
Advantages of Many Pixels:
Large and versatile collection of illustrations.
Good search engine and easy color customization.
Instant download in PNG and SVG formats (making it easy to modify them).
Free to use and does not require attribution.
Disadvantages of Many Pixels:
The stylistic preference may vary, but due to the distinctive nature of the illustrations, they can quickly become repetitive and boring.
---
Paper Illustrations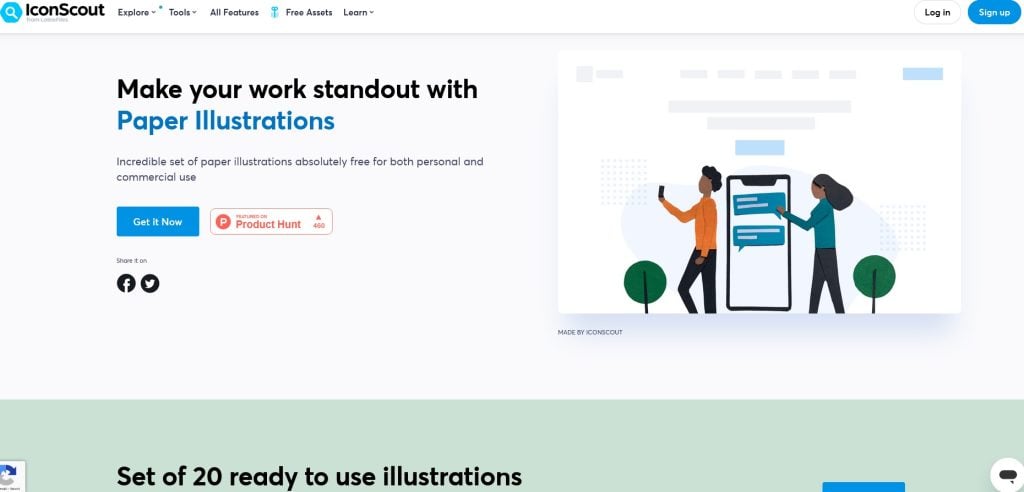 Paper Illustrations consist of 20 illustrations in a unique paper-style imitation. After registering an account, you can easily download them individually or all in one pack. They are free to use, provided that you credit the author.
Advantages of Paper illustrations:
Distinctive and high-quality illustrations.
Fairly versatile themes.
Free PNG and EPS download.
Disadvantages of Paper illustrations:
No SVG format is available.
Attribution to the author is required.
Account registration is necessary before downloading.
---
DrawKit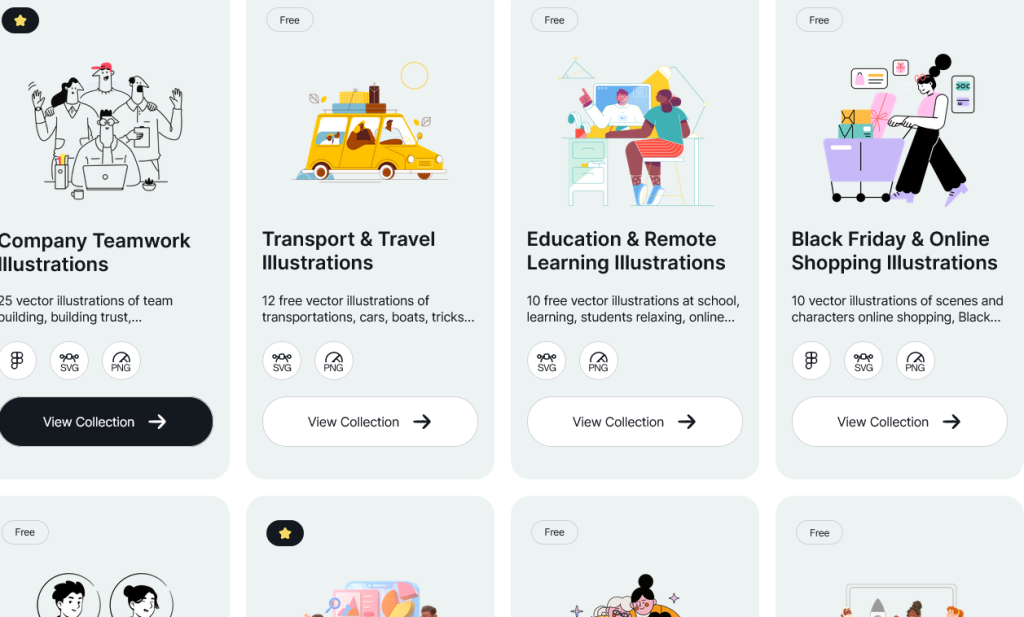 DrawKit offers over 100 attractive and versatile illustrations for free. The themes will appeal to the creative industry, startups, and small businesses. Unfortunately, downloading the illustrations requires providing an email address and choosing the price you want to pay, including null. If you need more, it's worth exploring the premium packages, such as the animation set.
Advantages of DrawKit:
Versatile themes and artistic style.
PNG downloads are available in multiple sizes (400px, 800px, 1200px) and SVG format.
No attribution to the illustrations' author is required.
Disadvantages of DrawKit:
To download an illustration to your disk, you need to provide your email address.
---
Is it worth using websites with free vector illustrations?
The clear advantage of using free vector illustrations is the absence of costs. You can save money, especially if you don't have a large budget for purchasing graphics. Several platforms offer a wide selection of vector graphics in various styles and categories, although most provide only a limited choice.
The interface of websites providing free vector illustrations is indistinguishable from that of premium platforms. It allows you to effortlessly and rapidly discover and acquire the illustrations you require. The quality of these illustrations is typically excellent and comparable to premium graphics.
However, such platforms are not without their flaws. Before deciding to use these types of websites, you must carefully consider two key factors.
Firstly, there are licensing limitations. While some platforms offer free vectors under the CC0 license, most have certain licensing restrictions that you must adhere to.
It may include the requirement to attribute the author, the prohibition of commercial use, or limitations on modifying the graphics. Before using them, check the license and usage guidelines for the free illustrations.
Secondly, a significant drawback is the lack of originality in such graphics. Everyone can access websites with free illustrations, and some illustrations may have widespread usage and popularity. If your project values uniqueness, it might be tough to discover exceptional graphics on websites that provide free vector illustrations.
If you enjoyed this article, obviously you'll love UltaHost hosting platform. Buy SEO-friendly web hosting and get 24/7 support from our support team. Our powered infrastructure focuses on auto-scaling, performance, and security. Let us show you the difference! Check out our plans!