Web Hosting, no matter if it is Shared, Dedicated, VPS, or any other kind, is necessary for every website.
Your websites need to have hosting because you can store your web files and make your website available on the Internet with it.
Also, hosting your website with a web hosting provider ensures that your site is secure and has multiple security measures to protect it. There are many more reasons you need to have a hosting plan for your website, but that is a topic for another time.
One way to host your website is via Dedicated Servers. A Dedicated Server or Dedicated hosting service is a type of web hosting where a user leases an entire server for themselves. That means that the user will not share the server with anyone else and will be able to take advantage of all its resources without sharing.
Also, Dedicated Servers allow users to have complete control and customization over their hosting. And since your website will not be sharing any resources with other websites as it does with shared hosting, it will have ultra-fast loading times even while facing heavy traffic. Your website will receive optimal performance, which will, in turn, help it with Google ranking and SEO.
Since virtually the whole world moved online, people have been using online stores and websites to buy everything they need, from food to clothes and books. Not many people actually go out to browse shops nowadays. Thus, having a reliable and fast website that is at the top of Google's rankings is how you will survive in the new online shopping wave.
As we mentioned, Dedicated Servers allow your website to use 100% of the processing power it offers and therefore achieve optimal performance. That, in turn, will increase your website's rankings on Google, so more people will find it. For instance, let's assume that you own a clothing store. If you get Dedicated Servers to host your website, you will rank higher in Google's rankings. Thus, when a customer searches for clothing websites online, your website will come up before others, and the customer will visit your website first.
If you're wondering where you can get Dedicated Servers to host your website, we've got you covered. UltaHost is a web hosting provider that offers high-quality services, including Dedicated Servers. It is also very flexible and has eight different Dedicated Server plans that you can choose from for your website. What's best, all of its plans include 24/7 support, team management, SSH and SFTP access, unlimited bandwidth, free daily backups, free SSL Certificate(s), and many more valuable features.
On HostAdvice we have received many positive reviews on UltaHost. So, if you want to find out what actual UltaHost users think about the provider and its services, you can do so by clicking on this link. Also, you can find their expert review on UltaHost there and see what the provider is all about.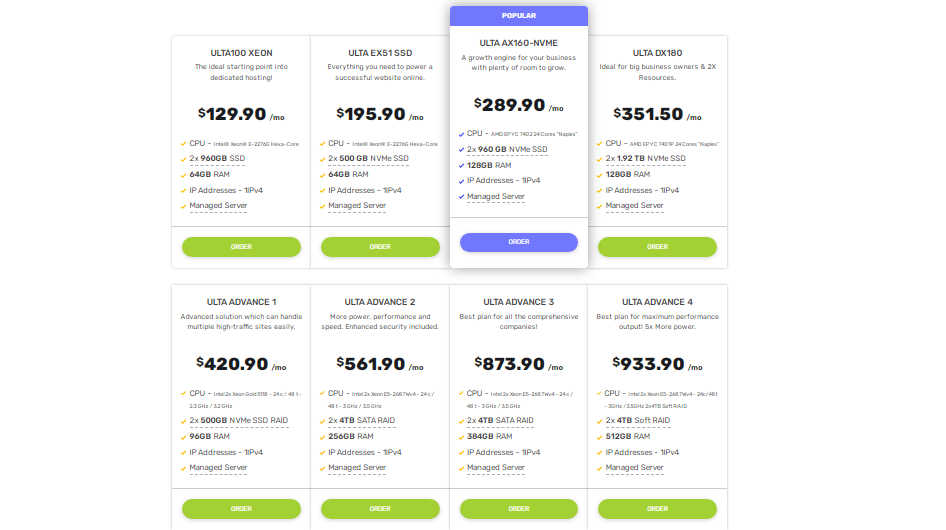 Overall, hosting your website on Dedicated Servers can help you immensely, but let's dig deeper and find out what more Dedicated Servers can do for you and why they are back on track.
Why Are Dedicated Servers Back on Track?
In addition to what we mentioned above, Dedicated Servers are back on track for several other reasons. Gaming has become very popular since the pandemic hit. More and more people have started to play games or watch others play live. Online games like Minecraft and many others need to be hosted, and the best way to host them is on Dedicated Servers. Dedicated Servers offer more processing power, memory, and storage capabilities that are ideal for hosting online games, and more and more companies have been using them for their games.
Also, since more and more people are online now, many websites have experienced significant traffic increases. Managing high traffic is the bread and butter of Dedicated Servers, which is why many companies and individuals have switched to Dedicated Server plans. Thus, Dedicated Servers are being used more and more each day.
[Note] With Dedicated Servers, you will eliminate significant risks and issues that occur with shared hosting, including network congestion, other users eating up resources and slowing down your IT operations, poor loading times, crashes, and more.
About HostAdvice
HostAdvice is a comparison engine that provides expert and unbiased web hosting comparisons. In addition to that, they also provide many reviews, guides, and how-to articles written by experts.
It started its business in 2014, and since then, they have written over 4,000 reviews and over 65,000 user reviews. Many companies and individuals reach out to them daily to find out which hosting providers have the best prices and reliability and whether the hosting provider of their choice is the right one for them.
Final Remarks
The world has been steadily transitioning online for years now, but the transition process has been sped up since the pandemic started. More and more people have turned to the Internet for all of their needs, including entertainment, food, clothing, and more. So, if you are a company that is also looking to improve its online presence and take advantage of the transition, getting a Dedicated Server is an ideal solution for you.