Looking to begin your journey in email marketing? Do you want to learn how to make the most of Mailchimp? Find out more here.
So why Mailchimp? Well, to begin with, Mailchimp is the pioneering industry leader with over a billion emails despatched each day. Even Sendinblue does not come in with a close second when it comes to the numbers. Plus, Mailchimp has been around on the web for well over 20 years now, and even in the WordPress space it quite easily qualifies for being a veteran plugin. This means that Mailchimp have had more time and freedom to experiment than anyone in the competition and they have managed to find the most optimal solution for both their customer and themselves.
Then there's the sticker price. Mailchimp starts you off with a free plan that limits you to 10,000 emails a month of which no more than 2000 can be sent every day. This plan offers the same trademark functionality that Mailchimp offers in their premium-price plans and has become synonymous with. So what is Mailchimp?
Mailchimp is a free, powerful email marketing service that can help you build and manage your email lists, send emails, and track your results. It is the world's largest marketing automation platform, used by more than 8 million small businesses to send over 2 billion emails each day. Mailchimp is technically an email marketing service provider that provides tools for businesses of all sizes to grow their customer base.
Mailchimp has been around for more than a decade and it's mainly known for its marketing automation features and its ease of use. It was created by Ben Chestnut and Dan Kurzius in 2001, while they were still students at Georgia Tech. MailChimp's original name was 'The Rocket Science Group'. Mailchimp also offers a powerful plugin for WordPress that allows users to send email newsletters and generate leads. The Mailchimp List Subscribe Form plugin for WordPress makes it easy to integrate Mailchimp with your WordPress site.
It is easy to set up and use and requires no knowledge of coding or web hosting. You can create signup forms on any page or post, connect Mailchimp to your existing newsletter signup form, or use our widget to add a single signup form anywhere on the site. This integration will make it easier for you to create and send beautiful email campaigns without having to leave your WordPress site. The plugin offers a variety of features like signup forms, lead generation tools, and A/B testing. With Mailchimp for WordPress, you can easily manage your contacts, create campaigns with a drag-and-drop editor, generate reports on campaign performance, and more.
It provides you an easy way to integrate your WordPress site with Mailchimp. This plugin will help you to create, send and track your email campaigns from within your WordPress dashboard. It also includes the ability to automatically sync new subscribers from WordPress into your Mailchimp list so you can send them emails from within the WP dashboard. It also allows you to help you create and send newsletters, manage your e-commerce store, and grow your customer base.
It has many features that make it a great choice for an email marketing service. Some of the features Mailchimp offers are:
Email Marketing: This allows you to create, send, and track email campaigns from inside the WordPress dashboard
Automation: This allows you to set up automated workflows in Mailchimp based on user actions or other triggers
Landing: This allows you to generate leads and bring in a larger audience more consistently to your website by creating landing pages
You can create, send and track your emails all while not having to leave the WP dashboard
Supports all major email clients including Gmail, Outlook, Apple Mail, and Thunderbird.
Subscriber Management: The plugin lets you manage your list of subscribers and add and remove people on the list
Now let's get down to business. To install Mailchimp and integrate it to your WordPress account, you will need to do the following.
Mailchimp Installation Steps:
1. Log in to your Mailchimp account or sign up for one if you do not have an account already.
2. Open your WordPress admin panel.
3. Navigate to your WordPress dashboard.
4. Open the Plugins Menu.
5. Select the Add New option from the Plugins menu.
6. Search for the 'Mailchimp List Subscribe Form.

7. Click on the 'Install Now' button to install the plugin.
8. Click on the 'Activate Plugin' button.
9. On the Plugins page, click Settings under Mailchimp.

10. Paste your Mailchimp API key into the field, and click Connect.

11. Click the Select A List drop-down menu, and choose which Mailchimp list to connect to.
12. Click Update List.
13. In the provided sections on the Setup page, customize your form settings.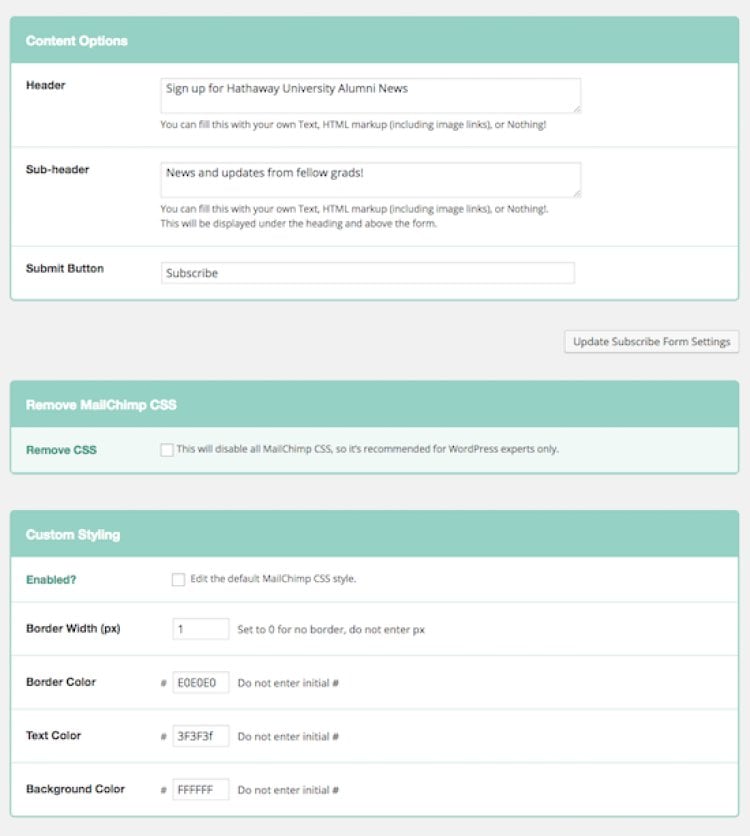 Content Options: Customize the text of your form's header, sub-header, and submit button.
Remove CSS: Disable Mailchimp's CSS (advanced option).
Custom Styling: Edit the border, color, and text of your form.
List Options: Enable Referral program, JavaScript support, and double or single opt-in.
Merge Fields Included: Choose to show or hide certain Mailchimp fields from your signup form.
Group Settings: Show or hide Mailchimp group options.
14. After you update each section on this page, click Update Subscribe Form Settings.
Congratulations! You have successfully made your very own, customized signup form.
To place the Mailchimp widget on your website, you need to complete a few extra steps as well.
Open your WordPress Dashboard.
Open the 'Widgets' sub-menu from the 'Appearance' sidebar button.
Drag the Mailchimp Widget onto any one of your widget areas and click the Save button.
Congratulations! You are done.
Did you find this article helpful? Check out our blog for more stuff like this!