Online businesses often find themselves juggling a multitude of tasks. Tools come to the rescue by automating repetitive chores, saving precious time and effort. This newfound efficiency allows entrepreneurs to zero in on the strategic aspects of their ventures. Tools offer scalability, streamlining your online business and enabling the management of larger workloads without a corresponding surge in labor costs.
The industry you operate in doesn't matter much. Whether you're a Hosting Reseller, run a marketing agency, or sell books, the tools presented in this article will allow you to gain a competitive advantage over your rivals.
---
Streamlining Your Online Business
Online business is saturated with data, and tools play a pivotal role in its collection, analysis, and visualization. They furnish invaluable insights crucial for decision-making while reducing the chances of costly errors. Additionally, these tools often translate into long-term cost savings, curtailing the need for additional personnel and mitigating potential expensive blunders. They come equipped with customizable features, allowing businesses to tailor them to their needs, ensuring adaptability and growth compatibility.
In essence, tools in your online business streamline operations, bolster productivity, and empower you to make wise decisions. They represent a crucial investment that can lead to enhanced customer experiences, cost-efficiency, and a leg up in the competitive online marketplace.
In our prior article, which you can peruse below, we presented the essential tools for online businesses, including CMS systems, CRM solutions, eCommerce platforms, and instruments for automating social media and email marketing. In this article, we aim to supplement the roster with less pivotal yet still advantageous tools, poised to provide you with a competitive edge.
---
Zapier
Zapier is a powerful automation tool that can be a game-changer for your online business, exactly like fast VPS hosting. Its significance lies in its ability to connect various web applications and automate workflows, allowing you to streamline processes, save time, and enhance productivity.
First and foremost, Zapier simplifies complex tasks by creating automated workflows, or "Zaps," that connect different apps and services you use daily. You can set up triggers and actions that occur automatically, eliminating the need for manual data entry or repetitive tasks. For instance, you can create a Zap that automatically adds new customer data from your website to your CRM.
Zapier integrates with thousands of apps, spanning various categories like marketing, sales, or customer support. It means you can create Zaps that cover a wide range of functions, from automating email marketing campaigns to notifying your team about new online orders. The possibilities are virtually limitless.
By automating routine tasks, you free up valuable time and resources and can redirect them toward more strategic activities. Being nimble and efficient can give you a distinct edge.
---
Loom
Loom is an invaluable asset for your online business. Its significance lies in its capacity to facilitate effective communication, streamline intricate processes, and enhance customer interactions. It enables you to create quick and personalized video messages, which are often more engaging and informative than text-based communication.
Whether you need to explain a project's details, provide feedback on a task, conduct virtual team meetings, or training and onboarding processes, Loom's video messages are a dynamic way to convey information. It fosters clearer understanding, minimizes misunderstandings, and promotes better collaboration among team members, especially when working remotely.
Instead of typing lengthy email responses or instructions, you can record video tutorials or respond without wasting time. It's particularly effective for demonstrating how to use your products or troubleshoot issues. Customers appreciate the personalized touch and the ability to see what you're explaining, leading to higher satisfaction and loyalty.
Moreover, Loom enhances your content marketing strategy. You can use Loom to create engaging video content for your website, social media channels, or email marketing campaigns. Whether it's product demos, explainer videos, or thought leadership pieces, Loom enables you to produce professional-quality videos without expensive equipment or editing software.
Loom doesn't require technical expertise or a steep learning curve. Anyone can quickly create and share videos. It is a versatile tool that various team members can use for different purposes. Furthermore, the content is stored on their servers, so you don't burden your SSD NVMe hosting.
---
---
Otter.ai
Otter.ai core functionality revolves around transcription and voice-to-text capabilities, but its impact goes beyond mere text conversion. First and foremost, Otter.ai simplifies the process of capturing and preserving valuable information.
Meetings, webinars, and brainstorming sessions generate insights, ideas, and decisions. Otter.ai records and transcribes these interactions in real-time, so you don't lose any crucial details.
With this tool, you can save time on manual note-taking. Instead of manually jotting down key points from discussions, you can focus on actively participating and engaging in the conversation. Otter.ai's automated transcription ensures an accurate and searchable record of everything discussed.
From the transcripts of webinars, podcasts, or video conferences, you can create written content such as blog posts, articles, or social media posts. This dual-purpose content strategy not only saves time but also helps you reach a wider audience by catering to different learning preferences.
It has effective search functionality. You can quickly locate specific keywords, phrases, or topics within transcripts, allowing you to retrieve relevant information on-demand.
---
Make Your Website Accessible
Make sure no one in the world has trouble loading your website quickly. How to do it? It's simple: get hosting with Cloudflare! The CDN network will ensure that the user connects to the nearest server to download heavy static files, while your hosting server will only deliver dynamic content. Choose the best CDN hosting from UltaHost!
---
CloudApp
CloudApp simplifies capturing, sharing, and collaborating on visual content, making it an invaluable asset.
One of the primary benefits of CloudApp is its ability to streamline communication. It enables you to convey ideas, provide feedback, and share information with clarity and precision. CloudApp enhances productivity by simplifying the process of sharing information. You can capture visual elements from your screen, annotate them, and share them instantly.
CloudApp is an excellent tool for enhancing customer support and engagement. Instead of relying on text-based documentation or lengthy manuals, you can create interactive and engaging tutorials, walkthroughs, or how-to guides.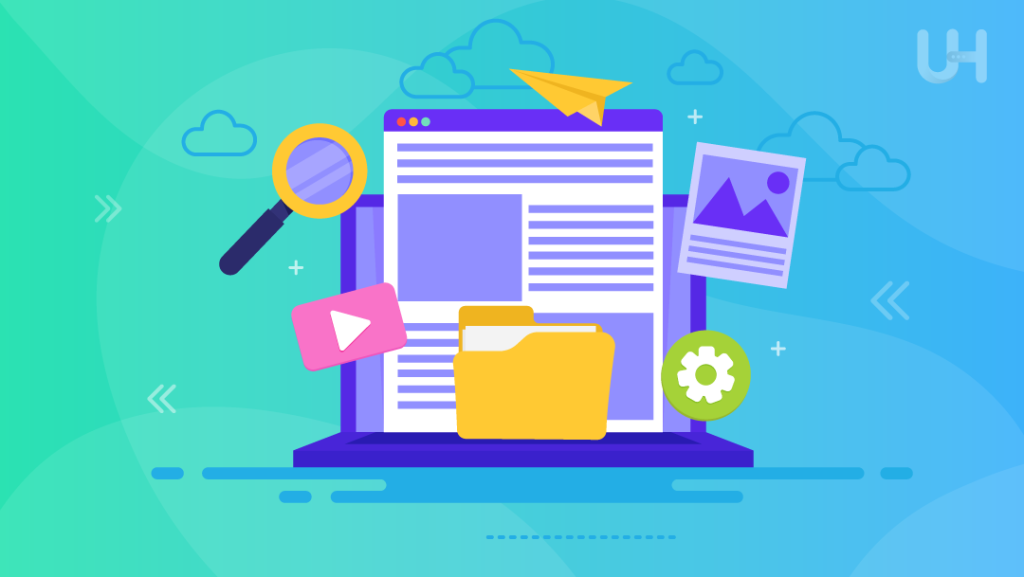 Whether you're providing step-by-step guidance or visually demonstrating a solution, with CloudApp, you deliver exceptional customer experiences. Just make sure to have a high-performance server, like WordPress VPS Hosting from UltaHost, to fully utilize the capabilities of this tool and publish content on your website that will be fast and secure.
Moreover, CloudApp offers valuable insights into how users utilize your visual content. You can track views, shares, and engagement metrics, allowing you to assess the effectiveness of your communication and refine your strategies accordingly. This data-driven approach empowers you to improve your visual content and communication efforts.
---
ClickUp
ClickUp stands out as a comprehensive project management and productivity tool. It provides a centralized platform to manage tasks, projects, and deadlines. With the ability to create, assign, and prioritize tasks, ClickUp ensures that every team member is well aware of their responsibilities and the associated timelines.
Moreover, ClickUp streamlines communication within your team. Team members can leave comments, attach files, and employ @mentions, keeping discussions relevant to specific tasks or projects. It offers flexible workspaces, dashboards, and views you can tailor to match your business processes and workflows.
ClickUp also aids in goal tracking, a vital aspect of business growth. It enables you to set objectives, key results, and milestones while providing real-time progress monitoring. This feature keeps your team aligned with your strategic business goals, fostering a results-oriented mindset. You can efficiently allocate resources, monitor task durations, and identify optimizing opportunities.
ClickUp's Analytics and Reporting tools give insights into your team's performance and project progress. Through visualizations like charts and graphs, you can gain a deeper understanding of your data and streamline your business strategies.
---
Conclusion
These five must-have tools are essential for streamlining your online business and propelling it to greater productivity and efficiency. They offer a multitude of benefits that cater to various aspects of your operations, from task automation and efficient communication to transcription, visual content creation, and project management.
So, whether you're looking to automate repetitive tasks, enhance customer interactions, improve content creation, or streamline project management, integrating these tools into your online business arsenal is a wise investment that promises long-term growth and success.
If you enjoyed this article, then you'll love UltaHost hosting platform. Get 24/7 support from our support team. Our powered infrastructure focuses on auto-scaling, performance, and security. Buy reliable and Instant VPS hosting and let us show you the difference! Check out our plans!
Otter.ai simplifies information capture and retrieval by recording and transcribing meetings and discussions. It saves time on note-taking, aids in content creation, and offers efficient search functionality within transcripts.
Zapier connects different web applications, automating workflows and streamlining processes. It saves time, enhances productivity, and offers countless possibilities for automation, from email marketing to order notifications.
Loom facilitates effective communication through personalized video messages, enhancing understanding and collaboration. It's also a valuable tool for creating engaging video content for websites, social media, and marketing campaigns.
CloudApp streamlines communication by allowing users to capture, annotate, and share visual content with ease. It's particularly useful for creating interactive tutorials and guides, enhancing customer engagement, and gaining insights into content utilization.