Magento is a popular open-source platform that has made huge strides in progress over the past few years.
But, Magento is simply a platform and not an all-in-one solution for all businesses. This means that the default setup does not come with any extensions when you set up a store.
You need to decide on the features you want for your store and install the appropriate extensions.
Luckily, Magento offers a huge range of extensions to extend the functionality of your eCommerce store.
With the right extensions, it can help with your SEO strategies, aid builds a flexible and powerful store that is easier to run, and provides better customization for an improved user experience.
Why You Need Magento Online Store Extensions
Magento extensions can help you with different aspects of your eCommerce store, such as:
Marketing
Content Management
Accounting and Finance
Payments and Subscriptions
Security
Optimization
Reporting and Analytics
Here are some of the benefits of using Magento extensions:
Enhanced user experience
Improved information architecture
Increased store functionality
Better backend efficiency
Enhanced digital visibility
Global audience (thanks to language translation)
Multi-store functionality
Cost-saving
The list goes on!
---
You can manage sales, update prices, optimize the checkout process, process bulk orders, apply marketing tactics, and much more. This is like a repricing tool on Amazon making Amazon selling much easier.
While it's possible to do some marketing and tech recruiting to help you with web technicalities and attract customers, boost conversions, and ensure the growth of your eCommerce business, Magento extensions take away the need for much of that.
But choosing the right extensions can prove to be a difficult task considering the sheer number of options available to you.
To help simplify things for you, here is a list of 9 Magento extensions you can use to provide a better eCommerce experience for your customers.
This list includes a combination of extensions to cover different areas of your eCommerce business and collectively help you create an improved experience for your customers.
So, without further ado, here are the extensions that will help you transform your Magento online store into everything you want it to be.
Super Monitoring
About Super Monitoring:
Super Monitoring offers a remote website monitoring service that allows you to monitor your Magento store 24/7 to ensure that it continues to function properly, with optimal speed and uptime.
With an extension like this one, you'll have no need to go searching for any Magento alternatives for a better-performing site.
What's great about this extension is that it notifies you instantly via email or SMS any time there is an outage or malfunction in your system. It makes it an essential tool to have in your arsenal if you want to ensure that your eCommerce store never faces any downtime.
Features:
Uptime monitoring ensures your website is available at all times
Performance check monitors response time
Page speed monitoring maintains optimal full page loading time
Instant email and SMS alerts in case of problems
Multilingual interface (English, German, Spanish, Polish, etc.)
Pricing:
Super Monitoring offers a free trial, but you can get the premium version for just $5.99/month. You also get two months free if you pay annually.
Poptin Smart Popups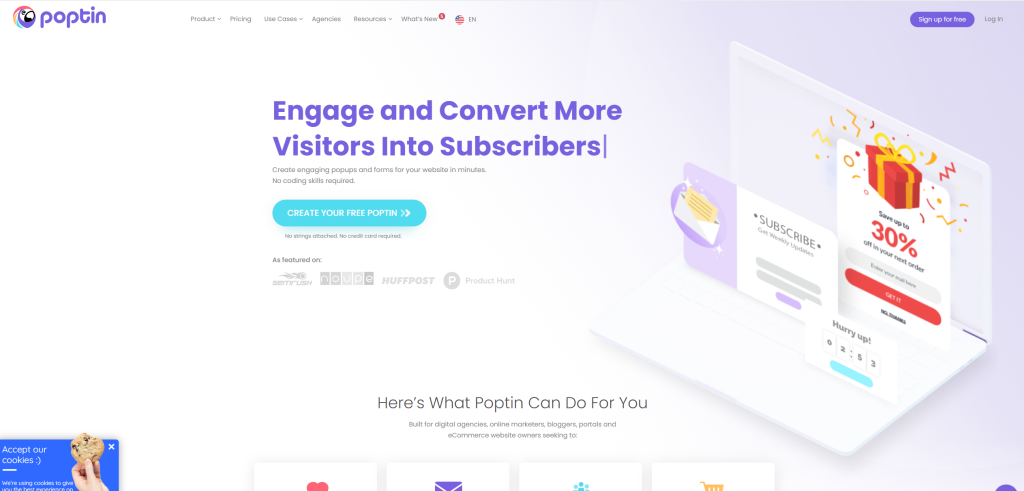 About Poptin:
Pop-ups are among the most effective ways to grab the attention of your visitors. eCommerce businesses use exit-intent popups, countdown popups, contact form popups, and many more. They use this to help them increase conversions on their eCommerce store, collect emails, or even decrease shopping cart abandonment.
Although there are many different types of popups you can use, it's important to use them right, so you don't end up creating a negative experience for your store visitors and increase the chances of your customer success strategy.
Features:
Advanced drag-and-drop editor makes it easy to customize pop-ups
Pre-designed, high-quality popup templates that are ready to use
Easily add or remove images, fields, or elements from templates
No coding skills are required to create professional-looking popups
Responsive design that looks great on all devices
Pricing:
You can use the Poptin extension for free for up to 1,000 pop-up views every month. You can sign up for the premium version for just $19/month if you need more.
---
Paytrace Payment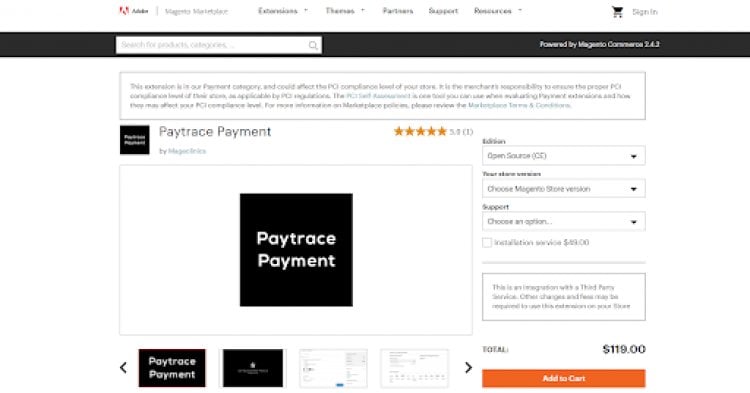 About Paytrace Payment:
Paytrace Payment is a popular payment gateway provider that offers secure servers for credit card payments, as well as anti-fraud measures on your online store.
This extension makes it easy for your customers to purchase your products in your store by giving a direct transaction methodology. Incorporating this allows your customers not to leave the store when making a payment. This is already done on the checkout page.
The platform stores its data using a 3-tier high-security data center and provides end-to-end encrypted card readers, as well as the PCI-compliant database.
Features:
Payment gateway provider offers comprehensive transaction processing
Paytrace can process Level II and Level III credit card data
The platform minimizes PCI scope and reduces liability
Provides secure checkout and client-side encryption
Offers a secure customer profile storage vault
The payment process plays a significant role in customer experience. Once you achieve a seamless process for payment transactions, you increase the chances of having repeat customers and racking up positive business reviews.
Pricing:
Paytrace offers different pricing plans, ranging from the "Basic" plan designed for small eCommerce businesses to the "Cash Advance" plan suited explicitly for financial institutions.
You can choose the appropriate one depending on your marketing goals. However, the website only offers dynamic quotes and doesn't disclose pricing.
---
Language Translator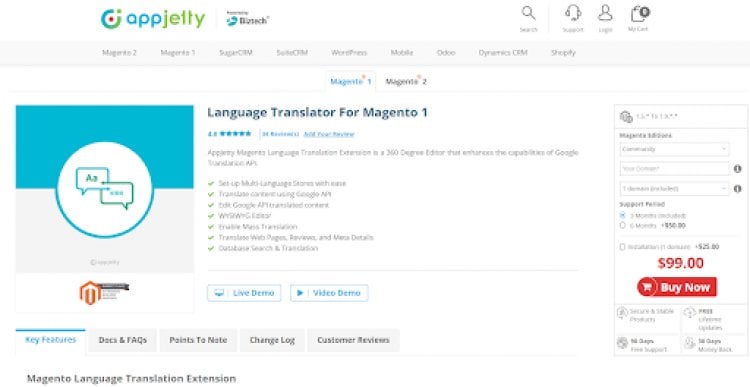 About Language Translator:
This extension allows you to speak your customers' language, which means that you can now cater to a broader and even global audience when marketing your products and services.
With this extension, language no longer has to be a barrier for online store owners.
Even the best eCommerce course will tell you how important it is to communicate in a way that resonates with your target customers. And so, if you can translate your online store pages into their language, it can help to boost your conversions significantly.
If you want to take it up a notch and bring the same idea to your video content, you can simply hire creative talents for your translation needs. This will make your content and services be shared and recognized by different people globally.
Features:
Automatic translation of all pages on your website
Complete control over which content to translate
Choose fields, CMS pages, categories, etc. for translation
Translate customer reviews to any language
Mass translate content to preferred languages
Pricing:
This language translator for Magento eCommerce stores comes at $99, which is extremely affordable when considering how much it will help your sales and reach.
---
Extra Fee Pro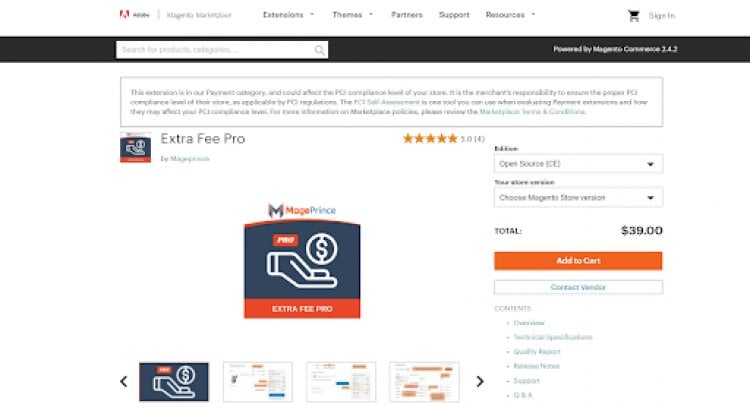 About Extra Fee Pro:
This extension for Magento 2 allows you to add extra charges for any additional services you provide, such as insurance, gift wrapping, packing charges, etc.
The tool makes it simple to display these charges in a way that matches the branding of your website on different pages, such as your shopping cart, checkout page, sales emails, PDFs, etc. to make it easy for customers to make a decision.
Features:
Easily enable or disable the extension from your admin configuration
Choose from "fixed price" or "percentage price" for extra fees
Granular control over stores or groups on which to apply extra fees
Supports multi-store and multi-currency
Automatic tax calculation on extra fees
For instance, a fashion/lingerie eCommerce store like 3Wishes might use this extension to offer additional services, such as gift-wrapping for their Valentine's Day lingerie to give to significant others as a present.
Pricing:
You can get the Extra Fee Pro Magento extension for just $39.
---
Xero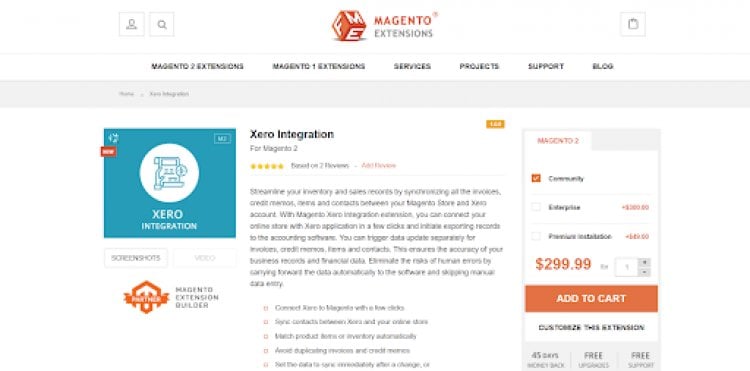 About Xero:
This Magento extension offers simplified accounting services to small and medium-sized businesses.
The accounting application helps them maintain accounts on its secure cloud-based server for a small monthly fee.
These types of tools allow you to run your business easily, which makes Magento a great option compared to other alternatives.
Features:
Auto-update your accounting records in Xero account
Integrate with Magento store in just a few clicks
Manage store inventory easily with accurate, up-to-date figures
Pricing:
You can get the Xero Magento integration extension for $299. It comes with an installation fee of $50.
Unbxd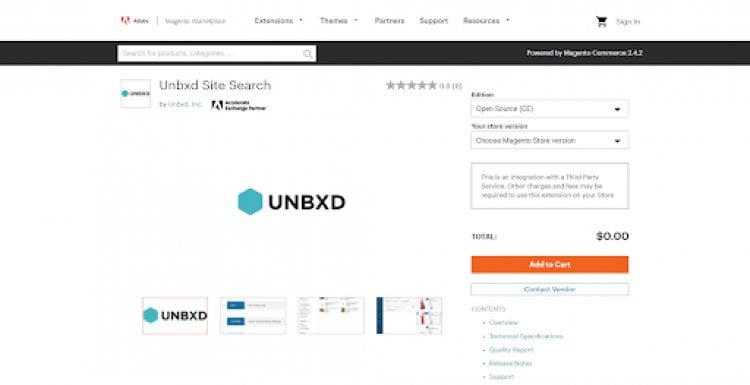 About Unbxd:
It is an AI-powered product discovery tool for eCommerce websites.
It's designed to help you personalize and contextualize your product recommendations to enhance your customers' shopping experience.
Ultimately, this results in more conversions for your store.
With Unbxd, you can also keep track of your inventory, including new additions, deletions, incremental changes in product descriptions, and much more.
Features:
Transform the catalog on your store into searchable data
High-speed catalog indexing
Logging system for looking up products in indexing queue
Analytics integration for unique shopper profile
Tools to boost user personalization for higher conversions
This is a great tool to add to the arsenal of a website that sells many different products, such as this meal planning service with tons of different options on offer.
Unbxd and other extensions like this are perfect for businesses like High Desert Pure, which they have multiple variants for their tinctures, balms, gels, and hemp lotions.
Pricing:
Unbxd pricing is not disclosed on the website, but the platform does offer a 21-day free trial to test out the extension.
---
Zoho CRM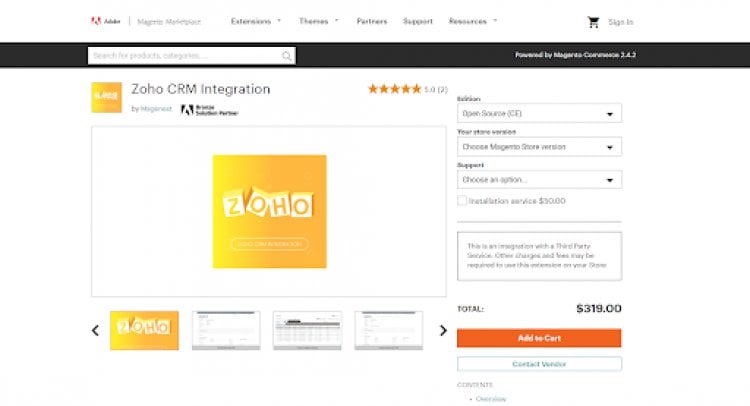 About Zoho CRM:
Zoho works seamlessly with Magento to provide users with valuable information about their customers and help make their marketing efforts a lot more effective.
You can integrate this tool with many other marketing and automation software to help you gather more leads and achieve your marketing objectives.
Features:
Upload and sync data (customers and leads) with orders and shipping information
Segment data into different groups according to the user's place in the customer journey
Glean helpful insights to help you better define target customers
Pricing:
You can get Magenest Zoho CRM Magento integration for $319.
---
ClickSend SMS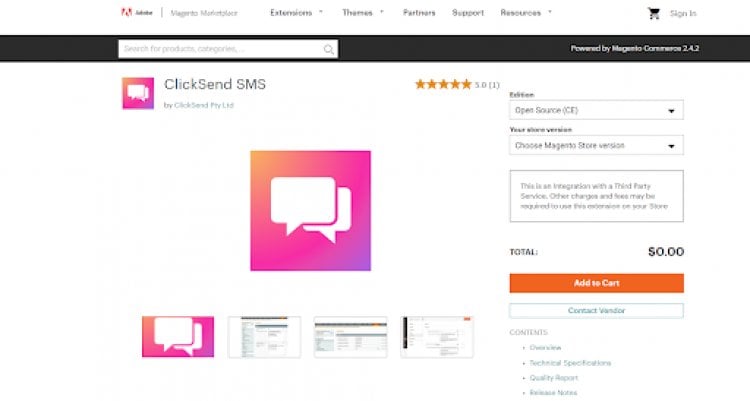 About ClickSend SMS:
This B2B communications software offers Magento store owners the ability to perform large-scale marketing tasks, such as sending and receiving SMS, email, rich media, and voice. You can even post worldwide using web apps or API.
You can engage your customers and employees on your preferred channels using one convenient platform with this tool. Being an SMS provider, it lets businesses receive, send, and track SMS text messages globally. It allows your store to send marketing promotions or transactional information to either your customers or employees.
For instance, an eCommerce store like Impossible can benefit from using the tool to let their global audience be up to date with their new promotions and fresh products. It keeps its customers in the loop even without visiting their online store.
Features:
Send SMS automatically on ClickSend's platform
Automatically send SMS when orders are shipped
Get SMS notifications whenever a new order is placed
Pricing:
This extension is free to use. But, you may incur varying charges depending on the quantity, location, and type of SMS service you require. Premium plans start at $0.008/SMS.
---
What to Look for When Choosing a Magento Extension
When choosing a Magento extension for your online store, make sure to look for an extension that has excellent reviews and ratings so that you know you're downloading from a reputable source.
Also, choose a Magento extension from certified Magento partners and developers.
You also want an extension that is under active development so that you're assured of tech support from the developer should you need it.
Decide on Your Goals First
When choosing your Magento extensions, first decide what your goals are to understand better which extensions will assist you in achieving them.
For instance, you might choose based on the following needs:
Customer support extensions
Marketing extensions
Conversion optimization extensions
Content and customization extensions
Review extensions
Image flipper extensions for professional product images
Store improvement extensions
Business model extensions
Accounting and finance extensions
Payment and security extensions
Shipping and fulfillment extensions
Reporting and analytics extensions
Once you know what your goals are (for instance, boosting store profits by increasing the value of each customer transaction), it's easier to find the tools that will help you optimize your Magento online shop and make it a lot easier for you to run it by improving the efficiency of your website's back end.
The bottom line is that these extensions will help make your job easier in every way.
For example, marketing your eCommerce blog might involve posting top-quality blogs that accept guest posts. But, using one of the marketing-focused extensions on Magento, you will be able to automate a lot of your marketing and blog promotion tasks, saving you tons of time.
Keep in mind that although there are dozens of Magento extensions to choose from, you don't have to pack your Magento online shop full of extensions.
Simply choose the ones with the features you need to enhance your eCommerce store experience.
So, whether your store offers luxury, high-end fashion products, or digital products, you only need a few of the right tools to help you simplify and automate different aspects of your online business operations, as well as make your store faster, safer, and more user-friendly.
---
Conclusion
There you have it — 9 Magento extensions you can download to help you optimize your eCommerce store.
Each of the extensions listed here is a high-quality extension compatible with Magento's platform. It's from a trustworthy vendor and comes with regular updates from the developer.
With the tools outlined above, you can scale your website, simplify your checkout process, build and customize your online store mobile app, and so much more.
You are only limited by your imagination when it comes to transforming your eCommerce business into your vision of what you want it to be.
So, whether you want to add to the functionality of your online store or enhance the shopping experience for your customers, or even do both, the Magento extensions outlined in this article will help you to do just that.
What other extensions do you know are absolute must-haves for Magento online shops? Sound off in the comments section below!