Are blogs still worth it in 2023? Has social media replaced them? What does the landscape look like today? If you're planning on starting a blog, writing articles, or creating your own online business and making money at blogging in 2023, then this article is for you.
---
How has blogging changed?
What are the differences between running a blog now compared to 10 years ago? Based on my own experience, I can say that it has changed significantly. I have nearly 10 years of experience running various blogs, and I must admit that blogging for business today looks different from the beginning of my WordPress journey.
Blogs used to be the primary source of information, and the most popular ones were the center of the internet for a given industry. However, today they have to compete with much stronger competitors. First, Facebook appeared, then YouTube, and finally, the trend for short videos on TikTok, Instagram Reels, or Facebook Watch.
Modern competition for blogs
There is significant competition for blogs now. Each of us on Facebook or Linkedin probably has a few friends who are interested in the same things as we are but spend much more energy searching for information on a given topic and publishing it. Sometimes, lively discussions of several enthusiasts take place under their posts. It is largely significant competition for blogs.
YouTube has introduced a new level of quality – vlogs. A well-prepared 10-minute video can be much more effective in capturing the viewer's attention than a lengthy article. Many bloggers have recognized this and have moved to YouTube, Vimeo, or other social video platforms.
TikTok and the trend for short videos, now available on Instagram and Facebook as well, have introduced even more dynamics to the industry. Short videos are even more effective in capturing users' attention. But what do you think about a blog supported by all these new types of content?
A chance for modern bloggers
This competition is not displacing blogs. Now you have to work a little harder to be able making money at blogging, but with new opportunities, you can promote yourself in a way that has not been possible before.
Now, bloggers should think about creating balanced content: a few blogs, vlogs, stories on Instagram, and posts on Facebook, including an active community in a Facebook group. However, the blog can remain the control center for this modern business with flagship content.
---
Center of control
When it comes to blogging for business, WordPress is a great choice. With its modularity, you can create anything from a blog to an online store. This customization makes a WordPress blog the perfect centerpiece for your media business, allowing you to control your content and monetization strategies.
Is it worth having a blog in 2023? Absolutely! No other online content platform allows you to monetize your creativity as effectively as a blog. You can create landing pages, CTAs, and run your online store, all from your blog.
Brilliant businessmen have created numerous social media platforms in recent years, including Facebook, Instagram, Twitter, LinkedIn, and TikTok. Furthermore, various forms of content dissemination exist, such as text, video, and audio. What about a blog? You can use it to organize and centralize all of this.
You can use your blog as a command center, where you can connect roads, paths, and highways from other places on the internet to it. Although social media is replacing some blogs, they can still be valuable tools for supporting modern bloggers.
---
Longer life for content
Being only on social media is not enough as the lifespan of your content there is very short, often disappearing within a day or two. However, if you place your content on your blog, it can live for months or even years. While you can initially promote your blog content through social media, you can also optimize it for search engines.
When social media traffic fades, search engine traffic can take its place. Here, your content can maintain a high position for weeks, months, and even years. If you work hard on creating materials, upload them to your blog to extend their lifespan.
Moreover, connecting a newsletter with a blog is a straightforward process. A well-crafted newsletter provides direct access to your audience and enables you to share various types of content with them. Incorporating these tactics will help you making money at blogging.
---
Only a blog allows you to have complete control over your content. Every social media platform has its own rules and puts its interests first. The social media platform's owner benefits the most from the ads that your audience views.
It is not uncommon to be banned from social media, which can prevent you from communicating with your audience. What about a blog? As the server owner, you have complete administrative control. On social media, your profile is owned by the social network.
What if Facebook, YouTube, Instagram, or TikTok cease to exist? While they are popular now, who knows if people's tastes will change and something new will emerge based on a new idea, causing people to migrate there? Giants are known to collapse spectacularly, so if any of these services were to collapse, it would happen suddenly and without warning.
Additionally, the owners of social media decide on the algorithms that will display content to other users. It's common to restrict the reach of specific channels or keywords, which may lead to the concealment of an entire video or post. You have no control over potential changes in the rules of social media platforms, such as the introduction of payments, as you are merely a guest. However, your blog belongs solely to you, and nobody can restrict the reach of your content.
---
What do audiences need?
In recent years, there has been a noticeable shift in audience preferences. Nowadays, people tend to consume content that is more interactive and attention-grabbing. People nowadays are not only restricted to reading blogs. They also enjoy watching videos, listening to podcasts, viewing photos, and engaging with short-form content.
Moreover, audiences have become more discerning about the type of content they prefer and in which format. It's essential to cater to these changing audience preferences while blogging for business and making your blog more accessible and appealing to a wider audience. Posting on TikTok, for instance, may help you attract individuals who would appreciate your blog and its valuable content.
With WordPress, it's easy to transform your blog into a shop where you can sell products and services. A blog is an excellent platform for content marketing, enabling you to build credibility, improve your reputation, and establish yourself as an industry expert. It can open up opportunities like writing a book, speaking at industry conferences, and connecting with influential people.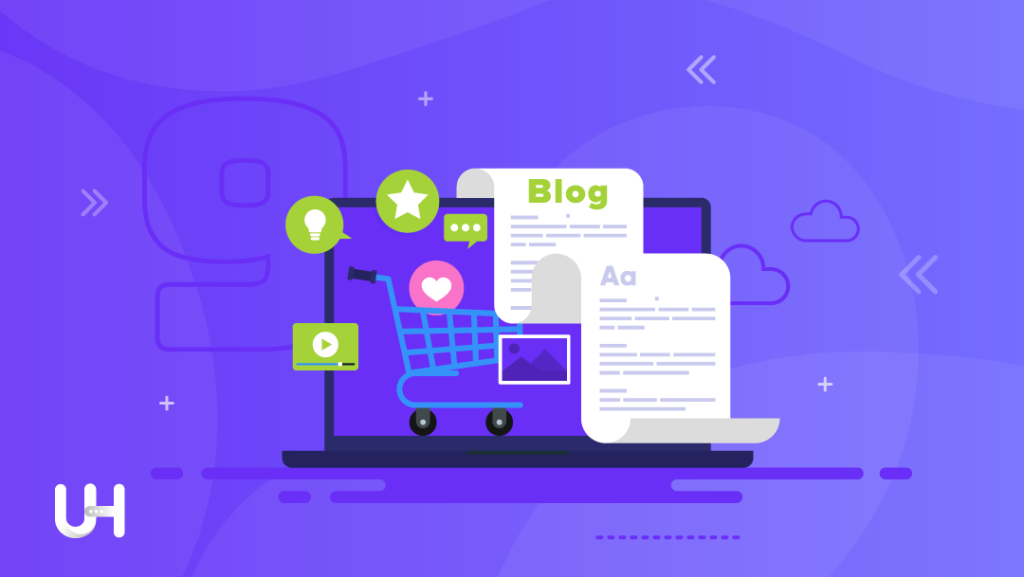 ---
Higher in the ranking
Rank higher in search engines can be a game-changer for your blog. Well-written, high-quality content combined with effective optimization techniques can result in a top spot in search results for the most relevant keywords. It has a long-term effect and can drive traffic to your site for months, even if you are not actively marketing it.
Blogging for business requires adapting to evolving audience preferences. Leveraging the power of various content formats and optimizing your content for search engines can help your blog reach new heights of success and establish itself as a valuable resource in your niche.
---
Monetizing content
Making money at blogging is a great way to generate online sales, especially for new businesses. Additionally, it can serve as a solid foundation for building an online shop over time. To make this possible, you will need a hosting server with SSD NVMe. When selecting a hosting provider, consider your future needs and find a solution that allows for unrestricted growth.
Luckily, UltaHost provides a highway to success for your online business. By utilizing WordPress-optimized hosting, you can achieve full scalability for your online venture. You can begin with the most affordable package, which will enable you to launch your blogging journey. As your website grows, you can increase your hosting plan accordingly.
With WordPress hosting, you can develop your blog, online store, and landing page for your special offers or promotional campaigns. Start to making money at blogging with UltaHost.
If you're considering an online shop, it's beneficial to create posts or articles related to your products. To aid in sales, generate content that is thematically relevant to your business, such as curiosities, guides, or materials that demonstrate your expertise in a specific area.
The second type of content is comprised of case studies, client interviews, testimonials, and lifestyle content. This type of content helps your audience get to know you better. While blogging for business, you can invite guests to contribute on specific topics, create guides and glossaries, or describe tools.
---
Conclusion
Having a blog in 2023 is a valuable asset. It's a great starting point and the foundation of your online business, on which you can create other substantial products such as books, e-books, or online courses. Once you've established a regular writing habit, it becomes easier to create other forms of content.
However, it's essential to produce a variety of content and support your blog with a well-planned marketing strategy that includes social media, longer-form video content on platforms like YouTube or Vimeo, podcasts, photos, stories, and short videos on platforms like TikTok, Facebook Watch, or Instagram Reels.
If you enjoyed this article, then you'll love UltaHost hosting platform. Buy WordPress VPS hosting and get 24/7 support from our support team. Our powered infrastructure focuses on auto-scaling, performance, and security. Let us show you the difference! Check out our plans!