10 Best PHP Social Network Script   
Today, we share with you 10 Best PHP Social Network Script that helps you to build an exclusive social networking platform.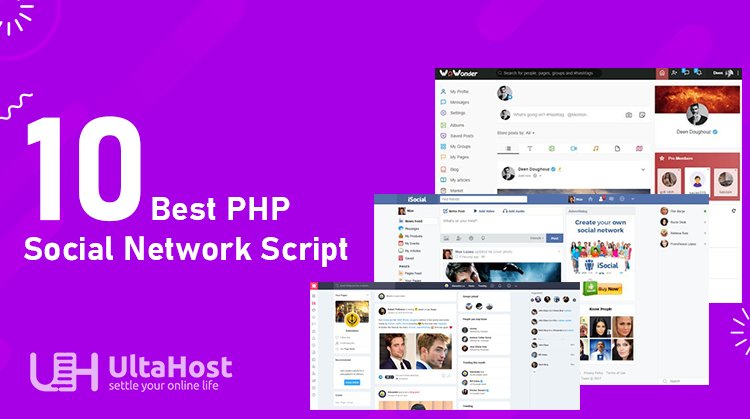 10 Best PHP Social Network Script   
So, PHP Social Network Script is all about building powerful and effective social networking sites.
Well, there are quite a lot of "so-called" effective solutions for building social networking sites. However, these tools lag the punch and the power necessary for building effective and successful social networking sites.
Herein, comes the utility of Social Network PHP Script that stands out from the bunch of inefficient tools and helps you to come up with an exclusive social networking platform.
Moreover, there are numerous reasons for you to make use of these PHP Social Network Script.
Here, we share with you some of their highlighting attributes:
These PHP Scripts Software allow users to create their profiles
These PHP Scripts allow users to create their social media account
These social media PHP Script allow users to do activities such as post & share articles, photos, or videos on their timeline
Plus, users can create unlimited fan pages, groups, & events, create or like pages, upload images, make photo albums, and more
These Social Network PHP Script allow you to have advanced features such as live chat, video chat, news feed, & notifications, and more
So, if you want to create a social networking website like Facebook, then you should use these Social Network Scripts.
This post features as much as 10 Best PHP Scripts.
The best part with these social network scripts is the fact that they allow you to create your social networking sites without having any sort of knowledge about coding.
These PHP Scripts come with a perfect design and user-friendly interface. They allow Admins to make money with Ads System. Admin can sell Ad's space to their users and collect money with integrated payment gateways such as PayPal or Stripe.
So, if you are searching for the best PHP Scripts for starting your social networking site, then you are perfectly at the right space.
We have listed both free ones as well as commercial ones below. So, here's the list for you:
WoWonder is the best social PHP network script ever! that lets you create your own social network.
It's a PHP Script for creating fast and high-quality social networking website.
It's the best way to start your own social networking website.
WoWonder is fast and secured. It is regularly updated.
WoWonder allows your users to perform different activities such as creating profiles & timelines. It allows users to share videos from other websites such as Vimeo, YouTube, etc. They can play flash games, find nearby friends, do a live chat, and get news feed, notifications, and lots more. Users can even watch online movies hosted by Amazon S3.
Features:
This PHP Script provides support for CPC & CPM. So, the script provides the opportunity to monetize from your social networking site. Users can create and post their advertisements in the posts as well as in the sidebars of your website
The script has been integrated with Amazon S3 CDN. So, you can store unlimited files, images, music, and videos which can be uploaded to your social website
Watch videos hosted on Amazon S3. Moreover, users can watch & import videos from various video-sharing websites such as Vine, SoundCloud Music, and more
The script comes studded with high-level cache system allowing you to handle more than 1 million users of your website
The PHP Script allows the admin as well as the users to create and post various articles, threads, posts, and forums on the website
Admin can add/edit the Google Analytics Code. They can ban a suspicious IP address from the back end
The script has the mailing list system with which the admin can send messages to all registered users.
Pricing Plan
The PHP Script is available at $72 with all the major features and supports up to six months. You can extend the support up to twelve months by paying just $25.13. The extended license is available at $272 only.
This social network platform is very much similar to Facebook that allows users to perform various activities. For example, they can add life events in their profiles, manage their profile privacy, comments/like/share photos & posts etc.
Moreover, you can provide different options to the users such as news feed, live chat, notifications and many more modern features.
Features
Admin can have a quick glance at various statistics about online users, pages, groups, site information and a lot more elements.
Further, you can configure multiple website settings such as Captcha, word banning, accounts per IP, dynamic timestamps etc. from the back-end.
It also provides various options for themes & plugins to add new appearances & functionalities on the website & have a better user experience. These plugins are for file sharing, video calls, polls, games, weather etc.
The script allows easy management of users, groups, pages, advertisements, languages and much more for the admin.
Pricing Plan
Avail the regular license of this social PHP network script at just $49 and the extended license at $249 only.
You will be given a 6-month support system that can be extended to 12 months by paying $16.50 extra.
iSocial lets you start your own social network and provides numerous features like messaging &, live chat system, real-time notifications on like/comment/chat etc. to the users.
Also, this script lets you include a marketplace, article library, games and many other modules.
Users can manage the privacy of their profiles and decide which posts can be will be visible to friends or the public.
Features
You can provide a marketplace section & commercial dealings to take place on the website. This means sellers and potential buyers can find each other online & purchase of various products & services can occur.
Furthermore, the admin can authenticate new users by asking them to login via Facebook, Twitter, or email IDs.
With this script, you can allow users to create unlimited fan pages, groups & events with just a few clicks.
The script comes with 2 languages (English & Spanish) as of now. Although, it is very flexible and lets you add any language you want.
Pricing Plan
Get the regular license of this feature-rich script at a very affordable cost of $51 and extended license at $255 only.
The responsive script also provides you with a 6-month support system which can be extended to 1 year by paying an additional amount of $17.25
phpFox is a feature-rich social network platform to build online communities. phpFox enables community members to connect, share, and engage with tons of ready-to-use features. Besides, this platform is also developed to support your community builds an unlimited communication hub with video calls, chat, and live streaming. With responsive web design, phpFox works well on any screen size. phpFox Android & iOS apps are also available for a better mobile user experience.
Pricing Plan
Breeze can rightly be called a "giant" social networking platform. With Breeze, you can build social community websites such as Facebook in just a few minutes. Breeze offers a splendid responsive design for your social networking website so that you can give exact Facebook-like look to your website.
Breeze allows you to offer instant and advanced search options to your users for pages, groups, photos, videos, etc. Users are allowed to create accounts on your site. They can create various posts, pages, articles, and more.
Like Facebook, your users can find the news feed of followed people/groups/pages, trending users, and movies shared. Plus, users can like, comment, and share each other posts with a few clicks.
Features:
Breeze allows you to create pages with unlimited categories so that you can promote your brand or community easily.
Breeze offers support for in-built blog system thereby allowing users to create articles. They can even publish them on the website. Further up, users can have likes, views, and comments for their blogs.
Using this PHP script, users can embed videos directly from YouTube, DailyMotion, and Vimeo.
The Breeze PHP script supports 7th Generation advanced search engines. It allows users to search for other profiles using dynamic search filters.
The admin can see the reported content in the form of messages and comments posted on their website and take appropriate actions against it.
Breeze offers a variety of extensions and themes with which you can enhance the overall appearance and functionality of your website.
PHP Social Stream lets you set up social community websites like Facebook in minutes. This platform provides a great responsive design for your social website and enables you to use the mobile-friendly website.
You can provide instant & advanced search options to the users for pages, groups, videos, photos, users, etc. And allows creating a multi-network photo or video gallery on your website.
Users can find the news feed of followed people/pages/groups, movies shared, trending users.
Features
Admin can view the reported content (messages & comments) of the website and take appropriate actions against it.
It has an inbuilt blogging system where users can create articles of different categories and publish on the website & get comments & likes from other users.
Users can mention other users in their comments, messages, posts by adding an '!' after their name or '@' before the name.
Moreover, the script aid you with a variety of extensions & themes to enhance the overall functionality as well as the appearance of the website.
Pricing Plan
Buy the regular license of this PHP social network script at just $18 and extended license at $90 only.
Besides other advanced features, you will also get a 6-month support system which you can extend to 12 months at just $4.88.
Boonex Dolphin is a powerful CMS for creating a social network. The Arsenal has a huge number of extensions, such as groups, ads, audio, and video catalog, Billboards, blogs, chat, file catalogs, and so on. You can also extend the standard set of paid modules, which can be purchased in the extensions section on the official website. You can customize the style of your pages. In addition, developers provide mobile applications that integrate with your portal. The CMS is paid, but there is a trial version for testing.
Pricing Plan
from Free to $ 5000/month.
Social Network is another widely used PHP Social Networking System. You can apply this script on your website and come up with a social networking platform.
The script allows your visitors to register on your site easily. Moreover, they can create their social media accounts in just a few minutes. This PHP Script allows users to post images, videos, Emoji, and do tagging using the front end of your website.
The script enables users to have live chats with their friends and colleagues easily. Moreover, users can go for multiple chats at a time and can read the messages easily and quickly.
The script offers an advanced login system with encrypted passwords. It comes with brute force protection, CSRF protection, and more to keep the users safe and secure.
Plus, users can buy Advert space on your website using credits which can be paid using facilities such as PayPal, Stripe, and 2Chckout. Users can create and customize their profile. Profiles have all Feed Posts that a user makes with detailed information.
The script has features that allow you to create public/private pages. You can invite members and create events for users. Moreover, pages can be personalized just like profiles.
The script offers Ajax Live Chat. Users can have multiple conversations at the same time. They can even read messages in their inbox. Users can create their blogs and have unlimited posts which can be shared on their feed. The script also provides an advanced Admin Panel which can manage members, send out emails, IP Blocking, User Roles and much more.
Features:
The PHP Script supports Ajax. So, you get decreased load time and a faster response
Password encrypted login system
The script prevents your website from SQL Injection and CSRF attacks
You can sell ad space to your users
It supports payment gateways such as PayPal, Stripe, and more
Pricing Plan
Regular License comes at $39.00 which includes future updates and six months of support. Extended support to 12 months can be had for $12.75 only.
Socialite is one of the top-rated solutions for creating a dynamic social networking platform without much efforts & time.
The script supports unlimited functionalities to the users such as 20+ real-time notifications, social login, live & group chat and a lot more.
Features
The script supports multi-level commenting system on the posts along with liking and unliking option on the comments for the users.
Moreover, users can report the spam users, pages, groups & posts and admin can manage this reported stuff by removing them.
The admin can create unlimited announcements for the users & set status (active/inactive). Further, he can schedule the display of the announcement on the home page.
Furthermore, the script provides an affiliate system where users can share their affiliate links on their other social networks like Facebook or Twitter.
Pricing Plan
Get the regular license of this impeccable tool at just $46 and extended license at $325 only.
Further, you will also get an amazing 6-month support system that can be extended to 1 year with just $15.38
mooSocial is hugely popular PHP social network software. The script offers some of the best functionalities allowing you to start a powerful social networking website like Facebook.
Moosocial was launched way back in 2012 and has seen many active developments ever since.
With every new release, mooSocial has added many useful features. So, mooSocial has now become a feature-rich PHP Social Network Solution. It's at par and even better (in some ways) than phpFox and Social Engine.
If we consider pricing then too mooSocial is better than many other options listed in the compilation. It is more affordable than most of other Facebook Clone Software listed out here in this post.
Moreover, mooSocial is fully unencrypted and Open-Source PHP Script. Plus, it can be easily installed on a supported web hosting server. As of now, a hosted solution is available. So, it's a good option for all those who do not want to manage server and software.
Features:
It offers a hassle-free installation wizard. You need to create a database, upload files to the server, and run the installation wizard. The easy step by step installation wizard makes the installation very easy.
Once you install your site, it becomes ready to use within just one hour of customization.
The PHP Script is very affordable
It's being developed actively
It has a powerful front-end interface
It offers a feature-rich admin panel. The drag-and-drop page builder is part of the admin panel.
The script is fully open source. So, you can edit every single line of code
You can create different membership types and offer them access to particular features
The script offers private messaging
It has an instant chat system
Polls, groups, forums, job boards, events – many of which are available as paid add-ons
iOS and Android Apps are available. However, you have to pay for them separately.
Conclusion
WoWonder PHP script that we have discussed are best in terms of the services they provide.
Also, you can easily integrate any of these solutions on your website and you will be absolutely ready with your social networking website.
This is all we have for you in this compilation on 10 Best PHP Social Network Script.
Based on features, design, customer support, and code structure we found WoWonder is the best social networking script.
If you enjoyed this article, then you'll love UltaHost hosting platform. Get 24/7 support from our support team. Our powered infrastructure focuses on auto-scaling, performance, and security. Let us show you the difference! Check out our plans !