One of the truths of business, widely known not only by entrepreneurs, is that time is money. Nowadays, when both life and business speed up, this truth seems even more vivid.
Time is money
Look what happens in the media when a catastrophe occurs and businesses must stop. Immediately everyone makes calculations on each side about the millions of dollars that companies have lost because they had to stop sales or production. You see, it is the truth: time is money.
However, this does not only apply to large enterprises. You are also affected as an eCommerce entrepreneur. Even though your downtime doesn't cost millions of dollars, losing an hour or two a day during the week is a waste of one day. How much do you earn per day? This is what you lose.
And what is taking you so long? Social Media Marketing. Planning, writing, and adding one post on different social media takes you an hour or even two a day. Imagine what you could do during this time! New sales strategies, better products, better content marketing… All this is possible when you automate the management of your social media channels!
Marketers have created many solutions to improve social media marketing. When there are a thousand ideas per second and the time to implement them is only a few of them. That is why they developed tools for automating processes in Social Media. However, to save you even more time, I have done extensive research and have prepared a list of 4 tools for you from several dozen solutions. Thanks to them, you will always be able to find time for newer challenges.
Each of the tools presented here is available in a limited, free version. However, to use the full functionality, you need to buy a premium plan, which costs from a few to several dollars a month. Every tool except number three which is free.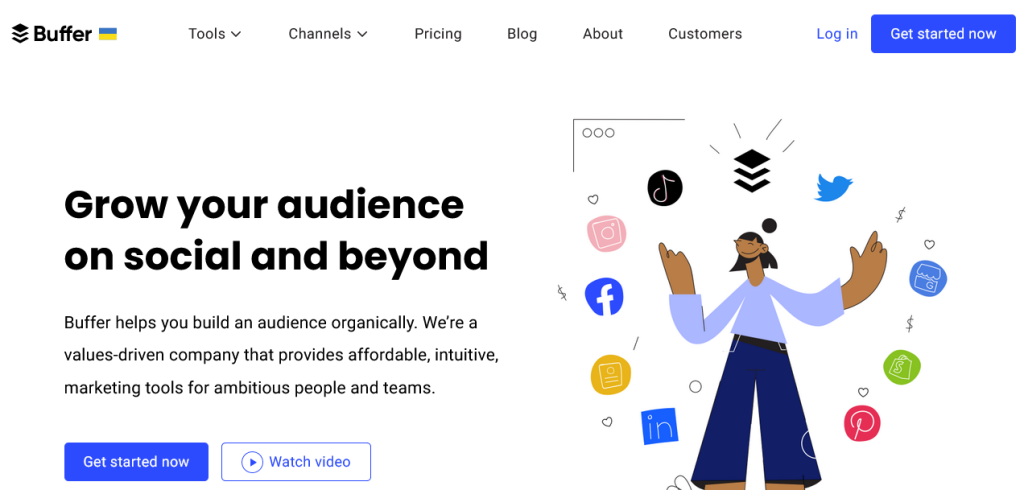 Buffer is a comprehensive social media manager, filled with features that allow it to take over and transform your advertising strategy. With one tool you can do everything necessary to create the perfect presentation of your business on the Internet.
The platform includes numerous tools and features, allows you to link multiple accounts from different platforms, and schedules posts for each one well in advance. It keeps posts coordinated for a more effective reach.
You can interact with comments on old posts and republish the post if necessary. This tool is a streamlined social media management platform trusted by many brands and agencies looking for a way to increase user engagement on social media platforms.
Buffer offers many features in three categories: Publishing, Analytics, and Engagement.
You can schedule posts and set push-off reminders.
With Store Grid you can attract potential customers and drive traffic to your store page through your Instagram profile.
Add a comment where you can put hashtags or a text you prefer to have as the first comment.
Stories, Posts, and Account Analytics. You can track relationships, hashtags, individual posts, and essential interaction metrics.
Post insight. You can compare the organic and paid results of boosted posts.
Audience demography. The tool has a dedicated function that allows you to control the reach on an ongoing basis and check whether the appropriate audience is interacting with your content.
Customer Engagement. Buffer provides hotkeys and smart emoticons that help you interact directly with your consumers.
The ability to create and share content on multiple social media platforms with a preview option.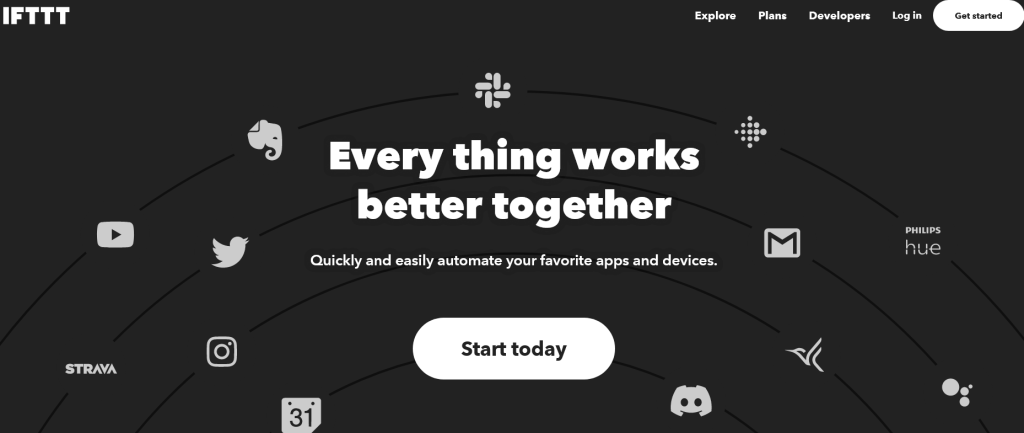 You can connect to multiple web applications simultaneously with an easy-to-use desktop and mobile app. Connecting different services makes daily tasks automatically done and your life a little less complicated.
IFTTT stands for "If This Then That". In simple terms, the platform allows you to connect various applications (called "services" under IFTTT) such as Fitbit, Twitter, Google Assistant, Evernote, Dropbox, iRobot, Amazon Alexa, and more. It extends their performance to achieve many more benefits.
IFTTT accomplishes this "synchronization" between unrelated applications through "Applets" or mini-applications that end users create to make their various services communicate with each other. For example, with IFTTT, you can create an Applet for scheduling iPhone Calendar events through Google Assistant, or synchronize Alexa Amazon's to-do lists with Google Calendar.
IFTTT includes several pre-built connectors that allow you to use multiple services with the same Applet. It's easier to search for services and their operation requires less commitment.
It supports both real-time and group integrations.
ITFTT ensures data security. Data privacy is a crucial aspect when different applications sync with each other. IFTTT keeps your data secret and secures it between applications.
Monitoring console. The platform is painless to use and also offers a free trial version. The IFTTT is available on both iOS and Android. The dashboard is intuitive and without problems, you can create applets and observe the activity of individual services.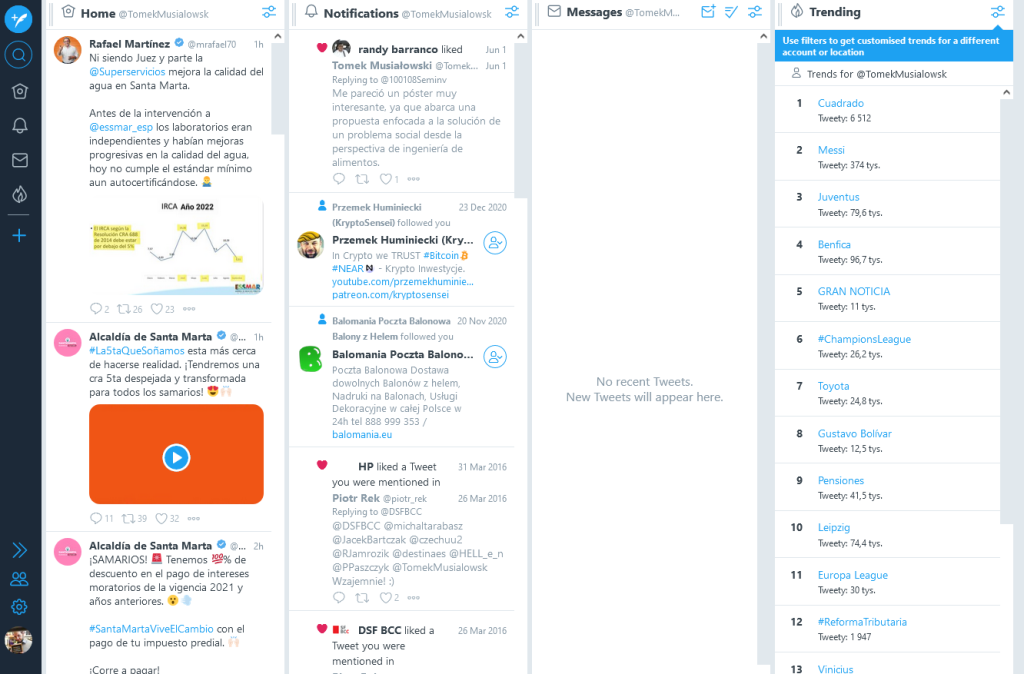 Are you focusing on your Twitter marketing strategy, using more than one account? Probably more than once you have tired of constantly logging out and changing accounts? There is a solution that will make your work easier. Moreover, this is an official Twitter tool, so there is no compatibility concern.
TweetDeck is connected to the Twitter account, so you do not need to undergo any additional registrations. All you need to do is to connect the supplementary accounts you want to administer from this level.
The view consists of configurable columns, each of which can display the data of your choice. Thematic separation into separate message streams according to your preferences makes the work smooth. Transparency is ensured by the use of the entire screen space almost exclusively through tweets. And once you have reviewed the information in a given column, you can delete it with one click.
You can also optimize your followers and move them to dedicated lists to display them later on TweetDeck. Thus you can prepare a source of information perfectly tailored to you.
TweetDeck allows you to schedule tweets. Even though Twitter is a service where everything happens here and now, sometimes the post-scheduling option proves to be very useful – for example, when we have an important message to communicate and want to remind about it at different times of the day. And, of course, you can do all of this for each account individually or all of them at once.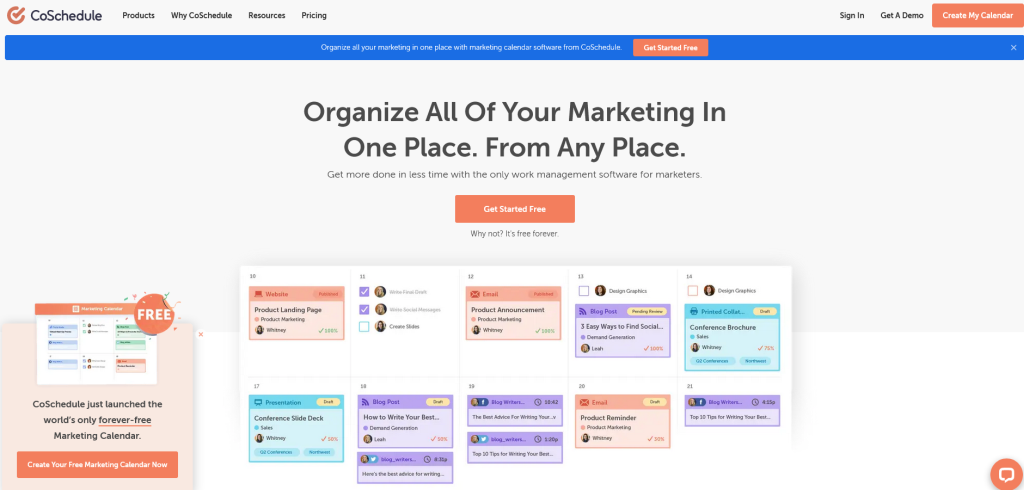 If you run a blog or website on WordPress, CoSchedule is the perfect tool. It automates social media and e-mail marketing for your WordPress website. It is an advanced tool that goes beyond simple post-scheduling. After publishing an article on WordPress, you can plan a promotion on social media: Facebook (both private profile and fan page), Twitter, Instagram, Pinterest, Google+, and LinkedIn.
You can schedule all posts without leaving the WordPress dashboard. You can change photos, and descriptions and set the exact time of publication. CoSchedule suggests time frames for every post, but you can schedule it at any time you want.
Thanks to the integration with mailing programs, you can plan the sending of the newsletter. CoSchedule advises on how to title your mailing to achieve the best conversion. You can create emails directly in CoSchedule or go to the mailing platform. You can link CoSchedule to Mailchimp, Campaign Monitor, ActiveCampaign, and Constant Contact.
CoSchedule also can be integrated with project and work management programs (Trello, Asana, Todoist, and Zapier). You can also integrate the program with Bitly, Evernote, Google Docs, Google Analytics, and Youtube. After all, the point is that we gather everything in one place, right?
With CoSchedule you have all tools and applications in one view. You don't need to switch between other programs or create worksheets in Excel. The one view allows you to see at a glance everything: blog entries, social media posts, events, notes, and tasks.
CoSchedule also gives you statistics. You know how successful your actions are, how many people have you reached, and what engagement has triggered. Based on these statistics, you will know which of your posts work best and which are worth repeating.
Conclusion
Hopefully these tools will help you find extra time to grow your business. We wish you to boost your marketing strategy, create even better content and dynamically develop your company.

At UltaHost, we care a lot about your development. As you develop, you will have to choose even better hosting. As you can see, your development is vitally in our interest. Thanks to the fact that you will earn millions, we will be able to provide you with the best dedicated hosting solutions.
If you enjoyed this article, then you'll love UltaHost hosting platform. Get 24/7 support from our support team. Our powered infrastructure focuses on auto-scaling, performance, and security. Let us show you the difference! Check out our plans!