What comes to your mind when you hear about creating a web hosting company? Huge investment outlays, expensive hardware, and expertise in server administration? In a way, you're right. It can be a pricey business, but it doesn't have to be.
In this article, I will show you how you can become a hosting provider at a low-cost thanks to the solutions available on the market and free WordPress templates for hosting companies.
---
Website for a hosting provider
What must a hosting company's website contain?
The website for the hosting provider should necessarily contain a section with pricing and general parameters of the service. You must allow the customer to put your services into a shopping cart and pay with a payment gateway. From this follows another necessary function of the site: the user panel. It displays user data, billing data, invoices, active services, and short links to the hosting panel.
Additional elements on the website of the hosting provider
A reliable provider should include a few more elements on their website. Prepare a knowledge base – an additional subpage with a list of help topics. Some providers give access to the knowledge base only to the registered users. It is better to publish it on the website because of its remarkable SEO value, though.
Another crucial element is the FAQ section, i.e., the most frequently asked questions. It's a bit different from a knowledge base focused on technical details because the FAQ section can be more theoretical.
Finally, it is worth creating a blog. It may be solely about hosting services or cover other topics important to your users and customers. A blog has extensive substantive value because it increases customer loyalty and helps with SEO.
---
How to start a hosting company?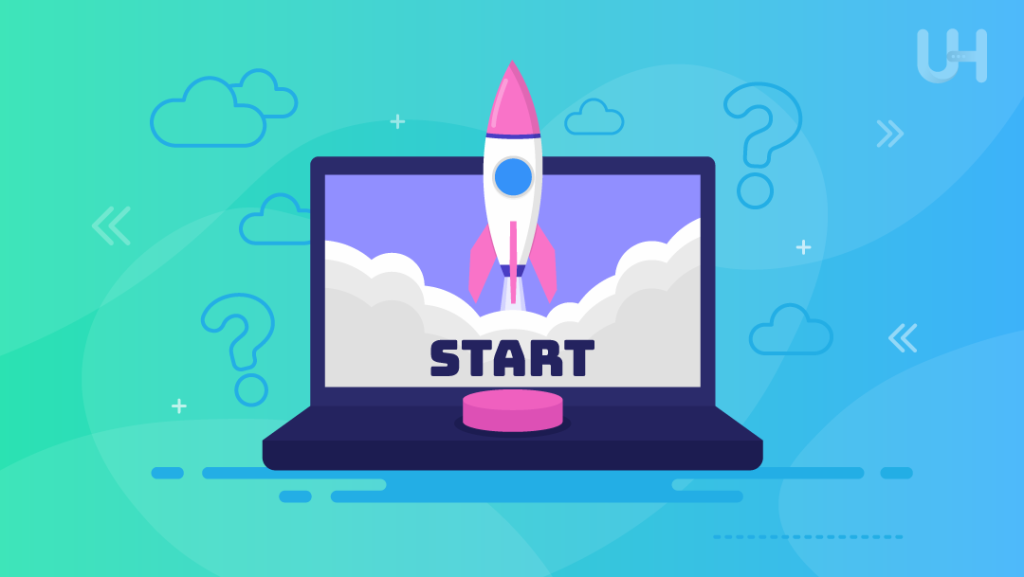 You may ask: but how do I start? How to create a hosting company? You can choose one of the two available paths.
Building a hosting company from scratch
The first option requires an investment of huge capital. You have to build or rent a server infrastructure. Building a server infrastructure requires gigantic start-up capital. You need to rent a suitable place, adapt it, provide security systems, and emergency energy sources, purchase servers, and invest in connecting to the Internet with very high bandwidth.
You can also rent a place in a ready data center. However, the monthly costs will be higher, and you still need to make significant investments like purchasing servers.
Once the infrastructure is ready, install the system, and configure your server.
Reseller Hosting
The second option is for people who want to set up a hosting company but do not have the funds to build a server infrastructure. It consists in using the technology of another proven hosting provider and selling it under your brand (white-label business). You can buy a specially prepared reseller hosting plan or dedicated server with additional cPanel accounts.
Reseller Hosting is a plan optimized for resale. It is the simplest option for setting up a business in the industry; ideal for beginners, as it requires neither advanced technical knowledge nor significant investments. UltaHost offers Reseller Hosting plans starting at $26.59 per month.
And it is the only cost related to server infrastructure you will incur. By buying reseller hosting, you will receive multiple cPanel accounts and a platform ready for personalization. You can brand it with your logo.
UltaHost offers the best reseller hosting plan. It is a leader in security, operating only on the latest generation hardware. It equipped all servers with ultra-fast NVMe SSDs. Multi-layer security systems protect against all threats: from Malware and viruses to DDoS attacks. The basis of UltaHost's security system is BitNinja – a self-learning platform that guarantees real-time protection.
Dedicated Server
Reseller Hosting has its limitations. The highest reseller hosting plan for $52.24 per month has a 150GB NVMe SSD and 100 cPanel accounts. If you plan to create a larger company, buy dedicated server and design your platform yourself.
This solution gives much more potential and is scalable. On the other hand, it is associated with a slightly higher risk and requires a lot of technical knowledge. You must set up a dedicated server yourself, virtualize it, and assign cPanel accounts.
This solution, however, gives immeasurably more power. For $129.90 per month, you'll get a powerful server with a hexacore processor, 64 GB RAM, and two NVMe SSDs, 960 GB each. However, it is not the end of the costs. You will have to buy also cPanel accounts. In UltaHost you can buy 100 cPanel accounts for $49.90 per month.
The monthly costs of such a solution are still below $200 per month and are incomparably lower than building your server infrastructure.
Reseller Hosting is one example of a white label business. If you want to get to know and understand this concept better, read the article about what is white label business.
Branding and marketing
Once you have your server infrastructure, you need to design your offer. Determine what you will sell and set the price. The possibilities are endless; business is all about entrepreneurship. Let me give you some examples.
You can sell shared plans, and if you have root access to the server, also VPS. You can sell email accounts, WordPress hosting, or any other server service prepared for CMS (like Joomla or Prestashop). The excellent idea is to enrich your services with an additional offer: web design, marketing, business consulting, or tutoring in a specific industry. The sky is the limit!
The final step is to create a marketing strategy. Reaching customers is one of the most troublesome elements of business, and it determines the company's success to a large extent. Excellent marketing can sell poor-quality products, but top-notch-quality products won't succeed with poor marketing.
You can base your marketing strategy on a given niche. It may be comprehensive support services for veterinarians/lawyers/dentists or other professionals that should open their business but lack education and business/marketing experience. Your marketing strategy should aim at people finishing their professional certification.
Regardless of what you offer, your marketing strategy should combine different types of online marketing. Create an efficient social media marketing strategy, design a blog and an effective website, and focus on SEO. The most important thing is to find the right niche and promote yourself as a leader.
---
Best WordPress themes for a hosting provider
Now that you know how to create server infrastructure and perform branding and marketing, you can proceed to choose the WordPress theme for your hosting company.
There are hundreds or thousands of great WordPress themes. In another article on our blog, we covered 70 of the best free WordPress themes – I encourage you to browse them. For this article, I analyzed over 100 different themes. To make your choice easier, I present you with the best six.
Astra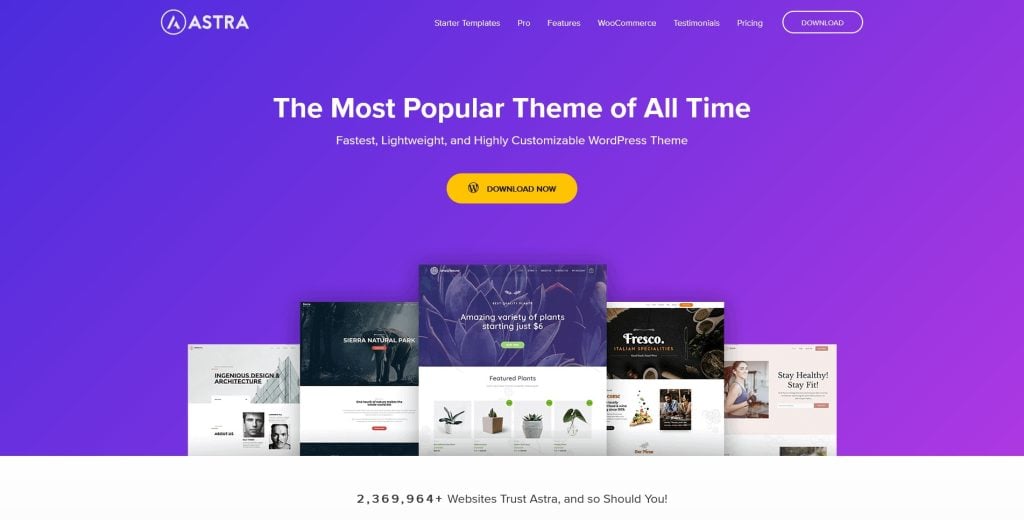 Perfectly optimized and fast theme with lots of different templates. It offers vast personalization potential. The richness of the Astra theme makes it one of the most installed themes. It is responsive, SEO friendly, adapted to eCommerce and supports WooCommerce.
You can find at least ten templates you can use for a hosting company. Depending on the style – you can give your company business elegance or light nonchalance. Astra offers a sizable choice of professional features, including multiple layout options, Google fonts, unlimited color options, blog designs, and custom interfaces.
A dozen templates are free, but you will need the pro package for $49 per year ($227 lifetime) or the Essential Bundle for $137 per year ($677 lifetime).
Divi
Divi is one of the most popular and versatile WordPress themes. Created by Elegant Themes, one of the leaders of the WordPress theme industry with rich experience. Divi was created as a theme but has grown into one of the best page builders on the market.
You start working with 20 ready-made templates that you can freely edit through a very convenient page builder. It is a solution for those who want to create the most personalized website for their hosting company. Divi doesn't play with plans. It costs just $89 per year or $249 per lifetime.
Galussothemes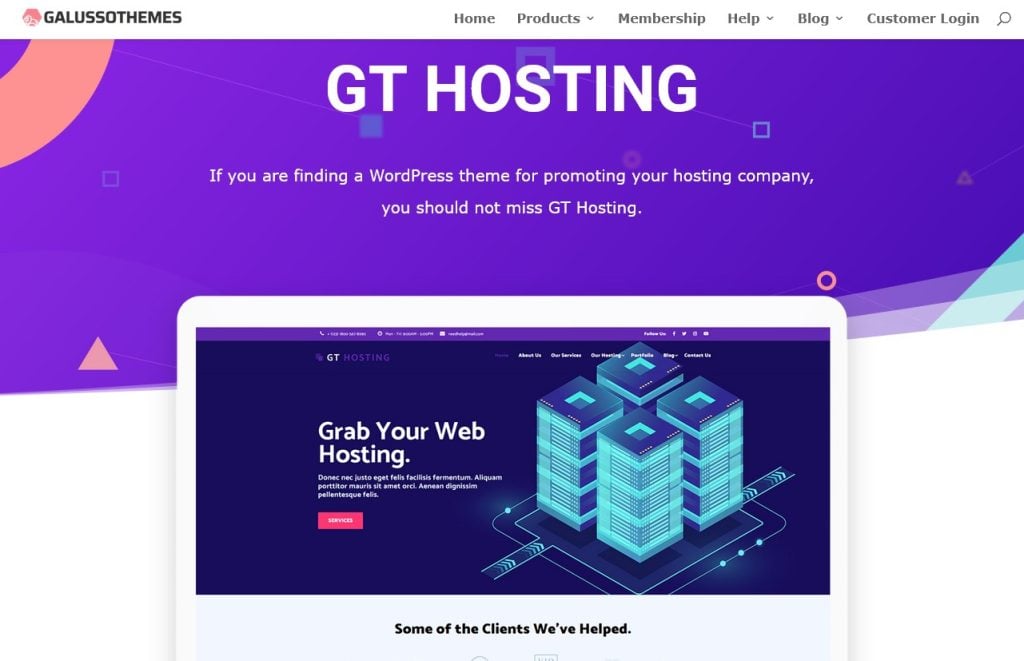 Galussothemes has created dozens of responsive WordPress themes optimized for the most popular page builder on the market – Elementor. You can find many attractive templates to make your website professional, but one needs special attention. It is one of the few WordPress themes made specifically for hosting companies: GT Hosting.
It has a modern and impressive design that will attract viewers immediately. With Elementor Page Builder, all pages are 100% customizable and fully responsive on any device. It has seven main pages including Home, About Us, Our Services, Our Plans, Portfolio, Blog, and Contact Us.
You can download the template for free in a limited version. The full version costs $49 (one time). You can also purchase a subscription to all templates from this publisher for $179 per year.
OceanWP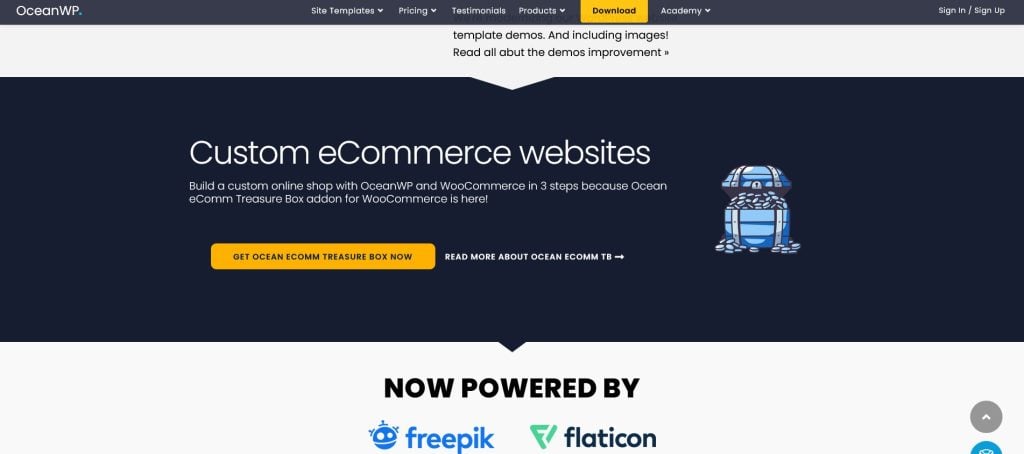 It is one of the best universal themes. You can use it for any type of website, but it is especially suitable for eCommerce with a user account system. It is highly valuable in your situation because user account support is a must for a website for a hosting company.
The theme is fast, responsive, and elegant. The best showcase of OceanWP's quality is its homepage. Just check and browse the available templates, and you will see how smoothly their system works. Three plans are available. A 3-site license costs $43 per year or $178 per lifetime.
Zakra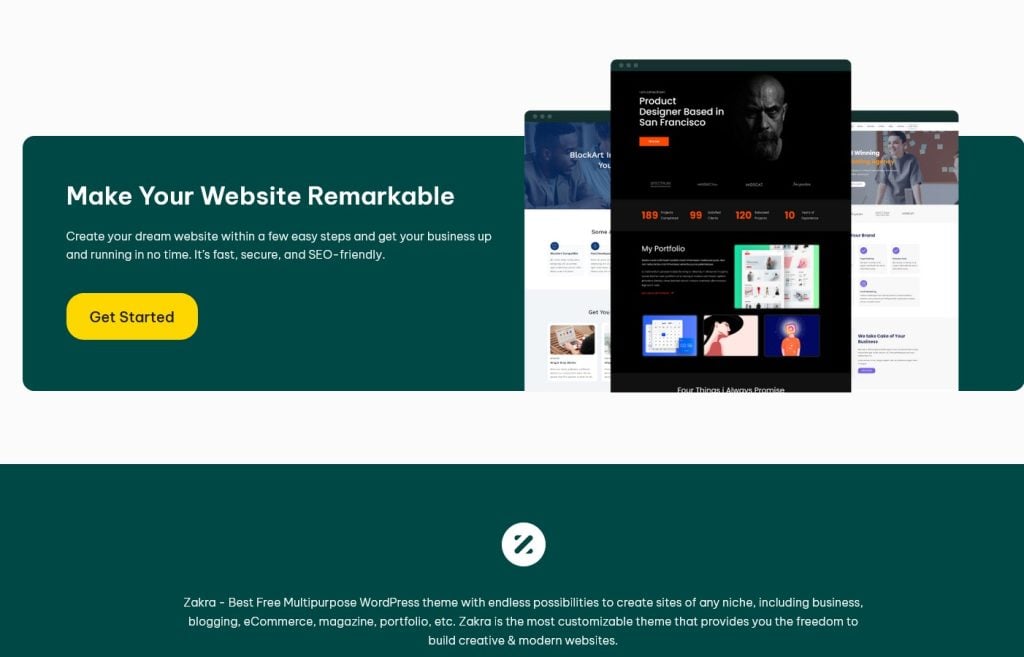 The Zakra theme is stylish and responsive, with a vast range of customization. What's more, it offers plenty of features, such as testimonials, logos, team member achievements, and stylish counters. Zakra is optimized for WooCommerce and the most popular page builders: Gutenberg and Elementor.
It is one of the best solutions to create a free website for a small hosting company. It offers the best quality free templates that can be easily edited using Elementor and Gutenberg. If you want to get access to additional functionalities and professional premium templates, the annual subscription cost is $66,75, and the lifetime fee is $209,30.
Phlox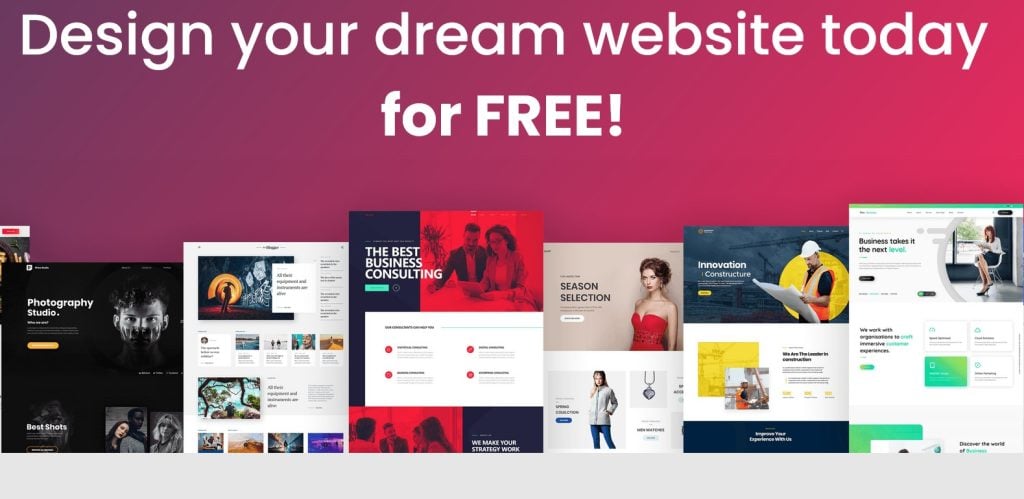 Phlox is a free, modern, responsive, and highly customizable WordPress theme. It is designed for editing by Elementor and works very smoothly and quickly. It also fully supports the WooCommerce store. Phlox is one of the best free templates out there, and the $39 pro version gives you even more options.
---
Conclusion
Creating a web hosting company can seem like an unimaginable task at first. The first impression can bring to mind enormous capital expenditures, expensive equipment, costly marketing, and complicated technological aspects. However, setting up a hosting company can have many faces.
It can be expensive if you want to do everything yourself, including setting up a data center, but a serious business is within the reach of every novice entrepreneur. All you need to do is buy a reliable dedicated hosting, learn the basics of managing it, find a niche, prepare an efficient business strategy, and choose a professional WordPress template.
It is even possible to do a small hosting business with very limited outlays. As long as you know how to find clients, you can buy reseller hosting and use free professional WordPress themes to create a website. The investment will not exceed $700 per year! It's not much for creating a new business, right?
Buy your reseller hosting today and start your adventure as a hosting provider!
UltaHost hosting platform is the best choice for your business partner. Choose affordable dedicated server from Europe and get 24/7 support from our support team. And offer to your customers our powered infrastructure that focuses on auto-scaling, performance, and security. Let us show you the difference! Check out our plans!