When it comes to running a successful blog, choosing the right web hosting provider is crucial. The quality of web hosting for blogging, including high performance, speed, and security, directly impacts the user experience.
In this article, I will explore the factors to consider when choosing web hosting services, discuss whether free blogging platforms are worth attending to, and offer guidance on how to migrate your blog to a new hosting provider.
I want to equip you with the knowledge to make an informed decision that best suits your blogging needs.
---
Are free blog hosting sites worth your attention?
When starting a blog, it's tempting to choose a free hosting service to save money. The best blog hosting sites may be a good option for bloggers who are just starting and don't want to invest in a regular web hosting service.
Pros:
They are free; you can start your blog without cost. It is an excellent way to test the waters and get a feel for blogging without investing money upfront.
Easy to use. Free blogging platforms provide a straightforward setup process, making it easy for beginners to start a blog quickly. You don't need any technical skills to set up your blog.
They come with pre-designed templates that make it easy to create a professional-looking blog.
Cons:
Free hosting services offer limited functionality; you may not be able to add essential features or plugins to your blog. They can restrict themes, plugins, and other features. It can limit your ability to customize your blog to your liking and lower your growth in the long run.
Most free blog hosting solutions display ads on your website, which can annoy your readers, distract from your content, and affect the user experience.
Limited storage and bandwidth of blog hosting sites can limit your blog growth. As your blog grows, you may quickly reach your storage limit and be forced to upgrade to a paid plan with worse parameters than WordPress Hosting from a reliable hosting company.
A free blog host may give you limited control over your blog, and you may not be able to customize it as much as you want. Consider cheap WordPress Hosting or a virtual private server.
Some of the most popular free blogging platforms include WordPress.com, Blogger, and Wix. Ultimately, the decision to use a free hosting site or not depends on your specific needs and goals for your blog.
If you're just starting and want to get a feel for blogging, a free hosting site might be a good option. However, if you're serious about growing your blog and building your brand, it's best to invest in a better hosting plan, e.g., VPS hosting for WordPress provides more control and flexibility.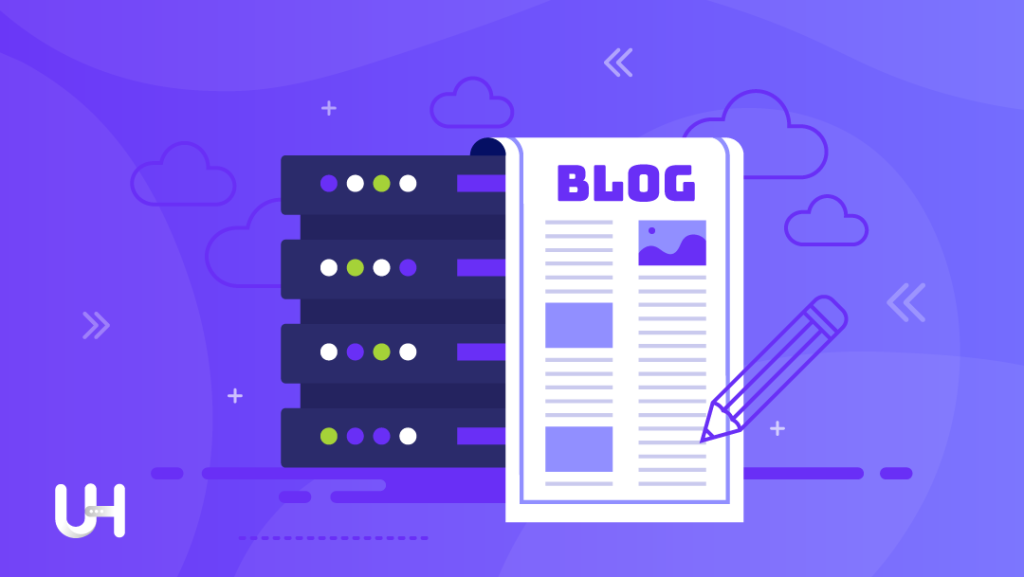 ---
Factors to consider when choosing a blog hosting provider
Performance and reliability
A web host with a reliable, high-performance infrastructure will ensure that your blog loads quickly and is always available to visitors. The measure that gauges reliability is uptime. It is the percentage of time during which the server is up and running. High server uptime ensures your blog is always accessible to visitors. A hosting company with an uptime of 99.9% or higher is considered reliable.
The speed at which your blog pages load can significantly impact user experience. Slow page load times can drive readers away and negatively impact your search engine rankings. Choose a host that provides fast page load speeds for optimal user experience and quick server response.
The location of the web server can affect the speed at which your WordPress blog loads for visitors. Choose a host with servers located close to your target audience to ensure fast page load times.
Security
The blog hosting service should offer robust security features to protect your website from malicious attacks and keep your data safe. Some of the security features to look for include a free SSL certificate, firewalls, malware scanning, and regular backups.
An SSL certificate is essential for securing the data transmitted between your blog and your users. It encrypts sensitive information, such as login details, credit card numbers, and personal information, making it impossible for hackers to intercept and steal. The best hosting providers offer both free and premium SSL certificates. Check in our article which one you should choose.
A firewall is another essential security feature that helps protect your website from unauthorized access. It monitors incoming and outgoing traffic, blocks malicious requests, and prevents hacking attempts.
Malware scanning is also crucial for keeping your website secure. It checks your blog site for malware, viruses, and other malicious code that can harm your website or your users.
Finally, regular backups are essential for quickly recovering your website in case of a security breach or other disaster. The best blog hosting solutions offer automated backups to ensure that your data is safe and secure.
When choosing a hosting platform, ensure that it has robust security features and takes security seriously. You can also check its reputation and reviews online to see how they handle security issues.
Ease of use
The last thing you want is to be bogged down with technical details, leaving you with less time to focus on your blog.
The control panel is where you'll manage your website, so it should be user-friendly and intuitive. Look for a provider that offers a demo or trial version of their control panel, so you can get a feel for how it works before committing.
Another important consideration is the provider's website builder. If you're new to blogging and don't have web development experience, look for a provider that offers a simple website builder with drag-and-drop functionality. It will make it easier for you to create and customize your blog without programming skills.
But don't worry if a company with an attractive offer doesn't provide this kind of solution. You can also use free website builders. Check out this article where I presented the best free website builders.
Finally, check whether the blog host offers one-click installations for popular CMS platforms like WordPress. One-click installations can save you a lot of time and effort when setting up your blog.
Overall, the ease of use of WordPress hosting can make a big difference in how quickly and effectively you can administrate your blog. So if you're looking for a simple solution that allows you to focus on creating your blog, managed WordPress hosting will be one of the best hosting solutions for your needs.
Scalability
As your blog grows and attracts more visitors, you'll need a hosting plan to accommodate the increased traffic. Look for web hosting companies offering a range of plans with varying levels of resources, as it allows you to upgrade your plan as needed without switching to a new provider.
Another factor to consider in terms of scalability is the provider's ability to handle sudden spikes in traffic. For example, if one of your blog posts goes viral, you may see a sudden influx of visitors to your site. Scalable resources can help ensure that your site remains online and accessible during these traffic spikes.
In addition, the best hosting package offers features such as content delivery networks (CDNs) or caching systems that can help improve the performance and scalability of your blog. These features distribute your blog's content across multiple servers, reducing the load on any one server and improving the speed and reliability of your site.
Pricing
Choosing the cheapest option available may be tempting, but it's important to remember that hosting quality can vary greatly depending on the price.
First, consider the different pricing structures available. Some providers offer a flat monthly rate, while others charge based on usage. Make sure you understand the pricing structure and how it may impact your budget.
Next, consider the features included in the price. Some providers may offer a low monthly rate but charge extra for additional features such as email hosting, domain registration, or backup services.
Finally, take into account any discounts or promotions that may be available. Best blog hosting services offer free SSL security and a free domain name if you buy annual hosting plans. There are also discounts for new customers or long-term commitments, so be sure to research these hosting plans details before deciding.
In terms of pricing, it's crucial to find a balance between affordability and quality. Don't let the allure of the cheapest hosting plans sway you without carefully considering the overall value and features that come with the price.
---
The best web hosting providers for blogs
It can be overwhelming to sift through the countless options available. The first step is to choose the right type of hosting for your situation: shared hosting plans, VPS hosting, and dedicated server. In this article, however, I will not discuss the differences.
If you are a regular reader of our blog, they are undoubtedly clear to you. If you are here for the first time, please read this article where I discussed the differences between various types of hosting solutions.
When selecting a blog host, consider performance, reliability, security, ease of use, scalability, and pricing. Ensuring reliable uptime and quick loading speeds is essential for a positive user experience.
Don't overlook the security of your website and personal information. A user-friendly control panel can aid in WordPress installation and blog management. Remember the scalability of your hosting plan to accommodate potential growth in the future. Strike a balance between all these factors when making your final decision.
It is worth noting that a vast web server space is not necessary for WordPress sites. Some offer unlimited storage, however, WordPress sites do not take up as much space as other scripts or applications.
The main argument for such solutions is that photos and videos take up a lot of space, but this is a myth. Large photos would slow down the website and negatively affect user experience and SEO. The graphics and image size must be controlled.
The type of disk is more important. Be sure to choose an SSD NVMe-based solution, as it is responsible for the speed of file loading and server performance. If any feature should be unlimited, it should be an unlimited bandwidth
Finally, pricing can vary significantly between companies, so it's essential to find a plan that fits your budget without sacrificing quality. By considering these factors, you can make an informed decision and find the best web hosting solution.
---
How to migrate your blog to a new server?
If you're unsatisfied with your current hosting and want to migrate your blog to a new one, it can seem like a daunting task. However, with the right steps, it's a manageable process.
Here's a step-by-step guide on how to migrate your blog:
Before you start the migration process, choose a new provider that meets your requirements.
It's essential to back up your blog data. Most hosting providers offer tools to make this process easier. You should ensure that your backup contains all your website files, databases, and media files.
Once you have a backup of your blog data, you can upload it to your new host. You can do this by using the hosting control panel or a file transfer protocol (FTP, FTPS, or SSH) client.
Now it's time to set up your blog on the new host. It will involve creating a new database and configuring your website's settings to work with the new host.
Before you make the switch to the new host, it's essential to test your blog to ensure that everything is working as it should be. You can do this by accessing your website and checking for any errors or broken links.
Once you're happy with the new host and everything is working correctly, it's time to point your domain name to the new host. Update the DNS settings on your domain registrar's website.
Common issues to avoid during the migration process:
Downtime – Downtime is the most significant risk associated with migrating to a new host. To avoid downtime, you should ensure that the new provider offers a reliable service with a good uptime guarantee.
Data loss – Always back up your blog before migrating it to a new host.
Incompatibility – Before you start the migration process, you should check that your new provider is compatible with your blog platform.
If this process seems complicated to you, use a free site migration. The provider you want to move your services to will surely be happy to assist you throughout the process and will help you migrate your blog without any major issues.
---
---
Conclusion
Selecting the right web hosting solution is crucial to running a prosperous blog. The performance, speed, and security of your website depend heavily on the web server you choose. It all affects the user experience of your audience.
The decision to use free hosting sites or not depends on specific needs and goals. If you're serious about growing your blog, investing in a better hosting plan like VPS hosting for WordPress is best. To choose the best blog hosts consider major factors such as performance and reliability, security, and ease of use.
A web host that provides reliable, high-performance infrastructure, fast page load speeds, robust security features, and ease of use will ensure that your blog runs smoothly and achieves its intended purpose.
Don't you want to waste your time looking for the best blog hosting providers?
UltaHost offers one of the best web hosting services. Pay for a year for your secure WordPress hosting plans and get a free domain. You are protected by a 30-day money-back guarantee. Get unlimited bandwidth, unlimited websites, free WordPress transfer, and live chat support. Our blogging platform is the best solution for new bloggers! Let us show you the difference! Check out our plans!