If you want to add functionality to your website, you'll need the correct PHP scripts.
If you've ever had a painful website outage (or, worse, had a client complain about it), you know better than anybody that choosing the incorrect hosting service may hurt your business. Using Ultahost can prevent you from choosing incorrect services and solve the issue.
What is Ultahost?
It's an Envato Web Hosting platform that enables you to host your website. It offers a pleasant user interface, making it ideal for web developers and designers that need to complete tasks rapidly.
Why Ultahost is better than a different hosting website?
Reliable servers: Our servers are cutting-edge, which means they are more dependable and stable than those offered by other web hosting companies. This ensures that your website is always up and running.
Excellent client service: Our employees are highly qualified and competent in their fields, so whether you need assistance setting up your site or simply want to contact us, we are always available.
High percentage Uptime Guarantee.
How can I start with Ultahost?
Here are the three steps to start using Ultahost:
To get started with Ultahost, choose the package that best suits your company's needs. The number of resources and features accessible to you will be determined by the plan you select.
The next step is to create a user account. Once you've decided on a plan, go to our Signup page and complete all of the essential fields.
Paying for your services is the third step. We will send you an invoice through email once Ultahost creates your account, and once you select one of our web hosting plans.
Why users should use Ultahost?
I would highly suggest Ultahost to anybody searching for a web hosting service to launch a small company or website. Here are some of the reasons:
We have a highly user-friendly interface and a platform that everyone can utilize.
Our costs are reasonable, and we provide a 30-day money back guarantee to evaluate if the service is perfect for you.
We provide excellent customer service, with both online chat, tickets, and phone assistance.
What are the services that Ultahost provides?
Ultahost assures that all of its services are available to its customers. The following are some of the services we provide:
We provide a variety of web hosting services, including as e-commerce Hosting and Envato hosting.
We provide a variety of domain name registration choices to its customers, including shared hosting and dedicated server plans.
We are recognized next generation web hosting that is user-friendly, cost-effective, and secured to meet your needs.
Ultahost offers technical assistance, which means that if you have any questions about your website hosting, you can contact us.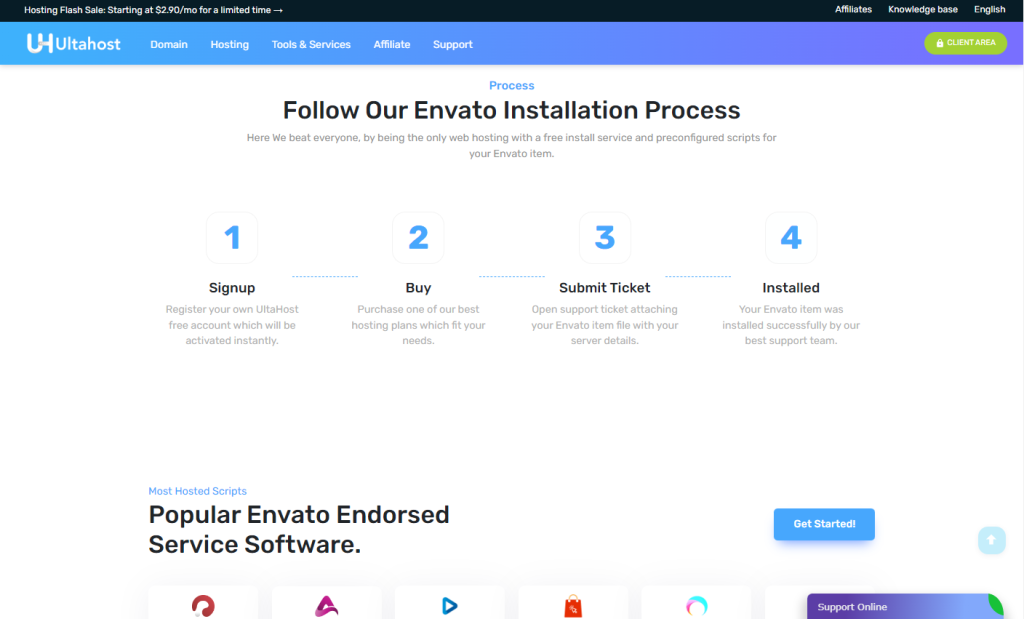 What is Envato?
Envato is a digital marketplace that sells and buys digital items, such as PHP scripts. With over a million people active as authors or consumers, the group of sellers (authors) and buyers (customers) is enormous.
Merits of Envato PHP scripts managed by Ultahost
With our fast, secure, and scalable platform. Forget hosting hassles and maximize your growth potential.
Get your site up and ready without creating any DB, without uploading any files, and without headache!
UltaHost is fully equipped with the features you'll need so you never have to worry about speed, security, and support for your Websites. Feature-packed managed Ultahost VPS web hosting to boost your digital experience
Benefits of Envato Hosting
Ultahost provides limitless connectivity and storage, so you won't have to worry about your website loading slowly or being unable to manage traffic surges due to a lack of resources.
High-speed server performance – Ultahost only employs quality hardware from leading manufacturers, so you can anticipate low latency connections from all over the world as well as high uptime.
Dedicated support staff – We have an in-house support team that is accessible 24 hours a day, 7 days a week to help clients with any difficulties they may have during their subscription time. 
So, what are some of the best Envato PHP scripts that can be managed by Ultahost? Here are the top 10 lists below:
It is one of the most used Envato PHP scripts and it allows you to begin your social network. It is also one of the best PHP scripts on Envato.it can also be associated with other social network websites like Facebook.
It is also a PHP script website available on Envato that you can get at an affordable price. It is used for sharing videos on websites like youtube and Vimeo.
It can also be used to check views, comments, and subscriptions that are in your youtube videos.
This is a learning script where tutors and entrepreneurs use this website to teach newbies in their area of expertise. this is a website where coaches use videos to teach the new members and also where the entrepreneurs use videos to teach the new members through videos on a particular subject or topic. It can also be used to open a course for new members worldwide.
It is a dating website where you can meet your choice and meet your desired or favorable partner. It uses a chat system that gives you the ability to send and receive messages from your user contact synchronized with the PHP script chatting system.
It also has a mobile app where you can edit your profile and apply filters to your desired needs and can also control your settings and privacy from your mobile phone. You can get this at the best price in Envato. It is one of the leading ways to start your dating website.
This is a website PHP script in the Envato market that helps in your stock management and managing your inventory control. it helps in preventing the loss of goods in your stock market. This PHP script has three versions.
Stock Manager Advance with Point-of-Sale module.
Simple POS-Point of Sale Made easy.
Stock manager advance with All modules.
This script can be used for sharing kinds of music and videos from music websites like Spotify. it is the best script to create your music website.
It is a script used for sharing images from website images. it can be used to create your image website and you can also use it for sharing images or pictures.
This website is used for shortening links or URLs and it can also be used to see your marketing analysis through your links.
Used as a link shortener.
It is easy to use.
It does not require high technical skills to operate.
Stackposts is a modern online site that lets users make stacked posts that may be seen as a single picture or video.
User-friendly interface.
Use your own photographs and videos to make animated GIFs.
It is a tool that helps in the monitoring of your freelancing business as well as the presentation of its data.
These are the top 10 Envato PHP scripts managed by the Ultahost hosting company. I hope you found this article useful in your search for excellent PHP scripts. And if you require website hosting, Ultahost is here for you.
If you enjoyed this article, then you'll love UltaHost hosting platform. Get 24/7 support from our support team. Our powered infrastructure focuses on auto-scaling, performance, and security. Let us show you the difference! Check out our plans