Although WordPress began its online career as a typical blog content management system, years of evolution have made it a universal CMS. The success of WordPress lies in its simplicity and possibilities. Its modularity is based on themes and plugins for novice bloggers and experienced users.
In each category, you can find several or several dozen plugins. It is troublesome to choose the most necessary ones. Especially, when you have no experience. To help beginning bloggers and website creators, I have prepared a list of six plugins you should install at the beginning of your WordPress adventure.
---
WordPress popularity
According to research and surveys, around 30-40% of all and 15% of the most popular websites are powered by WordPress. It is by far the most popular CMS, responsible for almost 60% of all websites operating as part of content management systems on the Internet.
Why is WordPress so popular and successful? Here are some of the most crucial factors.
Low costs
The first issue affecting the popularity of WordPress is the costs associated with creating a new website. The system is free; just buy a domain and hosting, and there the costs can end. As many plugins and themes are free, you don't need to know any programming or web languages to create a professional website.
Easy installation
Virtually anyone can handle the installation of the CMS. The matter is additionally facilitated by the automatic installers available from hosting companies. All you need to do is select a domain, buy fast WordPress hosting, log into your control panel, and click on the option to install WordPress, and the auto-installer will do the rest.
Enormous plugins and themes library
The virtually unlimited possibilities of creating websites are influenced primarily by the gigantic database of available add-ons you can install on your website. Plugins will add various functionalities to your website. They can affect positioning, provide extensive visit statistics, increase website security, or increase the comfort of visitors.
Their advantage is a huge variety. There are free and paid plugins. There are plugins for novice bloggers and professional web designers. Some of them change one small element, e.g., add a table of contents to the article, and others are even used to build entire pages.
Themes, on the other hand, allow you to completely change the look of your website with just a few clicks. Anyone can create a professional-looking website in one day without hiring a web designer. In addition, with the help of easy-to-use and powerful page builders, you can design an attractive website yourself.
Free plugins and themes give you a lot of potential and possibilities, while premium themes and plugins give you almost endless possibilities. Thanks to them, you can create a portal for any purpose, even if you don't have any technical skills.
Inborn simplicity
The original purpose of WordPress was easy content management. It was a response to more complicated content management systems, such as Joomla or Drupal, which were neither user-friendly nor easy to use. The creators of WordPress decided to create a simple, even trivial platform for people who did not want to build multifunctional portals.
WordPress was created for those who just wanted to write and publish blogs. And even though today WordPress is used by everyone, its original functions remain. Install WordPress, enable the default template, quickly configure it, and you can start writing your content. Installing additional features in WordPress is also child's play. You will see for yourself by installing plugins for novice bloggers.
Thanks to it, any user can handle data editing or adding a new article, especially now, in the era of page builders. Everyone can arrange their website like bricks and add attractive entries, articles, or pages, without using a single command in any programming language. You will do all this with friendly visual editors.
Security
The issue of security of sites based on CMS WordPress is debatable. Some refer to WordPress as a very dangerous CMS, based on data that WordPress is the most frequently hacked system. But it should not surprise anyone – after all, it is responsible for more than half of all pages created in CMS.
---
Taking care of the security of your WordPress is necessary, but remember that the hosting and server security play a crucial role in the safety of your website. Take advantage of UltaHost's offer and get a guarantee that your site will be safe.
---
Importantly, however, most WordPress hacks were made using vulnerabilities found in old versions of WordPress or older plugins. The solution As long as you keep up to date and follow the basic security rules, WordPress will be safe.
In another article, we covered not only the basic security techniques in WordPress, such as updating plugins and uninstalling unused ones but also advanced techniques, such as changing the login address or changing database prefixes. Read this article, and you will never ask again: is WordPress safe?
---
Plugins make WordPress modular
When you start your adventure with blogging on the WordPress platform, you open the way to a thousand possibilities. However, such a wide selection can often be paralyzing. It is a reason why we prepared some interesting WordPress plugins for novice bloggers that are worth installing first.
Over the years of its operation, WordPress has become an independent platform for creating content but not only. Millions of websites use this coherent ecosystem: templates, programs integrated with WP, and plugins. There are already over 50,000 of them, so it's no wonder that sometimes you can get lost in them.
Importantly, you don't need to use many plugins to make your blog work. Sometimes their excess can even be harmful and lead to various faults in your website. Choose plugins according to your needs and the goals that you want to achieve through your blog. There is a universal set of plugins that can be useful to everyone.
Once you learn to use the plugins I've described here, you can find more on your own. By developing your website, you will see what functionalities you are missing, and with the first experience behind you, you will easily find the plugins you need.
Plugins are also responsible for the development potential of WordPress. By adding plugins, you increase the functionality of the system. Plugins can be as simple as the ones described in this article, but they can also be powerful tools that are almost a CMS in their own right.
One such plugin is WooCommerce, which turns WordPress into an advanced eCommerce platform. Some plugins can introduce comment systems, stock market analysis tools for investors, or a file-sharing portal.
---
The best WordPress plugins for beginners
Now I will go to the description of the best WordPress plugins for novice bloggers I have chosen. Of course, the decision to install is yours. For example, if you do not include social media in your marketing strategy, don't install a plugin responsible for this area.
The fewer plugins, the lower the risk of your site being hacked. Install each WordPress plugin after analyzing whether you need it.
Instant Articles for WP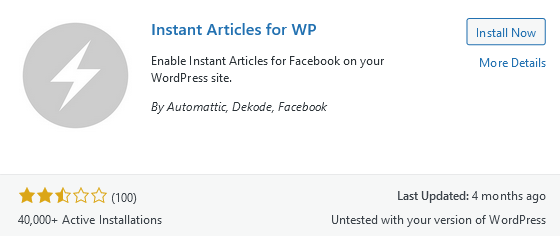 Facebook has offered for several years a simplified site display option as part of its mobile apps. It allows users to get to know the content of your texts in a faster and more convenient way. The downside may be the fact that Facebook displays ads as part of Instant Articles.
Public Post Preview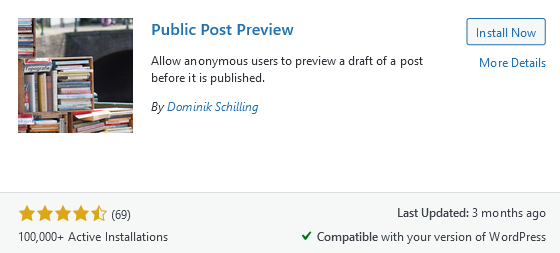 The plugin is perfect for creators who create sponsored posts for brands. It will allow you to send materials for approval to the client without publishing or generating .pdf files from the website. The client will have a preview of the content in the final form.
It is often the most convenient way to accept content with a business partner. Important note – the preview is generated as a link active for 24 hours. After this time, you will need to generate a new one.
Sucuri Security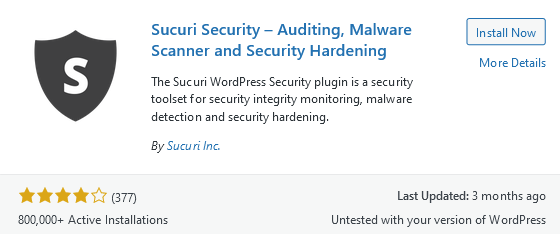 This plugin, as you can probably guess, takes care of your site's security. More precisely, it monitors all movements made in the CMS, removes spam, and informs by e-mail about suspicious activities. The perfect thing for the prudent.
It is worth running e-mail alerts! Thanks to them I was able to quickly react to a hacker attack on my blog one Friday evening while shopping at a discount store. E-mail notification, quick response, and danger averted.
Yoast SEO

One of the most important WordPress plugins. It will help almost every blogger. Optimizing content for search engines can be a significant source of traffic to your blog, but you need to know the basics of SEO or just this plugin that can teach you the basics. In addition, it will audit your texts in terms of SEO.
I don't know many bloggers who don't use this plugin. Each text I release must have two green lights in both the Readability and SEO Analysis sections of Yoast SEO.
W3 Total Cache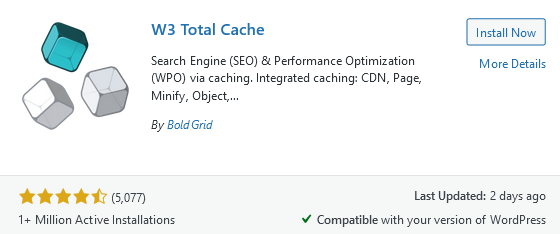 A plugin that does not do much at first glance but is of great importance for every blog. It optimizes numerous technical aspects, reduces page loading time, and supports SEO activities. All this is to make the user experience of communing with your blog as good as possible.
The protection of personal data is crucial. The United States and the European Union have their regulations in this area, which must be complied with. The GDPR has changed a lot in the use of the Internet. All these pop-ups can be annoying at times, but from the point of view of website owners, they are necessary.
This plugin can help in developing appropriate messages about collecting user data and windows for accepting rules. You can freely configure all these messages visually and functionally so that they not only fit the look of your blog as best as possible but also do not irritate users.
---
Conclusion
WordPress is a great solution for beginners. It is cheap, safe, and easy to install and use. It also gives you great possibilities thanks to hundreds of thousands of plugins. Once you have installed the plugins for novice bloggers discussed in this article, you will be able to start creating your content on WordPress.
Over time, you will notice what functionalities you are missing, and thanks to the experience with plugins for Novice Bloggers, you will know how to find, install and use more plugins.
If you enjoyed this article, then you'll love the safe UltaHost hosting platform. Choose cheap WordPress Hosting and get 24/7 support from our support team. Our powered infrastructure focuses on auto-scaling, performance, and security. Let us show you the difference! Check out our plans!