One of the most important things that you should pay attention to when you start thinking about your website is the name of the website you want.
When you want to start your own business, your new company, the Facebook or Instagram page that you will start from, or even your website, the first thing that will come to your mind is a name for this business or company, and choosing the name is not easy, in terms of its approval of your business idea, or its availability, or not similar to a company that has a business very close to yours, and this also applies to the scope you want for your site.
Do you see the site you are reading from? This image is what appears on Google when you search for the name of the site: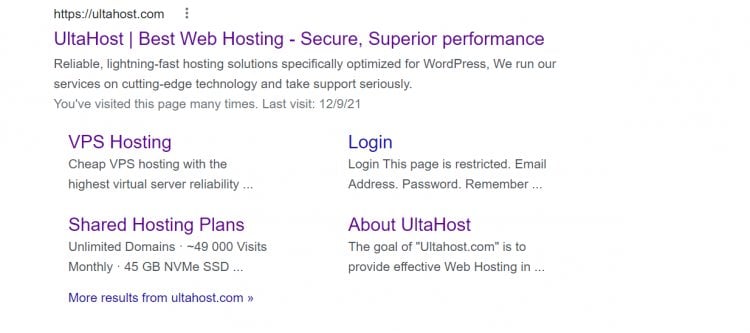 Let's break this image down into pieces, to see which one is the domain name for this site:
English site name: UltaHost
Website link: UltaHost.com
The domain of the site: UltaHost.com
The protocol by which the site is browsed: HTTPS
Suppose we have a blog with a subdomain at blog.UltaHost.com. In this case, you might be browsing this blog, and it exists as a subdomain under the original site, so the domain name is UltaHost.com, and the blog will be a subdomain.
Suppose the site name is UltaHost but the domain UltaHost.com is not available, it is possible that the site name, in this case, is UltaHost and its owner chooses the domain name Ulta-host.com. By adding this dash, this is a completely different domain than the domain of the site you're reading from.
What about the last part of the domain name which is .com in our case here?
A domain name always consists of two sections between them a dot, before the dot is the name of the site mostly, and after the dot is called an extension or Top-Level-Domain, abbreviated TLD, and the domain name is exclusively not repeated between two sites, meaning that the domain name UltaHost.com is different from the name of UltaHost.com The UltaHost.net domain, so the domain name is as exclusive as an iris scan, and cannot be shared by more than one person.
A domain name cannot contain more than one dot. The blog domain example above is made up of 3 syllables:
Subdomain name. Web site name. The extension (and the site name with the extension make up the main domain name)
It remains to be clear that after the extension, ie like the word domains in this address: ultahost.com/domains are not considered part of the domain in any way.