JetPack is one of the most formidable plugins you could integrate into your WordPress site. Read on to find out why.
If you have spent some time using WordPress, you're probably well aware of what plugins are and how they instantly bring new functionality to your WordPress site.
For the beginners out there, WordPress plugins are a lot like Google Chrome extensions; they require one click to install, and they're usually free and add extra features to your pre-existing WordPress setup.
Previously, we have provided you guys with in-depth guides to the Envato Market and Envato Elements plugins. We have also given you lists of must-have WordPress plugins for SEO and e-Commerce. Be sure to check out the rest of our blog for more and if you've missed any of those articles.
Today we will be talking about a very special plugin, one that enjoys a massive user base and for a lot of very good reasons. The plugin in question is Jetpack developed by Automattic – the very creators of WordPress – and enjoys over 5 million active installs at the time of writing. So what is Jetpack?
JetPack is an AIO (All-in-One) for your WordPress site. The core plugin is free and includes the following:
24/7 Auto Site Security with Malware Scans, Brute Force Attack Protection, and Two-Factor Authentication
Google AMP (Accelerated Mobile Pages) Optimization
Free CDN (Content Delivery Network)
Social Media Integration including Facebook, Instagram, Twitter, and LinkedIn
Advanced Site Analytics with Google Analytics Integration
Payment Gateways including Paypal and Stripe
SEO tools for Google, Bing, Facebook, etc.
Site Advertisement and more because it doesn't even end there.
We could go on and on because this is just a glimpse of what JetPack can do. If those features were not enough to convince you, you should know that JetPack offers these features that you would otherwise need several third-party plugins to get.
What's more, is that none of those plugins will be able to manage the efficiency and speed of JetPack since it is updated frequently and is created by the creators of WordPress itself.
As a bonus for reading this, we will teach you guys how to install and set up Jetpack on your WordPress site. Read on!
Installing Jetpack On WordPress Steps:
1. Click on Add New from the Plugins tab on your WordPress dashboard.
2. Search for and install the standard free JetPack plugin.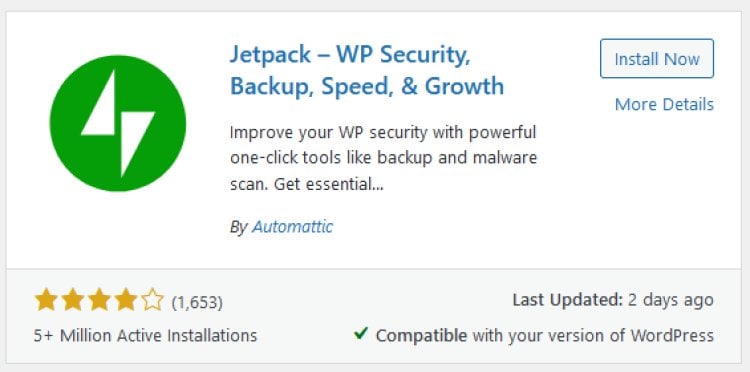 3. Click on the Activate button after JetPack has been successfully installed.
4. Click on the Set Up Jetpack button when the prompt appears in front of you.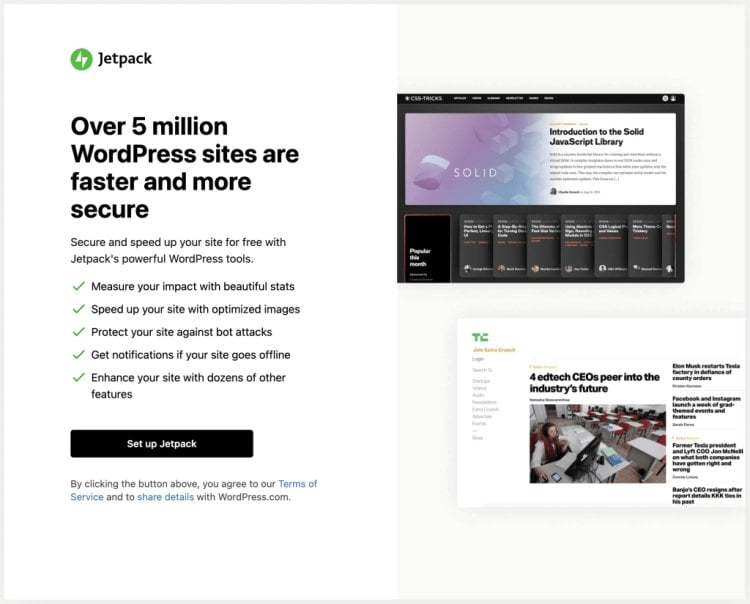 5. Make sure you are using the correct WordPress account and site to connect to JetPack. Then click the Approve button.
6. Open the Dashboard section of the JetPack plugin from your WordPress console. Open the Connections tab to confirm if your site has indeed been connected to JetPack.
And Voila! You have successfully installed JetPack. We hope you liked this article and will now integrate JetPack into your WordPress website for greater efficiency and performance.
What should we cover next on our blog? Let us know in the comments down below!
Keep reading our blog regularly for more stuff like this!