Are you looking to build your social network? Gone are the days when you would have to sit down for years to code, just so you could make a simple social network where people would only be able to chat together.
Social networks during their inception around two decades ago were very stripped-down platforms where users could only build their profiles and send messages to their friends. On the other hand, advanced technologies like video calling, live streaming, and payment solutions are a bare minimum for social media users today.
Today, there will be a comparison between two of the best, most popular tools for the task at hand; creating a social network. The tools in question are WoWonder and BuddyBoss. Quite a stark difference between the two but we will be digging deep into the details so you can see it for yourself.
WoWonder
Starting with WoWonder, the older, more established software solution of the two. WoWonder comes equipped with a lot of features and that truly means, A LOT. WoWonder is a PHP script that is available from Envato Market's CodeCanyon store where it is the best-selling script for building a social network. We've previously discussed a detailed method for installing products from Envato to your WordPress site.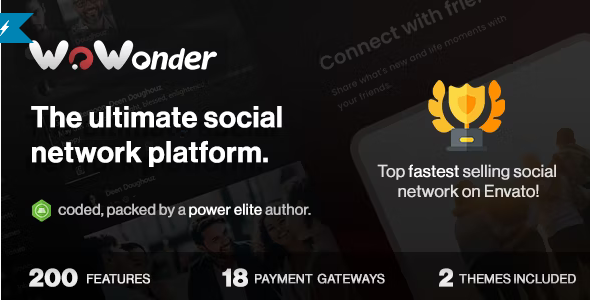 Plug-and-play functionality
WoWonder prides itself on having really good plug-and-play functionality. For example, you could turn your social network website to 6 popular social media i.e. Facebook, Twitter, Instagram, LinkedIn, Patreon, or AskFM both visually and feature-wise! All this while you retain your current database of users and their information. A very neat feature and one that can be very handy in the experimental stages of building your social network.
Audio and video facilities
WoWonder also allows you to provide your users the facilities of audio and video calling as well as live-streaming using services from agora.io and Twilio. These are some of the best solutions for communication services in the market, and, WoWonder's offering is indeed very good value for money. The rest of the script is built using JavaScript, using Node.js for the messaging and notifications, and Bootstrap for the UI and UX side of things.
There's also the usual personalized upload feature for users in the form of audio clips, videos, pictures, documents, or maybe just things they want to express in text. WoWonder has partnered with the likes of DigitalOcean, Amazon S3, and GoogleCloud to offer storage options for your network.
Filled with features
So when it comes to being filled to the brim with features and offering a complete package, WoWonder checks the entire list. There's an in-depth guide to installing WoWonder on our blog.
Importantly, WoWonder also packs in quite an impressive array of features to facilitate payments. One of these is the inclusion of diverse payment gateways; some of which are VISA, MasterCard, PayPal, and even Cryptocurrency options. These would technically cover a global payment solution so you wouldn't have to worry about region-locking.
The other is the monetization features that WoWonder offers. This allows both users and the social network to make money by implementing frameworks for marketplaces, advertisements, subscriptions, and even wallet transfers among others.
BuddyBoss
Moving on over to our other option, BuddyBoss, which has recently garnered quite a lot of praise from a whole host of media outlets and touts testimonials from the likes of Jay Shetty and Tom Bilyeu to name a few. BuddyBoss certainly presents itself as a strong offering and while its generalized, multi-use design might make it seem weak, it has plenty to offer.
On paper, BuddyBoss comes with a WordPress plugin and a WordPress theme to fully function. There's an application side as well which will be discussed later. There's quite a plethora of features on offer and even some unique things that make BuddyBoss so well-regarded even after its somewhat recent inception. BuddyBoss is a revamp of the popular BuddyPress with quite a few major differences.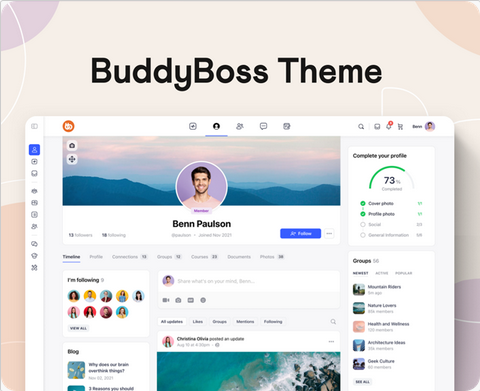 Community-building features
BuddyBoss offers good community-building features, which is the niche on which it has built its reputation. There are all sorts of community-ish features for users like forums, activity streams and even building their blogs. This is what BuddyBoss was built from the ground up for.
There's the added advantage of Elementor integration for UI and design which is one of the best solutions on the market today. BuddyBoss also comes bundled with the usual; the ability to create profiles for the user, group creation and management, file management between users, and messaging.
However…
…the implementation of these features works more like enterprise software such as Slack or other corporate communication software. The UI does a good enough job of masking it as a social network but the framework for it isn't completely there.
There's also the fact that it simply lacks the advanced horsepower that WoWonder provides like monetization for users, live-streaming, and even the ability to have advanced cloud storage capabilities.
To top it all off, WoWonder offers a comprehensive admin panel that BuddyBoss simply does not have. This admin panel gives you – the owner of the social network – complete control over the website as well as a full overview of exactly what is happening in terms of facts and figures. This admin panel is also an important tool to configure SEO and Google Analytics. These features are instrumental to running any website, let alone a full-fledged social network.
Are they also mobile?
Lastly, both WoWonder and BuddyBoss offer apps for Android as well as iOS operating systems. This broadly covers the spectrum of smartphone users as well as tablet users around the world.
Both companies offer this as an external service, however, with extra charges for mobile applications. The applications that BuddyBoss offers are built using React Native for the code and WordPress for the CMS. You can expect something similar to a web app of the social network website from BuddyBoss.
However, WoWonder has quite a few tricks up its sleeve in this department. Firstly, you can get an app with only the messaging functionality, or one with only the timeline functionality or you can even get one with both which is essentially a complete package.
The UI is not dissimilar to the social network but there are quite a few add-ons, especially the increased functionality for advertisements with WoWonder's mobile apps allowing you to integrate 8 different types of advertisements. There's also the advantage of having actual native apps in the case of WoWonder as its Android apps are coded in Xamarin and the iOS counterparts in Swift. WoWonder also offers customers the fully editable source code of both mobile applications.
Pricing
WoWonder starts at a $120 base license for the script with an $89 license for both mobile applications. The extended license costs around $299 and all of WoWonder's licenses are one-time lifetime purchases. They are also offering a discount at the moment which brings the base license price down to $72.
BuddyBoss offers a $228 yearly license which is paid once every year. It also offers a $99 annually limited license that strips all the design elements and customization but retains the core functionality of BuddyBoss. Mobile applications for BuddyBoss start at $179 a month with just the bare necessities. Developer and Premium packages require first-time payments as well as a higher monthly subscription.
And the winner is…
So, to conclude, it is fairly obvious that WoWonder has quite the edge over BuddyBoss if you wish to build your social network using either of the two services. There is only one clear winner, which is WoWonder.
Not only does it have more features than BuddyBoss and offers better scalability for a social network, but it also comes in at a much, much lower price. The consistent updates and high-quality technical support from WoWonder are the cherries on top.
For UltaHost customers, WoWonder has some special advantages. UltaHost users get free installation of WoWonder after purchasing as they just have to share their ticket number and the UltaHost team will manage the rest.
To create your social network with WoWonder you need fast and secure Social Network Hosting. You will love UltaHost hosting platform! Get 24/7 support from our support team. Our powered infrastructure focuses on auto-scaling, performance, and security. Let us show you the difference! Check out our plans!