Choosing the right hosting plan for your website is an important decision that can impact the success of your online presence. Two of the most popular options are WordPress and shared hosting. While both types have advantages and disadvantages, choosing the right one for your site depends on various factors.
Both have their pros and cons. When choosing a hosting plan, look closer at the crucial factors. Consider your website's traffic, security, scalability, budget, and technical expertise before deciding. In this article, I will compare WordPress and shared hosting to help you make an informed decision.
---
What is WordPress Hosting?
Managed WordPress Hosting is a web hosting service optimized for WordPress sites. It comes with pre-installed software. Therefore, you can set it up quickly without technical knowledge.
The plans offered by decent providers come with various standard features such as a free SSL certificate, SSD NVMe storage, unlimited bandwidth, security features, and daily backups. They also provide 24/7 customer support via live chat, email, and phone. A 99.9% uptime guarantee ensures that your website will be online without interruptions.
Apart from pre-installed CMS, it comes with premium plugins and themes, which can save you time and effort in getting your website up and running. It typically offers better performance and faster page load times for a WordPress site due to its optimized server environment.
The type of server used for powering this CMS depends on the plan. You don't need a dedicated server or a VPS to launch a single instance of CMS. Therefore, the lowest plans are powered by shared WordPress hosting, but higher plans for multiple sites can use virtual servers such as VPS or VDS. Dedicated servers only for one CMS are rare.
It is a perfect option for those who are looking for a reliable and user-friendly server solution for their website.
---
---
Shared hosting is a general type of web hosting that allows multiple websites to share the same server resources, such as CPU, RAM, and storage space. It means that your website will be hosted on a server along with other websites, and you will share the resources of that server with other users.
Apart from the standard features, shared hosting plans also include a cPanel control panel, a 1-click app installer, email accounts, and greater flexibility. You can install more applications on your web hosting account and choose from multiple CMS options, including Drupal, Joomla, Magento, and more. With a WordPress hosting plan, you can use only one content management system.
The shared server usually comes with a control panel that allows you to manage your account, including your website files, databases, and email accounts. WordPress hosting plans may not offer as much control panel functionality.
---
Key Factors to Consider When Choosing Hosting Services
When choosing a server provider, there are several factors to consider. You'll want to select a provider that can handle the traffic and demands of your website. Therefore, analyze the capacity, transfer, and databases.
Capacity
Capacity is a crucial factor to consider when choosing a provider. It refers to the storage space available for your website files, images, and other media. Make sure that your provider can offer you enough space to store all the content and files you may need to upload.
As your website grows and evolves, you'll need more storage space to accommodate the additional files and media.
Transfer
A transfer is another crucial factor to consider when choosing a server provider. Transfer refers to the data you can transfer to and from your website in a month. If you have a lot of traffic or media on your website, you'll need plenty of transfer to ensure that your site can handle the demand.
Databases
Databases are also an important consideration when choosing a provider. Most websites use a database to store all the content and other information that is needed to make the site run. Check if your provider offers enough databases to handle all the content and data you need to store on your website.
Consider whether the provider offers support for the type of database that you're using, such as MySQL or SQL Server.
Email Accounts
Email accounts are essential, especially if you have a business website. A decent provider should offer email accounts with your domain name. It will give you a professional-looking email address that reflects your brand. Look for a provider that offers unlimited email accounts and email forwarding. Also, check spam filtering and antivirus protection for your email accounts.
Data Backup
Data backup is critical to secure the website. If you accidentally delete important files or someone hacks your website, with a backup, you can restore your website. A good provider should offer automatic data backups and the ability to restore your website from a backup.
Check how often the provider performs backups and how long they keep the backup files. Look for a provider that offers daily backups and stores the backups offsite for added security.
Support
Check if the provider you choose offers 24/7 reliable support through email, phone, or live chat. It should also have a knowledge base or FAQ section on its website. It will help you find answers to common questions quickly. Check reviews and testimonials to ensure the provider has a good reputation for customer support.
---
One of the most common questions beginners ask is whether to go for WordPress or shared hosting plans. WordPress hosting plans are specifically designed for WordPress sites, while a shared server is a more general service shared by multiple users.
The main difference between the two types is the level of optimization and support provided for WordPress installation and management. WordPress server is optimized for users of this CMS, with features like automatic updates, pre-installed CMS with plugins and themes, and specialized support. It makes it easier to manage the website and ensure it runs smoothly.
Sharing the server by multiple users can sometimes result in slower website loading times and other performance issues.
So which is better for your website: WordPress or shared hosting? The answer depends on your specific needs and budget.
If you are running a WordPress site and want to ensure optimal performance, security, and support, then the WordPress server is the way to go. It provides specialized support, automatic updates, and other features tailored to WordPress websites.
On the other hand, if you are on a tight budget and don't need all the specialized features of WordPress, a shared server may be a good option. It is generally cheaper and can be a good choice for smaller websites that don't require a lot of resources.
The most important factors to consider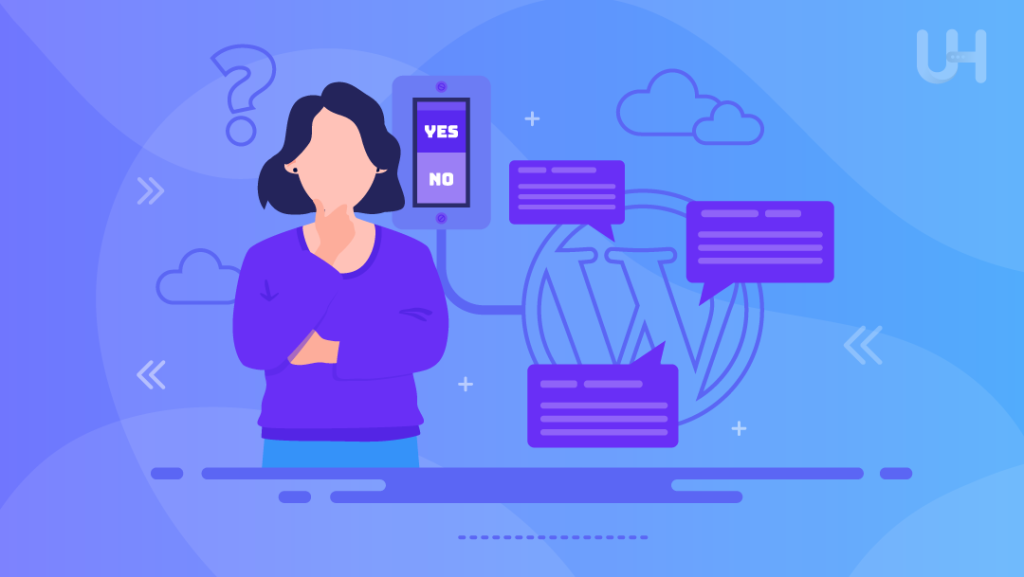 When choosing between them, there are a few factors to consider. These include:
Budget: WordPress server is generally more expensive than a respective shared hosting plan.
Website traffic: If your website receives a lot of traffic, you may need more resources than shared hosting can provide. In this case, WordPress or VPS servers may be a better choice.
Website size: If your website is large and requires a lot of resources, then WordPress hosting may be a better option. If you compare plans at the same price point, you will find that a WordPress-optimized plan will allow you to serve a much larger number of users than a shared server.
Technical expertise: Both plans are user-friendly, fully managed, and easy to use. A shared server may require a bit more technical expertise to manage. The server optimized for WordPress uses a simplified administration panel.
The choice depends on your specific needs and budget. If you are running a WordPress website and want the best performance, security, and support, then WordPress hosting is the way to go. On the other hand, if you need to use other systems or applications other than WordPress, you should choose a shared server.
Either way, make sure to choose a reputable hosting provider that can meet your specific needs.
---
Conclusion
Choosing the right type of hosting is crucial for your website's success. Whether you opt for WordPress or a shared server, you need to weigh the pros and cons of each option to determine which is the best fit for your needs.
WordPress hosting plan is ideal for those who are building a website using only this CMS as it offers more specialized features, better performance, and support. You get faster loading times, better security, automatic updates, and a more user-friendly dashboard.
A shared server is a great choice for beginners not sure about the CMS they want to use. It is affordable, easy to set up, and can handle a moderate amount of traffic. However, it has limitations, such as slower loading times, lower security, and fewer resources.
When choosing between WordPress and shared servers, consider capacity, transfer, databases, email accounts, data backup, and support. They are all crucial factors to consider when choosing a provider.
Ultimately, the best option for you will depend on your needs and goals. If you're building a small blog or a personal website and don't want to limit yourself to only one CMS, shared hosting may be the best choice. However, if you're planning to build a large and complex website and don't want to pay for VPS, WordPress hosting will be a better fit.
Regardless of which option you choose, research and compare different providers, reading reviews from other users. It will help you make an informed decision and choose the best hosting provider for your website.
If you enjoyed this article, then you'll love UltaHost hosting platform. To avoid stress with security issues, get safe and secure WordPress Hosting with automatic daily backups and obtain 24/7 support from our support team. Our powered infrastructure focuses on auto-scaling, performance, and security. Let us show you the difference! Check out our plans!