Having a website is an essential component of any business or personal brand. It offers numerous benefits, including increased credibility, accessibility, and marketing potential, and serves as a cost-effective and convenient platform for customers and businesses. To set up a website you need a domain and hosting. Although they are somewhat related, they are still independent of each other.
You can purchase both services at once or independently. To decide what way is better, you must understand the difference between a domain and hosting.
---
Why is it important to have a website?
In today's digital age, having an online presence is crucial. A website allows you to showcase your skills, products, services, and expertise to a global audience. A professional-looking website helps to establish credibility and build trust with clients and partners.
A well-designed website communicates your brand values and message. It can help to convey a sense of professionalism, which can be critical to building credibility and trust in today's competitive marketplace. Furthermore, a website is an excellent marketing tool that can help you reach a wider audience and increase brand awareness. Optimizing your website for search engines can attract more traffic and generate more leads.
Unlike a physical store, a website is accessible 24/7, allowing customers to browse and purchase products at their convenience. This level of accessibility can be particularly beneficial for businesses that operate in different time zones or parts of the world. It can give you a competitive edge over your competitors who do not have an online presence.
Compared to traditional forms of advertising and marketing, such as print ads and billboards, having a website is relatively cost-effective. With the right hosting and web design, a website can be an affordable way to market your business and attract customers.
Finally, a website can also serve as a platform for customer service, allowing customers to contact you easily and quickly. It can help to improve customer satisfaction and loyalty, which can be critical to the success of any business.
---
What is a domain?
A domain is a unique address that identifies a website on the Internet. It is made up of a name and an extension, separated by a dot, such as ".com" or ".org". Domains work by translating the name of a website into an IP address, a numerical code that computers use to identify each other on the Internet.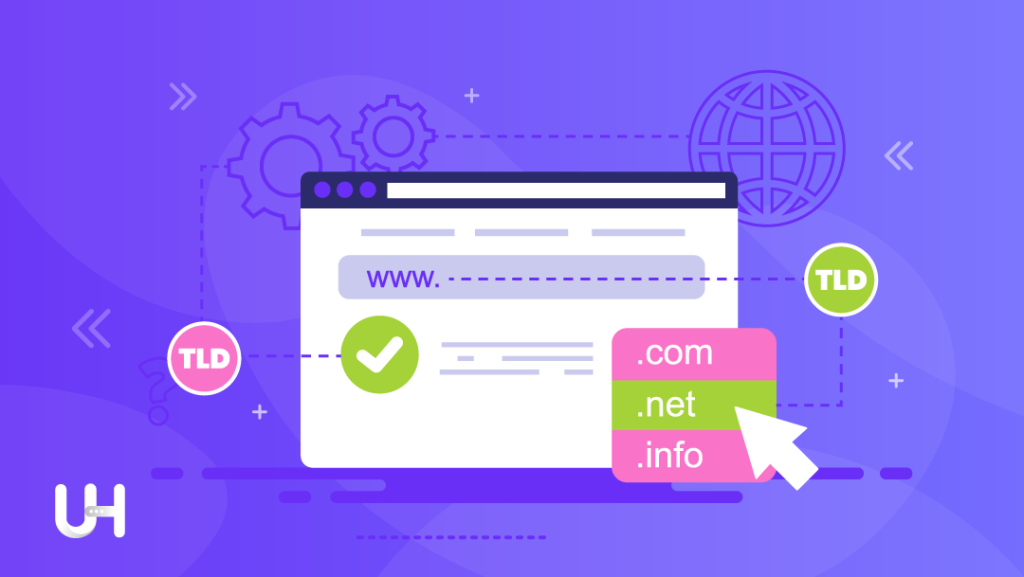 When someone types a domain name into their web browser, the browser sends a request to a domain name system (DNS) server, which looks up the IP address associated with that domain name and sends it back to the browser. The browser then uses that IP address to connect to the website's server and retrieve the website's content.
With the right domain name and extension, you establish your brand and make your website easy to remember and find. Some tips for choosing a domain name include keeping it short and simple, using keywords that describe your website, avoiding numbers and hyphens, and making sure it is easy to pronounce and spell.
---
Types of domains
Understanding the different types of domains can help you choose the right one for your website and ensure that your web address is memorable, easy to find, and appropriate for your brand or business. There are several different types:
Top-Level Domains (TLDs) – it is the highest level of the domain name system. Some common TLDs include .com, .org, .net, and .edu.
Country Code Top-Level Domains (ccTLDs) – they are associated with a particular country or geographic region. Examples include .uk (United Kingdom), .ca (Canada), and .au (Australia).
Generic Top-Level Domains (gTLDs) – they are not associated with a particular country or geographic region. These can include .com, .org, .net, and many others.
New Top-Level Domains (nTLDs) – they are a recent addition to the world of domains. These are new extensions that were introduced in 2012 and beyond. Examples include .app, .blog, .shop, and many others.
---
What is hosting?
A domain name is not the only thing you need. You also need a place to store your website files and data, and this is where hosting comes into play.
Hosting is a service that allows individuals and businesses to make their websites accessible via the Internet. Hosting providers offer space on a server to store your website files and allow visitors to access your site. Without hosting, your website would not be available to the public.
Types of hosting services include shared hosting, dedicated server, and virtual hosting (VPS or VDS). Shared hosting is the most common and cost-effective option, as it involves sharing server space with other websites. A dedicated server, on the other hand, provides an entire server for your website, which offers more control and flexibility but comes at a higher cost.
Virtual hosting combines the benefits of shared and dedicated hosting.
When choosing a hosting provider, consider several factors. Choose a provider with reliable uptime and security, as well as responsive customer support in case of any issues. Consider your website's scalability needs and your future growth. Compare the features and pricing of multiple providers.
---
Domain and Hosting: Differences and Similarities
Domain and hosting are a duo that, although can function separately, only together will bring you benefits and initiate the operation of your website on the Internet.
You can compare that relationship to a house. The building is a hosting service, a certain space that you can freely dispose of, and a domain is simply the address. Without it, other people would not know how to reach you, so a name is needed for users to visit your website.
Therefore, you can see that the joint operation of hosting and a domain is necessary for the website to function properly. However, both of these services are significantly different from each other.
Firstly, note that the domain is visible to users. Thanks to this, it significantly affects brand creation, image, and marketing. On the other hand, the server is hidden and does not affect brand perception. Therefore, hosting may be more important because it powers a website and stores data.
You can buy a domain and hosting from one provider or buy it independently. Remember that convenience should not be the only determinant when making a decision. Pay attention to the advantages and disadvantages of such a solution.
Advantages of one hosting and domain name provider
Easier management – with one provider, you can use the same customer panel, make management, check information, etc. You don't have to waste time logging into another account.
Convenient payment – with the same provider, you get a collective bill. This way, you can make one transfer, which not only saves time but also saves money.
Easy connection of hosting with a domain – In the case of two different companies, it is often necessary to perform several actions.
Disadvantages of one hosting and domain name provider
Price – it can often be higher than with different companies. However, this is not a rule, as much depends on the specific offer and individual requirements that may apply, for example, to the size of the hosting. With UltaHost, while paying for hosting a year in advance, you get a free domain name.
Less variety – usually, each provider offers slightly different conditions. Therefore, you can gain more by choosing different companies. It is particularly true for occasional promotions, add-ons, or domain renewal prices.
---
How to Register a Domain Name and Purchase Hosting
Start by choosing a domain name relevant to your business or website. Make sure it's unique and memorable. Avoid domains difficult to remember or spell; they should be easy to pronounce and type. You can use the help of one of the online domain name generators.
Once you have selected a domain name, check its availability. Next, you can look for the best domain provider. Consider the features, pricing, and customer support provided. Don't compromise on the quality of hosting to save a few bucks. There are many hosting providers to choose from, but one significantly stands out from the competition.
UltaHost has a high uptime guarantee of 99.9%, ensuring that your website is always accessible to your visitors. The company uses SSD NVMe storage and has servers in multiple locations worldwide, which ensures fast loading times for your website. Thanks to advanced security measures, including free SSL certificates, DDoS protection, and automated backups, your website, and data are secure.
UltaHost offers affordable pricing plans, and you can choose a plan that fits your needs and budget. One of the crucial advantages is that by paying for hosting upfront for a year, you will receive a free domain and a significant discount on your server, even 40%. So if you choose UltaHost, you don't have to worry about the domain. Pay upfront for a year and get a domain for free!
---
Conclusion
Having a website is crucial for any business or individual in today's digital age. It allows you to reach a wider audience, showcase your products or services, and establish a professional online presence. To create a website, you need two components – a domain name and hosting.
A domain name is the address people use to access your website, while hosting is the space where your website is stored and accessed by visitors. Choosing the right domain name and hosting provider is important to ensure that your website is accessible, secure, and performs well.
Remember to choose a reputable provider, consider your website's needs, and be mindful of any limitations or additional costs. With the right domain name and hosting, you can create a successful and effective website that reaches your target audience and achieves your goals.
If you enjoyed this article, then you'll love UltaHost hosting platform. Buy SEO-friendly web hosting, get 24/7 support from our support team and a free domain. Our powered infrastructure focuses on auto-scaling, performance, and security. Let us show you the difference! Check out our plans!