Want to make a YouTube of your own? Looking to build a video-sharing community for people? You're in the right place! Read on.
Video sharing is a very big industry. In fact, as of 2021, YouTube alone had over 2 billion active users, with almost 4 out of every 5 internet users in the world having their own YouTube account. Those numbers are understated considering that YouTube only factors in users that login once a month and not those who view videos on the platform without gaining access through a Google account.
The second-largest video-sharing platform, TikTok, also enjoys massive numbers and has many a feather in its cap. As of April 2022, TikTok boasts a massive over 1 billion active users per month. This comfortably puts it fifth in the rankings for most active monthly users among social networks. That is only three places behind YouTube.
So why are we telling you how big these video-sharing platforms are? For starters, in 2021, TikTok managed to generate a revenue of $4.6 billion. In the same year, YouTube managed to bring in parent company Google a whopping $28.8 billion in revenue. What we're trying to hint at is how these video-sharing platforms can generate massive profits and cash flow for you if you understand how to leverage them.
So the first step towards doing that would be to make your own video-sharing platform right? Yes, of course, and you are in luck since today we will be teaching you how to build your very own video-sharing platform! For this purpose, we will be using the PlayTube PHP Script from CodeCanyon developed by DoughouzForest.
Why PlayTube?
PlayTube is the best video-sharing platform script option for beginners. This is because it is offered on the CodeCanyon marketplace of Envato. It is very easy to install on your web server and takes very little time to set up.
PlayTube offers a very clean interface with the option to choose from video players. Adobe Flash has been discontinued and HTML5 is the new standard to keep up with the times, PlayTube proudly offers you 5 different HTML5 video players. These include VideoJS, Cloudinary, Plyr, and more!
PlayTube also offers support for FFMPEG video conversion. Why does this matter? This allows you and users of your platform to upload their videos in any format and PlayTube will convert it to their standard format automatically. This removes the inconvenience of seeing the message of 'Unsupported Format' that users face when uploading to video-sharing platforms. It also lets users upload their videos in any resolution up to 8K!
For the business-minded out there, there is more good news. PlayTube has an integrated subscription function. It also has 8 different integrated payment gateways. You can simply set up a subscription model with different features and bonuses for your customers and they will be able to give you monthly, recurrent payments from all around the world. Isn't that amazing?
If your server even runs out of disk space to host videos, or even if you feel like your website is slowing down due to the cramped up storage on your server; don't worry, PlayTube has got you covered. The Auto-Import function allows you to import videos from platforms like YouTube, Twitch, and more, all while taking up no space on your server! If you're still running low on space, you can always use the built-in Amazon Cloud and FTP integration to link your videos hosted on web servers right to your platform.
It does not end there. PlayTube allows amazing monetization capabilities to incentivize your users as they can earn commissions from advertisers based on each click the advertiser receives. They can also host and create their own ads using the powerful Vpaid Vast integration in the platform.
For an affordable cost, you can also get PlayTube iOS and PlayTube Android apps that host your video-sharing platform. Best of all, you will learn how to build your own video-sharing platform from us right here on this blog. Let's get started!
Steps:
1. Visit the PlayTube page on CodeCanyon here.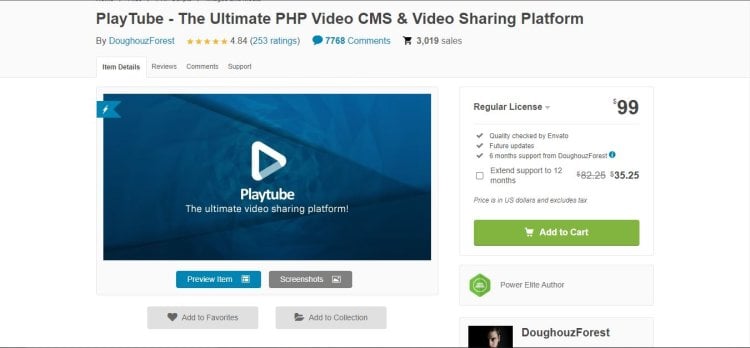 2. Buy the package that fits your needs best.
3. Download the PlayTube package.
4. Unzip the PlayTube package.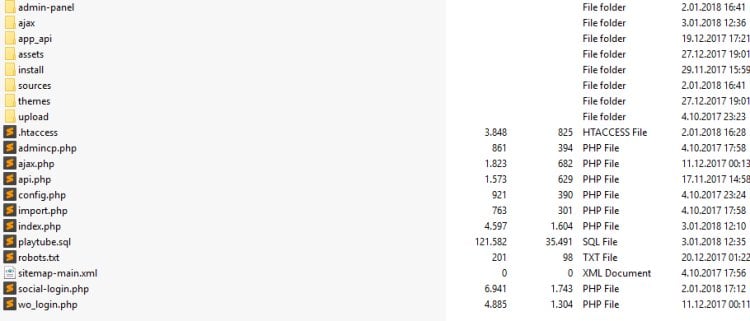 5. Upload the complete Script folder to the public_html of your domain.
6. Open a web browser.
7. Add '/install' to the end of the URL of your site e.g. "https://www.wikipedia.org/install".
8. The installation page will be loaded.
9. Fill in the requirements with complete and correct information.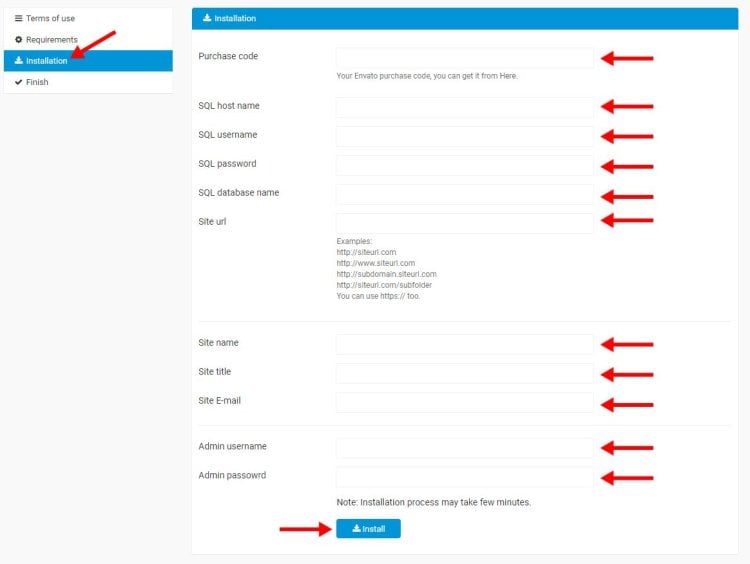 10. After filling in the requirements, click on Install.
11. Successful installation message will be displayed.
12. You can now log in to your site as an admin by clicking on the admin panel and entering your admin login details.
13. You can open your dashboard to access different statistics regarding your videos and uploads.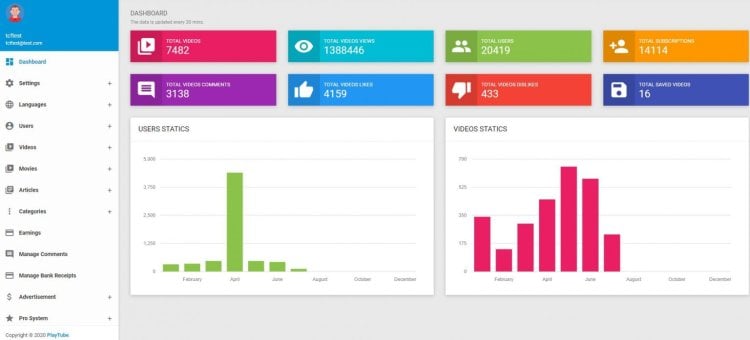 And there it is! You have successfully installed PlayTube on your website. Now all you have to do is play around a bit with the settings and you will be able to achieve the exact appearance you wish for your new video-sharing platform. Did you think that was a long process? So did we. We decided to bring you a solution to fix things and make them easier for you.
How so? Get the UltaHost Envato Hosting package! It is as easy as that. After that proceed with the steps below:
Follow the above instructions until step no. 3
Open support ticket attaching your PlayTube package file with your server details.
Sit back and relax. Our team will complete the installation for you!
We hope you liked this tutorial. Keep reading our blog for more stuff like this!