You can create a blog, website, store, and many other practical solutions based on the WordPress CMS system. No wonder over 1/3 of websites on the Internet use this CMS.
Content Management System (CMS) serves to manage all content within a given website created based on this system without programming skills. The original WordPress you can find on the website WordPress.org. Some beginners confuse the addresses and search on WordPress.com, but it is just a commercial web platform.
WordPress.com is a service offering to build a website based on their version of WordPress CMS. WordPress.com has its hosting server and they install their version of WordPress on it. After registering an account, you get a ready page you can personalize. Unfortunately, the level of modification and personalization depends on the subscription model.
In this article, I will focus on the original WordPress CMS.
How to start with WordPress?
WordPress.org needs two components to work:
Hosting – a place on the server where you can place files and a database (WordPress components);
Domain – the name of the address of your WordPress Hosting.
Hosting
Generally, you can install WordPress even on your computer using special software (XAMPP). But I assume that your website should be visible to everyone, not just you, this is why you need WordPress Hosting service.
There are a lot of hosting companies, and the diversity of offers can make you dizzy, so it's worth knowing what to look for when choosing to host. Choosing the right hosting for WordPress is quite complicated, so we covered it in another article. Find out how to choose the best WordPress hosting here. Now we summarize the crucial elements.
Hosting Capacity
WordPress doesn't require much hosting space. If you won't install many plugins and choose a light theme, even 1 GB should be enough. However, if you add plugins, templates, photos, graphics, and various attachments, everything will accumulate over time. So look for hosting with a minimum capacity of 10 GB. 20 GB will give you great comfort for years.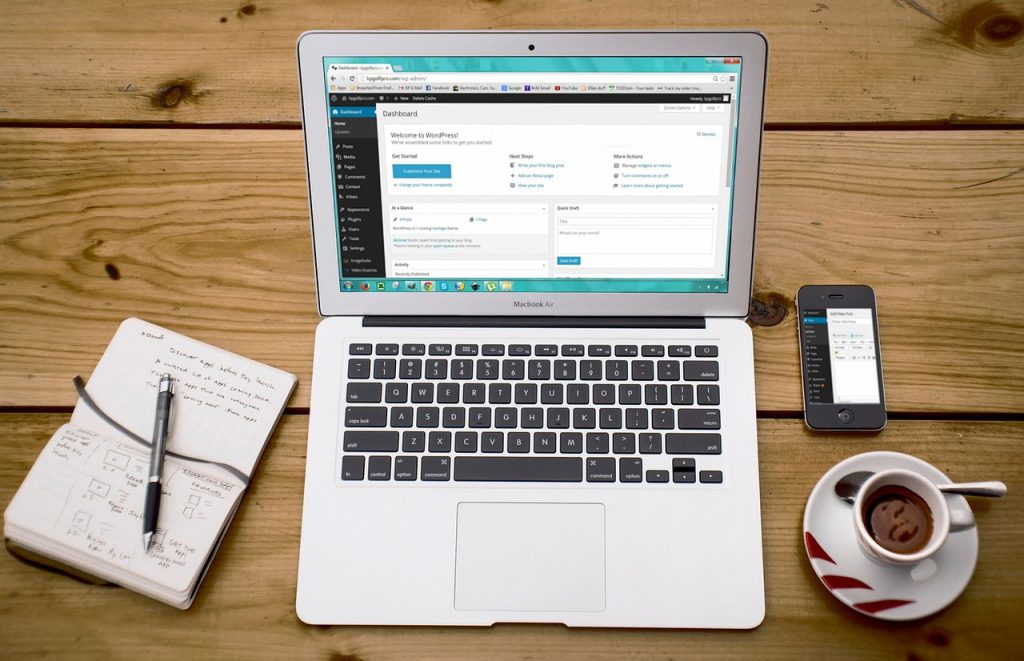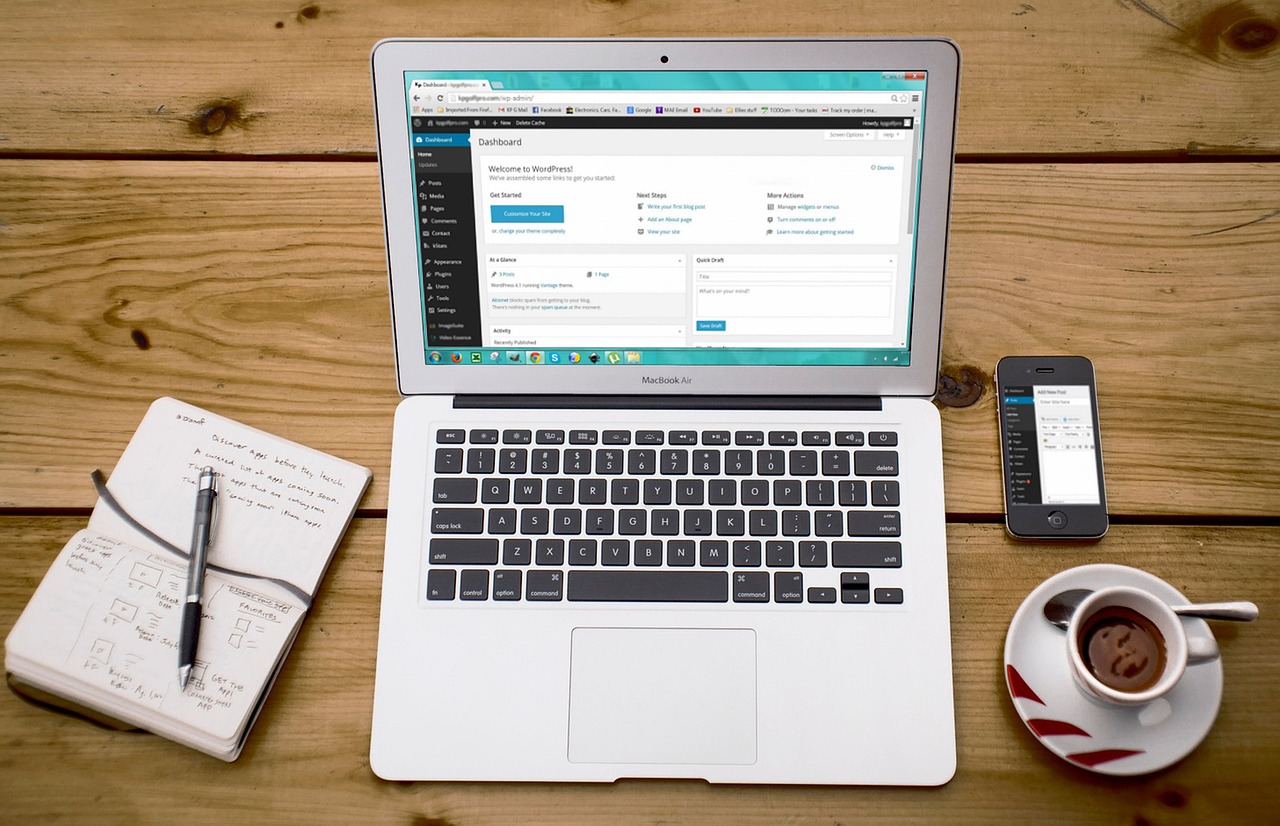 SSL certificate
Responsible for data encryption between your browser and the server (e.g. entered passwords). Good hosting providers include a free SSL certificate in the hosting price.
Automatic installation of WordPress
You can do it yourself, but any good quality hosting should offer you a ready-to-go WordPress theme. With one click the server will install WordPress automatically. It is convenient, without unnecessary complications.
Quality of Hosting
Swarm of companies offering WordPress Hosting. A lot of solutions, sadly, are of poor quality. Verify the opinions about the given company, test the services and check how efficient the support department is.
This way you can be sure that your choice is the right one. Don't expect good-quality hosting for less than $30 a year. From a technical point of view, it is impossible.
Domain
The matter is a bit simpler when it comes to the domain. The main selection criterion here will be the price. But companies won't make things easy for you and usually offer complex pricing plans. Beware of companies that promise you a domain for free. Domain prices are rigid. If someone offers a promotion, it will usually cost you much more than the domain at a regular price.
These promotions are for the first year, and the cost of renewing in the following years is usually double that of other companies. So beware of companies that don't quote a renewal price. UltaHost treats its customers fairly and always gives the price for the renewal next to the price for the first year. Use the domain availability checker and register your domain at a good and fair price.
How to log in to WordPress
I assume you don't want to make your life difficult and will choose a hosting with automatic installation of WordPress, so I'm skipping the question: how to install WordPress. We focus on the practical use of WordPress.
The default address of the WordPress dashboard is always "/wp-admin" preceded by a domain name (example.com/wp-admin). After entering the direction by this pattern, you should see a login window.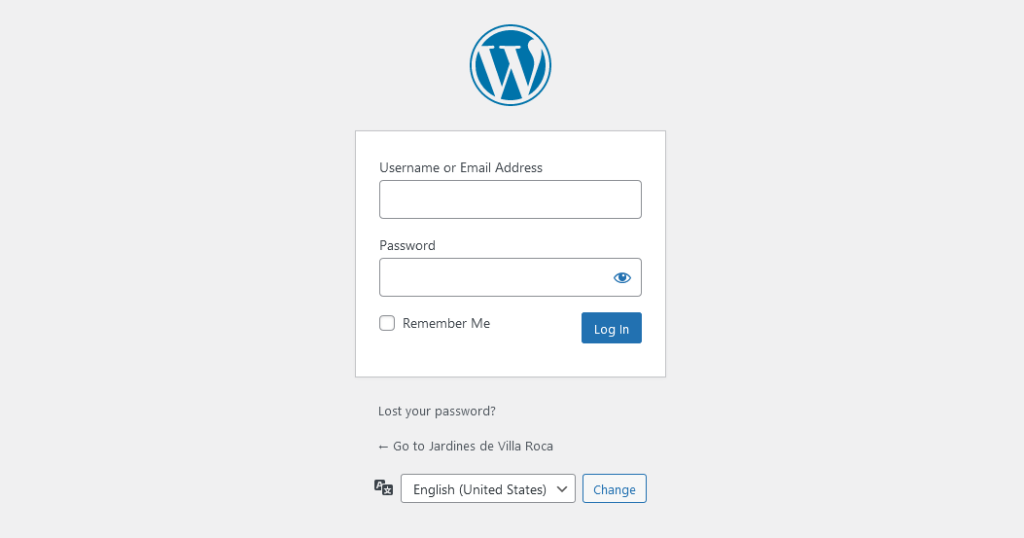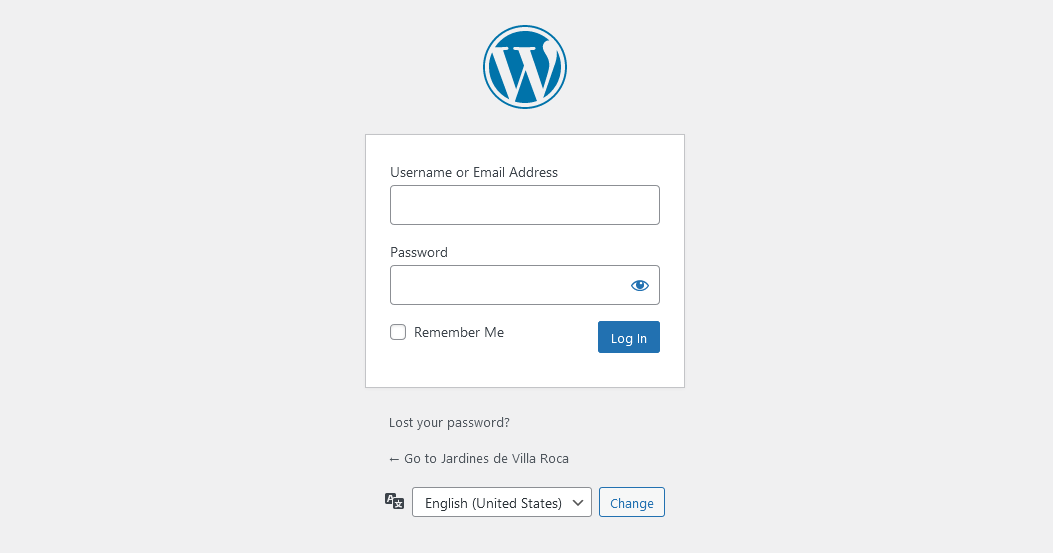 After entering your login (default is "admin", but may be different depending on your hosting auto-installer settings) and password that your hosting provider will deliver to you, you will see your WordPress Dashboard.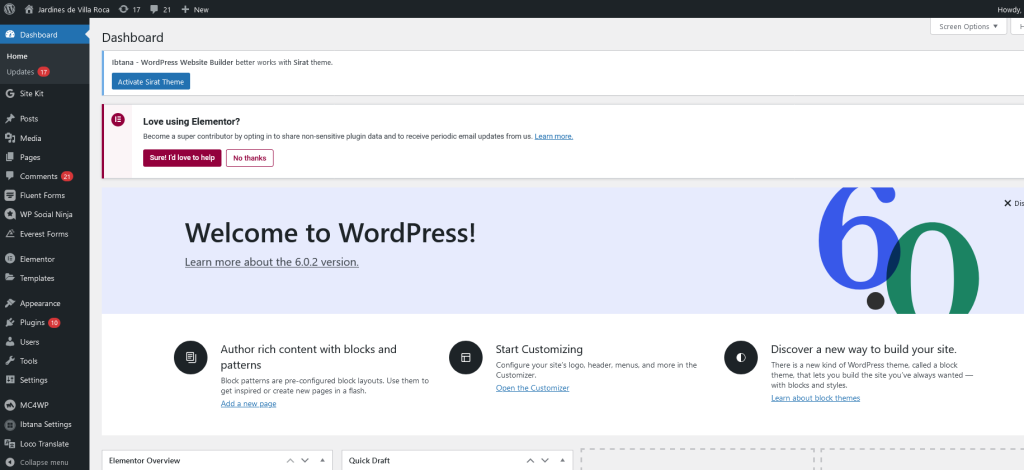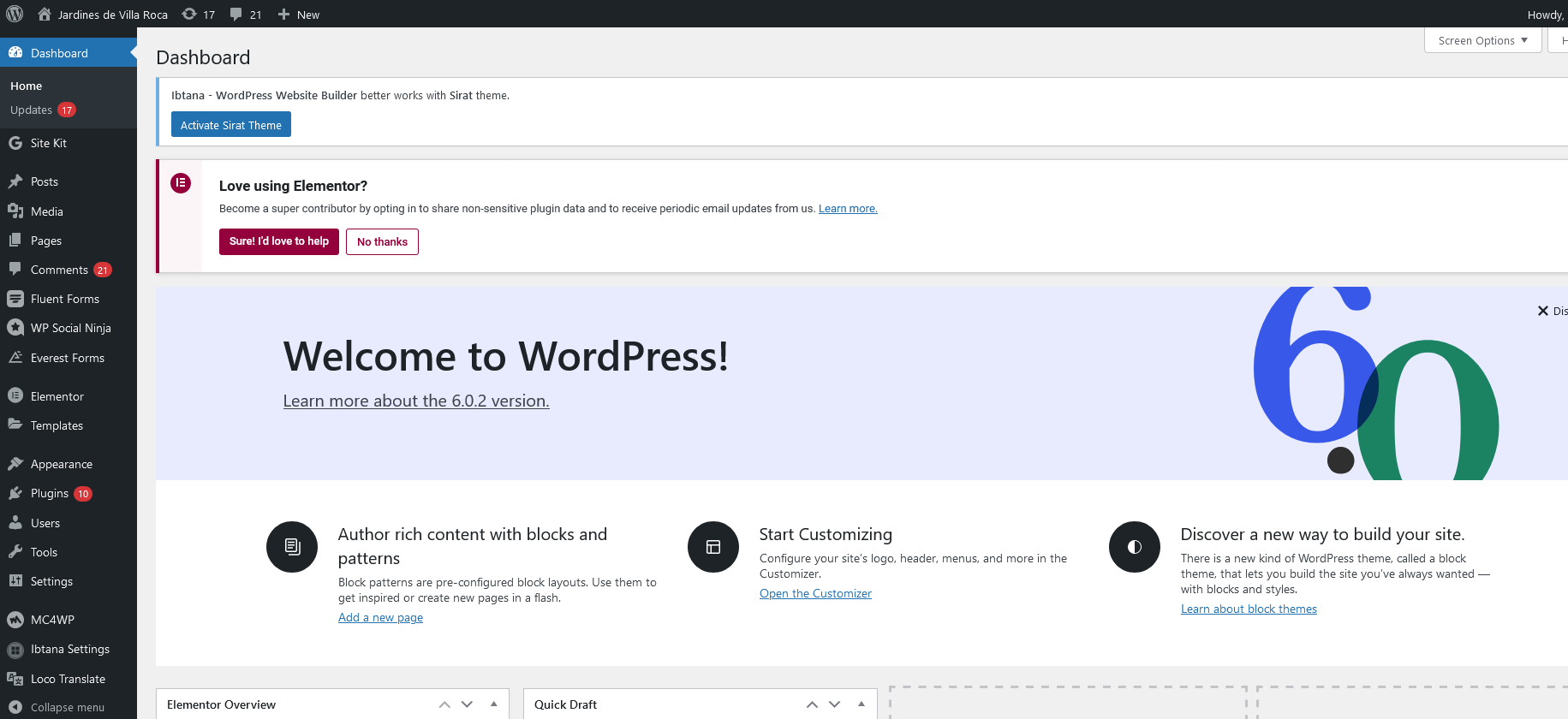 At first, it may seem unintuitive, but I guarantee you will quickly get used to the individual tabs and their functions.
Overview of WordPress Features
Most of the tabs are intuitive and do not require further explanation. It is best to click through each of them and look at them. It is not so easy to break WordPress, so feel free to test.
What may be puzzling is the difference between pages and posts. The original purpose of WordPress was to be a blog system. Therefore, the Posts tab allows you to organize the blog content. You can assign each post to specific categories or tags, making it easy to navigate.
The pages are more static. You can use them to provide information about the company, author, contact details, and offer.
Themes and plugins for WordPress
WordPress theme
The basic WordPress theme without any extensions looks poor. It is the default theme with the captivating name Twenty-Twenty. So let's start by thinking about something more interesting in form. UltaHost with WordPress Hosting provides you with lots of premium themes. We also wrote an article with the 70 best free WordPress themes.
The WordPress theme gives your WordPress look. Most templates, especially paid ones, carry many additional functions and possibilities. This is a demo of the free Zakra Restaurant template and a website based on it.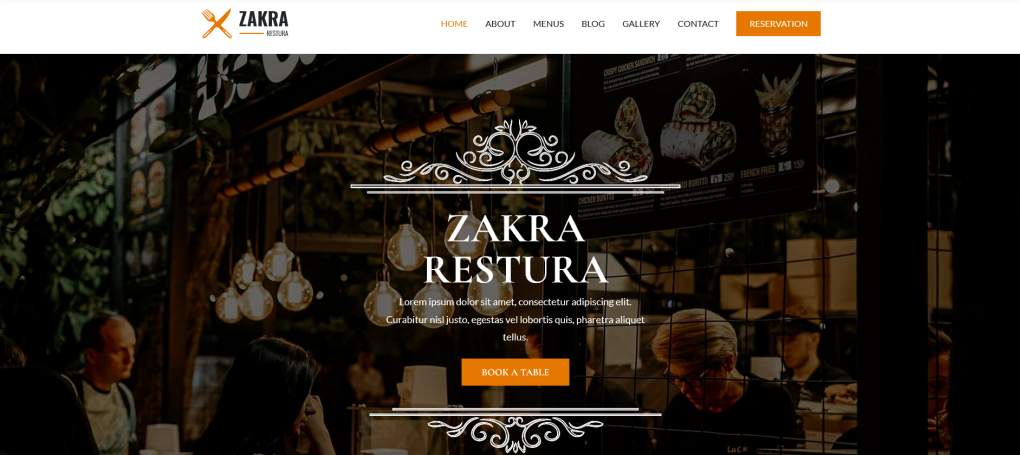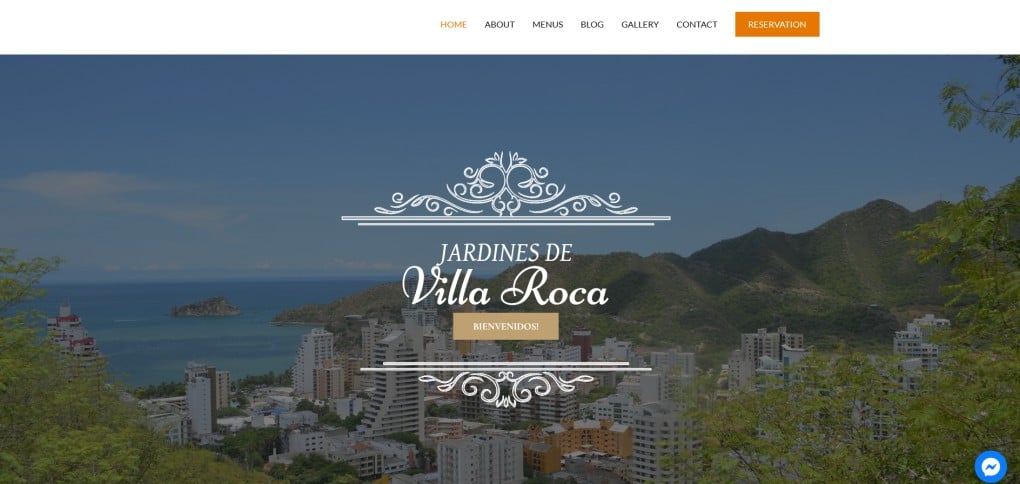 It is worth taking a moment to choose the best theme for your needs. It will determine many decisive issues related to the convenience of navigating and the usability of your WordPress site.
WordPress plugins
One of the questions you will ask at the very beginning will be: what plugins should I install? Overall, I believe you should only install the plugins that you need. Installing anything in stock doesn't make sense and can only cause problems.
There most essential plugins that you should install are:
Yoast SEO – this plugin will take your WordPress to a higher level in terms of content optimization for high positions in Google. It's worth having if you only plan to be on Google (and who is not?).
wpDiscuz – comment system of WordPress is neither beautiful nor functional. This plugin will allow you to improve your comment section and build your community.
Elementor – if you plan to create individual pages more creatively, this plugin has to be on your list. It is one of the best page builders; an extraordinary system that allows you to arrange content like from Lego bricks.
Wordfence Security – clean, constantly updated WordPress is safe. Unfortunately, the number of add-ons installed increases over time, and so does the risk of vulnerabilities. This plugin will help you seal some areas.
GA Google Analytics – a lightweight plugin that helps you to connect your Google Analytics account with a WordPress website.
There are tens of thousands of plugs and themes on the market. It just shows what opportunities you have in terms of extending the functions of your WordPress. Look for the plugins in the official WordPress repository. Avoid downloading and installing anything from unknown sources.
Your WordPress website is almost ready!
You bought your WordPress Hosting and installed WordPress with one click. You logged in, changed your theme, and chose the essential plugins.
Now you have to modify your template, choose more plugins, write content and create your website on WordPress. However, each of these topics requires a separate article. Therefore, follow our blog, where you will find everything you need to run your blog, eCommerce, or any other business or project related to WordPress.
WordPress is a cool system. The sea of ​​possibilities it brings and the simple design make it so popular all over the world. If you're just starting your online tech cruise, it is a good choice.
If you enjoyed this article, then you'll love UltaHost hosting platform. Get 24/7 support from our support team. Our powered infrastructure focuses on auto-scaling, performance, and security. Let us show you the difference! Check out our plans!